Did you know that in Italian cuisine, the eggplant is the star of the show?
That's right.
On a trip to Italy, you'd rarely find chicken cutlets, chicken parm, or anything else along those lines.
You may find them in super touristy areas, but even so, they are most likely a tourist trap and highly overpriced.
Instead, you'll find the eggplant!
Tons of eggplant parmesan, eggplant rollatini, and of course, eggplant cutlets.
Eggplant cutlets, also known as "Cotolette di Melanzane" in Italian, are a delicious and popular dish in Italian cuisine.
Now, more often than not, I'd be telling you to skip the breadcrumbs on your eggplant.
Especially when frying eggplant or making eggplant parmesan, in my opinion, it's just better when fried with flour and egg.
But sometimes, all you want is a delicious cutlet.
And lucky for you, I have the perfect eggplant cutlet recipe just for you.
What Do I Need?
Eggplant: Get a few large eggplants, slice them thin, and salt and pat dry to remove the excess moisture. This takes most of the bitterness out of the fruit.
Breadcrumbs: If you can, try to get these fresh from your local bakery. Those are the best kinds. If you don't have the option to do this, get a really nice brand from the store, and season generously with salt, pepper, parsley, and grated cheese.
Eggs: These are essential in getting the breadcrumbs to stick onto the eggplant!
Flour: And this is essential in getting the eggs to stick to the eggplant.
Parmesan Cheese: Can substitute with grated Romano if preferred. For seasoning purposes, you can never go wrong with parmesan!
Parsley, Garlic, Salt, Pepper: These are the seasonings that you will need to bring out the best flavor imaginable in your eggplant.
Oil: You can really use whatever oil you want here. Personally, I always use canola oil or avocado oil here, as a really high quality olive oil is expensive and has a low smoke point. You're going to want to use an oil with a higher smoke point than olive oil, but if that's all you have on hand, make sure you cook the eggplant slices low and slow.
Directions:
Season the flour, eggs, and bread crumb mixture with equal parts salt, pepper, parsley, and garlic.
Dredge the eggplant slices in flour, then eggs, and then breadcrumbs. Set them aside on a paper towel lined dish.
In a deep skillet, pour enough oil to cover the eggplant slices. Heat up the oil over medium heat. You can usually tell that it's ready to be used if you drop a breadcrumb in and can immediately see it sizzling.
Fry the eggplant pieces until golden brown on each side. Set on a paper towel lined dish to soak up the excess oil.
Serve with marinara sauce and pasta, or with a lemon arugula salad on the side.
FAQs:
Q: What should I serve as a side dish with eggplant cutlets?
A: I love mine with a lemony arugula salad. If this isn't your jam, you can serve them over pasta with marinara sauce, or use them to make a main dish of the best eggplant parmesan you will ever eat. No matter what your favorite eggplant recipe is, it'll be delicious when using these!
Q: How long do these stay good in the fridge?
A: These are good for up to five days in the fridge. I recommend reheating them in the air fryer to yield the most crispy and delicious eggplant you'll eat.
Q: Can I keep these in the freezer before frying?
A: Absolutely! Store these in an airtight container, and they'll be good for months until you're ready to fry.
Meal Ideas For Fried Eggplant Cutlets:
Pasta Alla Norma

Eggplant Saltimbocca

Eggplant Parm Sandwich

Print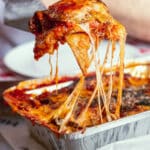 Easy Eggplant Cutlets Recipe; Fried and Breaded
---
2 large eggplants, sliced into thin slices (no thick rounds here!)

2 cups breadcrumbs (preferably fresh) (can substitute panko breadcrumbs)

1 cup all-purpose flour

3 large eggs

1/2 cup grated Parmesan cheese

1/4 cup fresh parsley, chopped

2 cloves garlic, minced (can substitute a tablespoon of garlic powder)

Salt and black pepper to taste

Oil for frying

Lemon wedges for serving
---
Prepare the eggplants: Wash and slice eggplants lengthwise into approximately 1/2 inch thick slices. Sprinkle some salt on both sides of the eggplant slices and let them sit for about 20-30 minutes. This helps remove excess moisture and bitterness from the eggplants. After 30 minutes, pat the eggplant slices dry with paper towels.
Prepare the breading station: In three separate shallow dishes, place the flour and seasonings in one, beaten eggs with seasonings in another, and breadcrumbs mixed with grated Parmesan cheese, chopped parsley, minced garlic, salt, and pepper in the third shallow bowl.
Bread the slices of eggplant: Dredge eggplant slices in the flour, shaking off any excess. Then dip eggplant slices into the beaten egg, ensuring it's coated evenly. Finally, coat the slice with the breadcrumb mixture, pressing gently to adhere the breadcrumbs to the eggplant. Repeat this process for all the eggplant slices.
Fry the eggplant cutlets: In a large skillet or frying pan, heat enough oil over medium-high heat to cover the bottom of the pan. Once the oil is hot (around 350°F/180°C), carefully place the breaded eggplant slices in a single layer at the bottom of the pan, being careful not to overcrowd them. Fry the cutlets for about 2-3 minutes on each side (5-7 minutes total) or until they turn golden brown and crispy in the hot oil. You may need to fry them in batches.
Drain excess oil: When the crispy eggplant cutlets are cooked, transfer them to a plate lined with paper towels to absorb any excess oil.
Serve: Arrange the crispy eggplant slices on a serving platter and garnish with some fresh parsley and fresh basil if desired. Serve hot with lemon wedges on the side to squeeze the lemon juice over the cutlets before eating.