How to Freeze Eggplant Parmesan
Can You Freeze Eggplant Parmesan Before Baking?  Yes.  Maybe even better.  
In this article I'm going to explain the best way to freeze eggplant parmesan for a later date.  Lots of people who have tried this method say it's the best eggplant parmesan they have ever had. 
I make my eggplant parmesan using the classic recipe with fried eggplant, tomato sauce and cheese.  
Eggplant parmesan is the definition of Italian comfort food.  And I don't mean Italian-American comfort food.  It's authentic Italian.  All over Italy you will find Melanzane alla Parmigiana on restaurant menus and being made in home kitchens.
In my opinion, one of the best things about eggplant parmesan is that it can be made in advance and stored in the freezer.  If you need a quick weeknight dinner or if you have some unexpected company, you'll be all set.  
Why Eggplant Parmesan Can Be Frozen
Eggplant parmesan is probably one of the best dishes to freeze. It's important to put it together like a baked casserole. The key is to prepare the ingredients the right way before freezing it.  
If you are going to make eggplant parmesan for the purpose of freezing it, there is some cooking involved beforehand.  
The idea is to cook your tomato sauce and eggplant before freezing it.  By freezing it, you will be preserving the freshness of the tomatoes and the rich flavor of the golden brown eggplant.
When it comes time to bake the eggplant parmesan, that's when the cheese will get cooked.  The fried eggplant, Marinara sauce, and cheese will all cook together and you'll have something really delicious.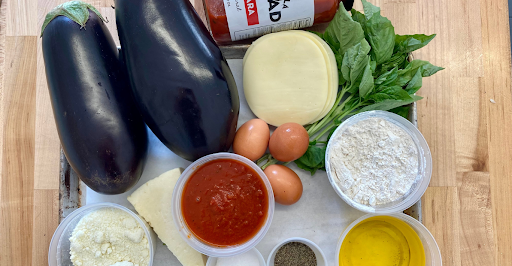 How to Prepare Your Eggplant
You have to cook your eggplant before freezing it.  If you build your eggplant parmesan with raw eggplant slices it will not cook during the baking process.  You will be left with soggy and flavorless eggplant and that's not good.
There are a few different ways to cook your eggplant before making the eggplant parmesan.
Eggplant parmesan usually involves some type of fried and breaded eggplant.  It's usually fried in olive oil.
You start by getting a fresh eggplant.  You can peel it first, but you don't have to.  I like to peel the whole eggplant.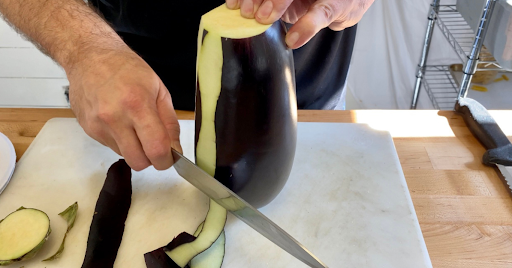 You can slice eggplant the long way or the round way.  I think the best way to slice eggplant is thin and the long way.  
If you're into thick rounds of eggplant, that's totally fine.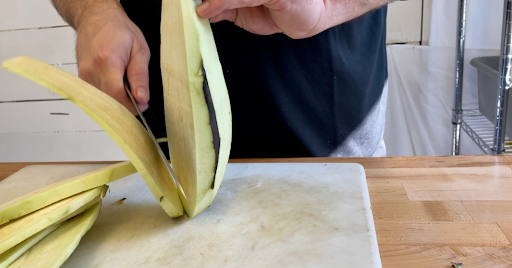 Some people take their eggplant slices, salt them and weigh them down for an hour to release any excess moisture.  I don't do it when I cook eggplant.
When I fry my eggplant I dredge the slices in flour and then dip them in an egg wash.  It's a really simple breading station.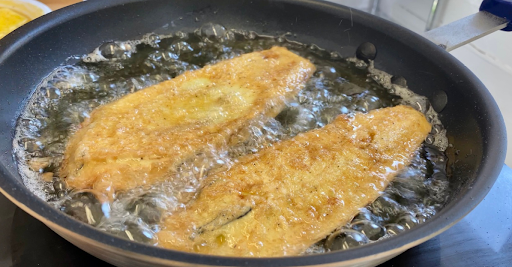 Then I put them right in a frying pan with some olive oil.    I heat the oil on medium heat.
In a single layer, place your eggplant slices in the hot oil.  When they are golden brown give them a flip.  They should take 2-3 minutes to cook.  Flip them halfway through.
When they are completely cooked, transfer them to a plate with a paper towel or wire rack.  This will drain off the excess oil. 
A lot of people like to coat the eggplant in bread crumbs before frying them.  If that's what you like, go for it. 
If you don't want to make breaded eggplant slices because you are gluten free or are trying to keep it light, you can just fry the eggplant in olive oil without flour, eggs or breadcrumbs.  
And if you are really against frying, you don't even have to bust out the frying pan.  Just drizzle some olive oil on a sheet pan, lay down your eggplant slices and hit them with a little more oil.  Bake them in the oven until they're golden brown. 
If you are someone that likes an air fryer, you can use it to cook your eggplant.
How to Layer Your Eggplant Parmesan Before Freezing
We are going to build this like an eggplant lasagna.  Layers upon layers of eggplant, sauce and cheese.  
When I'm making a few batches of eggplant parmesan for the freezer, I build them in disposable aluminum pans.  Whatever you choose to build your eggplant parmesan in, make sure it is an oven-safe and freezer-safe container.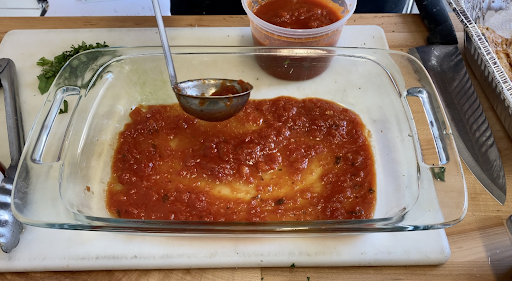 The first step is to take a baking dish or some other oven-safe dish and coat the bottom of the pan in tomato sauce.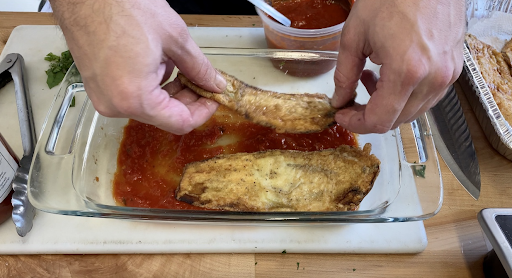 Now place your cooked eggplant on top of the sauce.  These might be fried and breaded eggplant slices or baked eggplant rounds. 
The layer is the cheese.  I suggest a good melting cheese and a good grated cheese. You can use mozzarella cheese or provolone cheese as the melting cheeses.  For grated cheese you can choose between parmesan and pecorino Romano.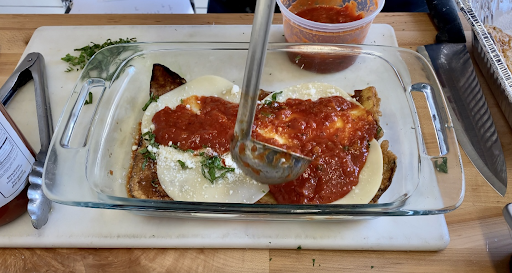 On top of the cheese add some fresh basil.
Now repeat the steps until you get to the top of the pan.  Your final layer should be sauce, cheese and a little more fresh basil.
Cover the pan with a lid or aluminum foil.  For the best results, you should plastic wrap the entire pan.  Having an airtight container will keep the eggplant parmesan from getting freezer burn.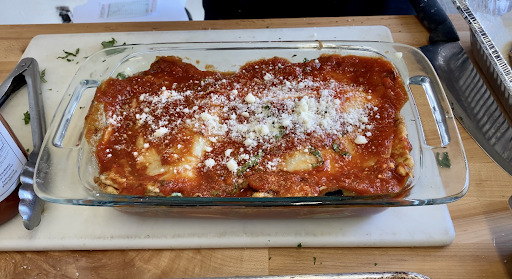 If you have any leftover sliced eggplant don't throw it away.  Put the remaining eggplant in freezer bags and store it in the freezer. 
How to Cook Your Frozen Eggplant Parmesan
The cooking process is so easy.  When it's time to cook your eggplant parmesan, you have a few options.  Even though it was frozen, you are going to cook it like any other baked eggplant parmesan recipe.
You can thaw it out before you bake it.  Just take it out of the freezer and put it in the fridge or on the counter until it's completely thawed.
You can also bake it while it's frozen.
In either case you should remove the plastic wrap and take off the lid or aluminum foil.
You need a preheated oven set at 400 degrees Fahrenheit.  If the eggplant parm is thawed, bake it for about 35-45 minutes.  If it's frozen you should bake it for 65-75 minutes.  
I suggest putting a sheet pan or cooking sheet under the tray of eggplant in case anything bubbles over.  It will avoid a messy oven.   
The high heat is going to get the frozen eggplant, sauce and cheese to cook together and create something really special.  The inside will be saucy and gooey with melted cheese and the top will be golden and crunchy.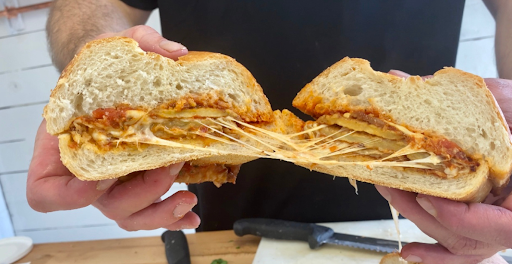 How to Serve Eggplant Parmesan
Here are some different ways to serve eggplant parmesan.
Serve your eggplant parmesan as a side dish with a main course of meat or fish.
Serve your eggplant parmesan as a main course with a salad or vegetable on the side.  The classic eggplant parmesan is perfect for meat eaters and vegetarians. 
If you're having a party or get together, put out a big tray of eggplant parmesan and let people help themselves.  The great thing about eggplant parmesan is that it's delicious when it's hot and at room temperature. 
If you have any leftover eggplant parmesan you can make sandwiches the next day.