If there's one thing I look forward to in the summer, it's fresh basil pesto. The smell and flavor of basil immediately bring back memories of summers past.
Finding new ways to use pesto is a fun way to get creative in the kitchen and one of my favorite recipes that's come of that is pesto butter.
Pesto compound butter is beautiful, flavorful, and it goes well with just about every savory dish. It's fun to make and a treat to enjoy on bread, veggies, meat, and more.
If you want to add a fresh, summery flavor to your meals, you need to try this pesto butter. You'll want to use it in every meal you make!
Ingredients
It doesn't take a lot to make this delicious butter! With just a few simple ingredients, you'll have a fancy compound butter to make all of your meals tastier.
Softened butter: Rich and creamy butter is the base for this delicious compound butter. I recommend using high-quality butter for this recipe for best results. Unsalted is best so you are able to have total control over how salty the pesto butter is.
Basil: Like traditional pesto, this pesto butter will be made with fresh basil leaves. 
Fresh garlic: A clove of garlic in this butter perfects the flavor. You can use garlic powder if you want, but fresh garlic is best.
Parmesan cheese: The saltiness and tanginess of parmesan cheese make this flavored butter incredibly delicious. 
Pine nuts: For a nice nutty flavor, we will add some toasted pine nuts to the compound butter. If you don't want to use pine nuts, you may like one of these fantastic substitutes.
Lemon zest: While lemon isn't necessarily a traditional pesto ingredient, I love the tartness and acidity it adds to pesto. In this recipe, lemon zest offers a brightness that rounds out the compound butter. 
Red pepper flakes: I like to add a pinch of red pepper flakes to my pesto and to my pesto butter. If you don't like any spice in your food, you can omit this ingredient.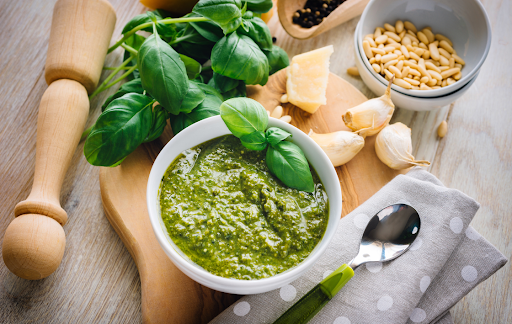 Making Pesto Butter with Homemade Pesto
If you made homemade basil pesto and you find yourself wondering what to do with the leftover pesto, a great way to do that is to turn it into delicious pesto butter.
Using pesto sauce rather than the following recipe will result in a more spreadable butter because of the olive oil. You may not be able to shape it into the log that is typical with compound butter, but it will still taste delicious.
To make pesto butter with pesto sauce, simply mix the pesto into the softened butter and store it in a glass jar. This is a great way to use up leftover pesto and have delicious flavored butter to add to meals.

Uses for Pesto Butter
There are many different ways to put pesto butter to good use. My favorite thing about compound butter is just how versatile it is!
Adding this delicious flavored butter to your meals is a great way to infuse them with a ton of flavor and lots of buttery goodness. These are just a few of the many ways you can use pesto butter:
Cook meat: Use this butter to cook steak, baked salmon, chicken breasts, or shrimp.
Veggies: Cooked veggies taste delicious when tossed with melted pesto butter! Use the butter to make sautéed mushrooms, roasted cherry tomatoes, broccoli, squash, and more.
Pasta: Make a simple, delicious meal by tossing some pesto butter with hot pasta. Sprinkle some pecorino romano on top and you have a fantastic pasta dish. You could also use pesto butter in Alfredo sauce or another buttery pasta sauce.
Garlic bread: There is no better way to elevate your garlic bread than using pesto butter to make it. 
Potatoes: Use pesto butter to make mashed, baked, or roasted potatoes. They'll taste rich and buttery while also packing a ton of flavor.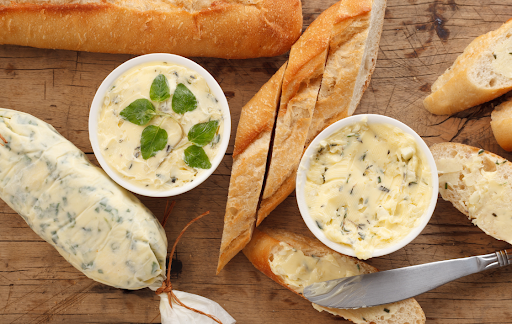 How to Store Pesto Butter
Pesto butter is best stored in the refrigerator in an airtight container. It will last in the fridge for about a week. 
If you know you'll be serving your basil butter with bread and need it to be soft, remove the butter from the fridge a couple of hours before your meal is served. 
For longer-term storage, pesto butter freezes very well. I like to freeze it by cutting the log into ½-inch thick coins and freezing them in a freezer bag. When I want pesto butter for a recipe, I can thaw just the right amount for my meal.

More Pesto Recipes
If you love pesto, don't miss these other excellent recipes:
Print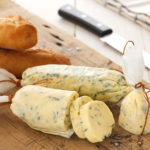 Easy Basil Pesto Compound Butter Recipe
---
1 cup unsalted butter, soft

1 cup fresh basil leaves, packed

¼ cup grated parmesan cheese

1 garlic clove

1 tablespoon pine nuts, toasted

1 tablespoon lemon zest

1 teaspoon red pepper flakes (optional)

Salt and black pepper to taste
---
Combine the basil, parmesan cheese, garlic, pine nuts, and lemon zest in a food processor. Pulse until the ingredients are fully pulverized.

Add softened butter to a small mixing bowl and mix in the basil mix. Stir well to incorporate. Add red pepper flakes, pepper, and salt to taste.

Spoon the flavored butter into a line on a piece of parchment paper and roll it into a log shape. Twist the ends of the paper and pop it in the fridge for a few hours.

Once the butter has hardened, remove it from the parchment paper and serve immediately or transfer it to an airtight container in the fridge for storage.