Pesto is one of my all-time favorite sauces, especially in the summer. 
The sweet and spicy flavor of basil just screams warm summer evenings for me and what better use for basil than a fresh pesto? I love adding pesto to sandwiches, pasta dishes, salad dressing, and anything else I can come up with in the summer.
Classic pesto is an Italian sauce typically made with fresh basil leaves, fresh garlic, extra-virgin olive oil, parmesan cheese, salt, pine nuts, and sometimes lemon juice. Traditional pesto is made by pulverizing the ingredients using a marble or wooden pestle, but today it is common to use a food processor or blender. 
It is also common to substitute or omit ingredients in pesto to make it suitable for different dietary needs and preferences. I personally have made pesto sauce with spinach, kale, arugula, or carrot tops in place (or in addition to) the basil. One of the most popular ingredients to substitute, however, is the pine nuts.
Pine nuts are very expensive and are not suitable for those with a tree nut allergy. They can also be difficult to obtain at the grocery store in some areas.
If you want to make a delicious pesto without pine nuts, there are a lot of good alternatives that you can use instead. 
Are you looking for something suitable for those with nut allergies? Jump to the nut-free options by clicking here.
How to Substitute Pine Nuts in Pesto
Pine nuts can be replaced by any of these great alternatives using a 1:1 ratio. 
I recommend purchasing raw, unsalted nuts and seeds in most cases. For the best flavor, toast the nuts yourself in a dry pan on the stove or a baking sheet in the oven. Toasting the nuts and seeds gives them a crunchier texture and a rich, nutty flavor that is exponentially more delicious than having them raw. 
Without further ado, here are the best pine nut alternatives for pesto.
Almonds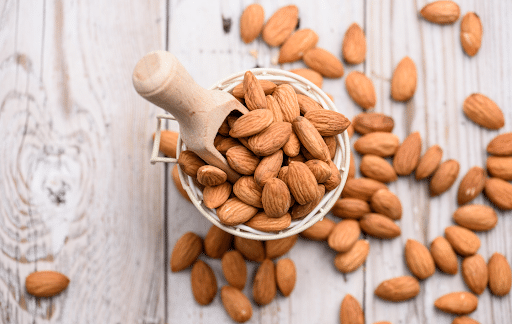 My personal favorite, almonds make an excellent substitute for pine nuts in pesto because of their mild, nutty flavor. I like to buy sliced, raw almonds and toast them myself in a pan on medium-low heat. Toasting almonds gives them a depth of flavor that makes just about any dish taste incredible. 
Walnuts
Walnuts are one of the more popular substitutes for pine nuts because they are widely available, relatively inexpensive, and they add a delicious, nutty flavor to the pesto. Walnuts can be somewhat bitter when they are raw, so it's especially important to toast them before adding the walnuts to your pesto.
Cashews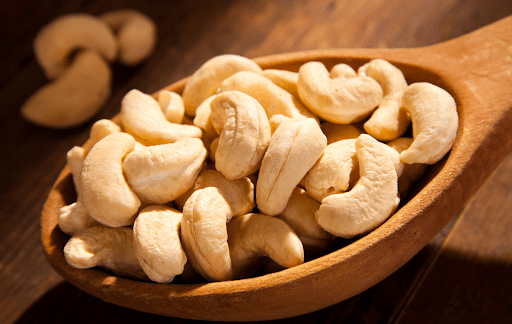 Cashew nuts are a delicious, lightly sweet nut option that makes for a creamier pesto. Cashews are often used in dairy-free cheese alternatives because of their creaminess. For the same reason, they are a perfect alternative to pine nuts. Cashews will be one of the nut options that is most similar to pine nuts in flavor, texture, and color.
Pistachios
Pistachios make for a unique pesto sauce that is absolutely delicious and has a vibrant color. Pistachios have a sweeter taste than pine nuts, so the flavor will be different but tasty in its own way. I've found that unsalted pistachios can be hard to come by, so feel free to use salted pistachios and adjust the amount of added salt in your pesto to taste.

Pecans
I am a big fan of toasted pecans in just about any dish, including pesto! Pecans have a rich, nutty flavor that will make your pesto well-rounded and delicious. You can often find pecan pieces at a cheaper price than pecan halves, which is perfect for pesto in which they will be blended.
Hazelnuts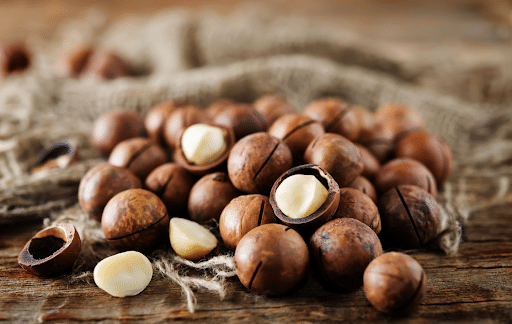 Hazelnuts are another great substitute for pine nuts with their warm, nutty flavor. It's best to buy blanched hazelnuts (or blanch them yourself) to remove the skins, then toast the hazelnuts for the best flavor possible.
Macadamia Nuts
Macadamia nuts are a great alternative to pine nuts because they have a similar texture, color, and flavor. Macadamia nuts offer a creamy, buttery flavor that is incredible in pesto. They are very expensive nuts, however, so don't plan on using them as a cost-effective alternative to pine nuts.
Brazil Nuts
Brazil nuts are not a common choice when it comes to baking and cooking, but they are fantastic nuts that can add a delightful flavor and a chunky texture to your pesto. Brazil nuts can be tough to blend well, so it is best to soak them beforehand to soften the nuts.
Nut-Free Substitutions for Pine Nuts
If you're avoiding pine nuts because of a tree nut allergy, there are plenty of nut-free alternatives that will still offer a rich, nutty flavor to your pesto. My personal favorite is sesame seeds, but I enjoy all of them! I always recommend toasting your seeds on the stove or oven to bring out the nutty flavor as you would with nuts.
Sunflower Seeds
Sunflower seeds are fatty, creamy seeds that add a great texture and flavor to a nut-free pesto. These seeds are easy to find, fairly affordable, and they don't noticeably change the flavor. Buy roasted and unsalted sunflower seeds for best results.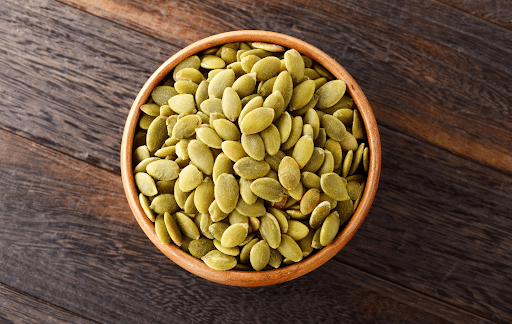 Pumpkin Seeds
Pumpkin seeds are very versatile seeds, but you may not have considered adding them to a pesto! Pumpkin seeds have a less nutty, more earthy flavor than pine nuts and they make a delicious, unique pesto. I recommend using shelled pumpkin seeds that are dry toasted in a pan.
Sesame Seeds
Sesame seeds are another close substitute for pine nuts. They have a similar color, flavor, and texture that makes for a creamy, nutty pesto. Sesame seeds are best dry toasted in a pan to bring out the best flavor possible.
Hemp Seeds
Hemp seeds are exactly what the name implies; the seeds of a hemp plant. They have become increasingly popular in recent years as a high-protein and highly nutritious addition to salads, yogurt, and more. They are rather expensive, but they have a delicious, subtle flavor that is a perfect substitute for pine nuts. I find the flavor and texture similar to pine nuts with their own original twist.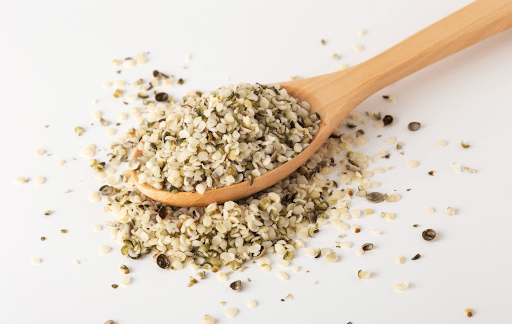 Beans
Beans are not an obvious replacement for pine nuts but they are a good substitute in a nut-free pesto. Blending beans into your pesto with give it a creaminess much like pine nuts. The pesto will not be nutty as with nuts or seeds, but you will have a rich, protein-packed pesto sauce without any allergens. I recommend white beans such as cannellini beans, butter beans, or navy beans.

Why Not Just Omit the Pine Nuts?
Many pine nut-free pesto recipes simply leave out the pine nuts instead of using a different type of nut or seed. This is a perfectly valid option if you don't want to use pine nuts. You will still be able to enjoy the bold flavors of the basil, cheese, and garlic in a rich and creamy sauce.
If you love the nutty flavor and chunky texture that pine nuts provide in pesto, give one of these pine nut substitutes a try! Basil pesto is delicious in so many different variations. Make your pesto how you will enjoy it most.
Our Best Pesto Recipes Without Pine Nuts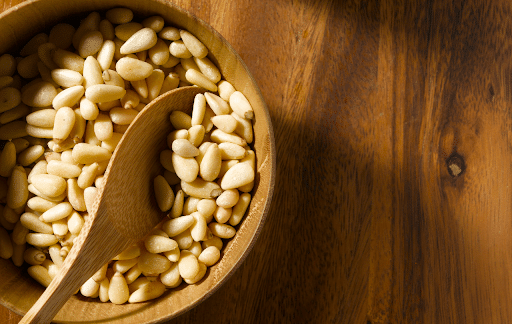 Frequently Asked Questions
How do you make pesto dairy-free?
Pesto can be made dairy-free quite easily by omitting the cheese altogether. If you still want a cheesy flavor without the dairy, nutritional yeast or vegan parmesan cheese can be used instead.
What's the best substitute for pine nuts in pesto?
Which is the best is a matter of preference. Cashew nuts are the most similar to pine nuts and almonds are my personal favorite. Sunflower seeds are a great nut-free option. I recommend trying your pesto a few different ways to figure out which one you enjoy the most.
What's the best way to store pesto?
Pesto can be stored in an airtight container in the fridge for 3-5 days. The top will become brown as the basil oxidizes, so for best results, pour a thin layer of olive oil onto the top of the pesto to block out the air.
For long-term storage, basil freezes very well in small plastic bags or an ice cube tray.
Can you replace pine nuts with peanuts in pesto?
Peanuts can be used in place of pine nuts in pesto, though the flavor will be quite different. While some people prefer the taste over that of pine nuts, others prefer an alternative that is more similar to pine nuts. For the latter, there are a number of alternatives that will yield a more similar flavor and texture to pine nuts.
Why are pine nuts so expensive?
Pine nuts are the edible seed of a pine tree. They are found in the center of pine cones, encased in a hard, pokey outer shell. Pine nuts take a long time to grow and harvesting them is intensive and time-consuming. Because of this, pine nuts are one of the most expensive nut varieties in the world.