A few months ago, we created one of the best lasagna recipes ever.
A chicken pesto lasagna.
But there were other things on there that might surprise you.
You see, we had seen the viral tri color sauce pizza that everyone's been trying out.
We tried it out ourselves, in fact.
And everyone loved this fun twist on the classic dish.
But we felt as though we could've been doing more with it.
Enter: The Tri Colore Lasagna.
As we made this lasagna, we thought that it was lacking something with just the marinara, vodka, and basil pesto sauce.
We decided to fry up a chicken cutlet right then and there, and put it right into the lasagna.
Genius.
It was all so delicious, but I have to admit, my favorite side of this non traditional lasagna was hands down the pesto side.
It's so delicious. When the pesto is combined with the garlic cream sauce in a large saucepan over medium heat, it makes for an extremely smooth sauce—a sauce perfect for a lasagna.
It was so good, in fact, that today I'm going to teach you how to make your very own homemade pesto cream lasagna with chicken cutlets.
It's a fun way to enjoy lasagna in a different form, and the whole family will love it.
FAQ:
Q: Will the pesto burn in the oven?
A: When it's diluted with a garlic cream sauce, it most definitely will not.
In fact, the cream sauce breaks up the earthiness of the pesto, and it's a great way to make it taste even better, too.
If you wanted some regular pesto sauce at the end without the creamy white sauce, then I'd only top the lasagne sheets with it, and put it on when there is about 2 to 3 minutes left in the cooking process.
Q: How long will this last in the fridge?
A: I'd say that this keeps in the fridge for up to five days.

Q: Can I substitute chicken breasts with another protein source?
A: Absolutely! I love veal cutlets with this one, too.
Q: Can I use store bought pesto sauce, or should I make my own?
A: We're always proponents of making our own. It's so simple and only requires a ton of fresh basil leaves, garlic cloves, parmesan cheese, olive oil, and pine nuts if you prefer. There are tons of great recipes out there.
However, if you're in a pinch, you can use store bought pesto as well. Just make sure you dilute it with the garlic cream sauce, and you'll be golden!
Q: How many servings does this recipe yield?
A: This can feed two really hungry people, or four normally hungry people.
Print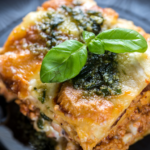 Chicken Pesto Lasagna Recipe: With Pesto Cream Sauce
---
1

lb. lasagna sheets or freshly fried eggplant

2 cups

of freshly made pesto sauce

1 cup

ricotta cheese, mixed in a medium bowl with a splash of tomato sauce, parmesan cheese, salt, pepper, and parsley

1/4

lb provolone cheese, sliced

1 cup

mozzarella cheese (can be part skim mozzarella cheese)

1

cooked chicken breast, cubed (can be cubed chicken cutlets cooked on medium heat until golden brown if desired).

2 tbsp

grated parmesan cheese or grated Romano cheese

Salt, black pepper, and crushed red pepper flakes to taste
---
Pre heat oven to 400°.

Boil lasagna noodles until al dente or according to package directions, drizzling olive oil between each cooked lasagna noodle (skip this step if using zucchini noodles).

Spray a ovenproof dish, casserole dish, or glass baking dish with nonstick cooking spray.

Spread pesto sauce on the bottom of the baking dish, making sure that the pesto reaches the edge of the pan.

Cover sauce with lasagna sheets or fried eggplant.

Add ricotta cheese mixture, spread evenly.

Add provolone slices to fully cover the ricotta mixture.

Add sauce and some of the chicken cutlets. Distribute evenly.

Add sauce and grated cheese over the top.

Repeat this process as many times as necessary, until your layer of noodles, pesto sauce, cheese, and chicken reach the top of the pan.

Once you reach your top layer, cover with a single layer of pesto sauce, shredded mozzarella cheese, parmesan cheese, and basil.

Bake for 40-50 minutes covered with aluminum foil. 

Remove foil for the last 15 minutes in the oven.

Let lasagna rest for about a half hour before cutting into it, topping with fresh herbs, remaining sauce, remaining parmesan, and the remaining chicken mixture.

Store your pesto chicken lasagna in an airtight container in the refrigerator for up to 4 days, or in the freezer for 6 months.