If you like Buffalo wings, you'll love this lasagna recipe.  It's a fun twist on a classic recipe for a cheese lasagna.  There's going to be a lot of layers of the lasagna filled with crispy chicken cutlets, Marinara sauce, spicy Buffalo sauce and a ton of cheese.  
I take lasagna really seriously.  I've been told by a lot of people that I make some of the best lasagna around. 
I worked on this for a long time until I perfected it.  It's really good.
Lasagna is the perfect comfort food when you just want to stay in, watch a good movie and relax with the family on a cozy weekend afternoon.
I'm always trying to come up with interesting and new lasagna recipes and this is definitely one of my favorites.
Lasagna and Buffalo wings are really a match made in heaven.  Everyone loves lasagna and everyone loves things with Buffalo sauce.  
Spicy Buffalo sauce isn't just for hot wings and Buffalo chicken dip anymore.  As a matter of fact, the Buffalo chicken pizza at Mortadella Head is our best seller.
It just makes sense that the spicy Buffalo sauce, chicken and tomato sauce will work with a big cheesy lasagna too. 
Here's a Buffalo chicken lasagna recipe that I think you should make.  Let me know what you think!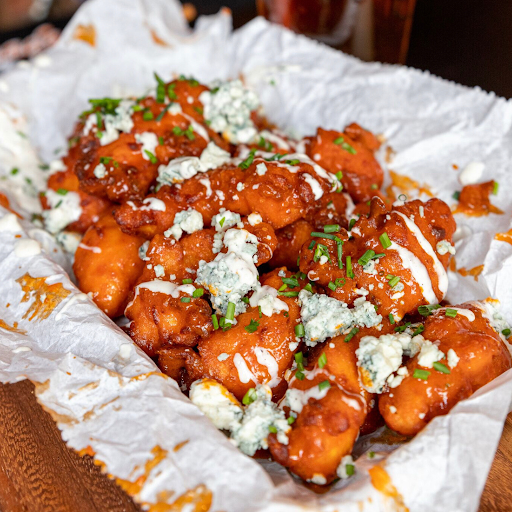 The Main Ingredients for Your Buffalo Chicken Lasagna
This is actually an easy lasagna recipe, but you will have to do some prep work. What did you expect? We're making homemade lasagna! 
The Sauce
You want a nice tomato sauce for this recipe. Get some tomato puree, olive oil, garlic cloves, and onions.  You'll also need fresh basil, salt and pepper.  
You can also buy a good jar of Marinara sauce at the grocery store.  Buy one that is local and made with all natural ingredients. 
Chicken Cutlet
Buy some boneless chicken breasts and pound them out really thin.  Use a simple breading process with eggs and breadcrumbs.  Good chicken cutlets are an important part of this recipe.
Cheese
Use a good ricotta. We want the lasagna to be really creamy and cheesy. I like New York style ricotta. I mix it with grated parm, fresh herbs like parsley, salt, pepper and a little tomato sauce.
Get some provolone and aged mozzarella. I like these cheeses because they melt well and they have good flavor. If you like fresh fresh mozzarella, use it. It has more moisture and doesn't melt as well as aged mozzarella.
Get a block of pecorino Romano or parmesan cheese and grate it yourself. Both of these aged cheeses have a pungent flavor that is really important to a good lasagna.
I also like using Gorgonzola or blue cheese crumbles in this recipe.  
Buffalo Wing Sauce
Ok.  The Buffalo wing sauce is important here.  I like one with medium heat.  I mix hot sauce and melted butter to make my Buffalo sauce.  Frank's Red Hot is a good brand of hot sauce. 
Lasagna Sheets
Pasta is pasta, right?  Wrong.  In my opinion fresh pasta sheets are the best for making homemade lasagna. Go to an Italian specialty store and ask for lasagna pasta sheets.  You should also ask how long they recommend you boil them.
Regular lasagna noodles are fine if you can't find fresh lasagna sheets. Head to the dried pasta aisle in the grocery store and get the oven ready lasagna noodles. For dry noodles, they actually work really well in a pinch. 
How to Make a Buffalo Chicken Lasagna
Let's start by getting the sauce going. If you have your own recipe, feel free to use it. If not, you can try this recipe.  
In a large pot, heat up some good olive oil.

Add some diced onion and garlic and let it saute. Season it with salt and pepper.

Add your sausages and pork and allow them to brown.

When the onions become translucent add some crushed tomatoes and a little water.

Bring it to a boil and then lower the heat. Leave it on low heat and stir it with a wooden spoon every once in a while so the bottom doesn't burn. 

Add some fresh chopped basil at the end of the cooking process.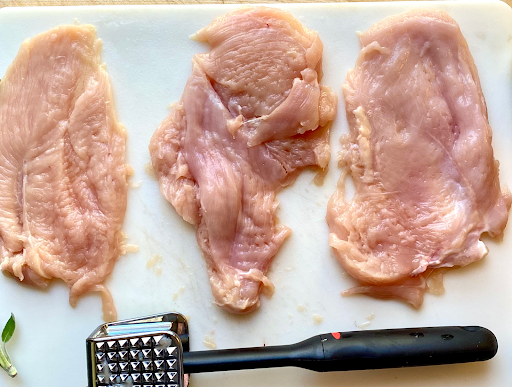 Prepare Your Chicken Cutlets
Start off by using a boneless chicken breast.  Then you want to butterfly that bad boy.  If you don't know how to butterfly your chicken breast, or you don't want to deal with it, buy some chicken cutlets that are already done at the butcher.
Make sure your chicken cutlets are THIN!  This is really important.  If you like a thick chicken cutlet, that's your choice, but my advice is to go thin.  
Take your cutlet, put in between a couple sheets of plastic wrap and give it a few wacks.  You can use a meat mallet if you have one, but if you don't have a meat mallet you'll be fine.  You can get the same results with the bottom of a frying pan or a sauce pan.  Everyone has a frying pan or a sauce pan so there's no excuse for thick chicken cutlets today!
Bread Your Chicken Cutlets
You need a crispy chicken cutlet to make the best chicken parmesan.  It's a simple process, but it's really important.  
Set up a simple breading station.  In the first plate you want to have beaten eggs seasoned with salt and pepper.  In the second plate you want good bread crumbs also well seasoned with salt and pepper.  
Pat your chicken with a paper towel to get rid of any excess moisture. Now it's time to dredge.  The chicken cutlets go into the egg….then the bread crumbs.  
Now pay attention!  When you get to the bread crumb part of the breading process, push your chicken cutlets into the bread crumbs on both sides.  This is going to help you get the nice crust you're looking for when it's time to fry your breaded chicken breasts.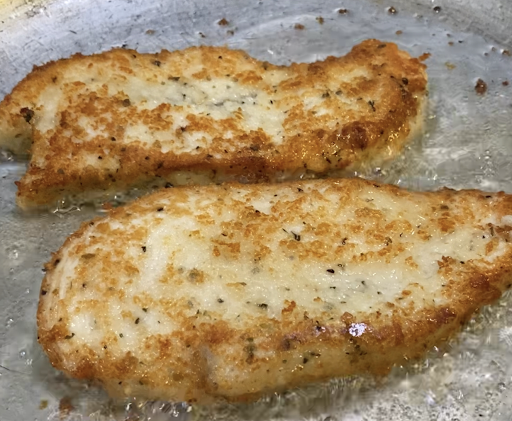 Fry Your Chicken Cutlets
A good tip is to make sure your cutlets are at room temperature when you fry them.  It will help you get the middle of the cutlet cooked without burning the outside. If you start with cold chicken it will take longer for the middle to cook and the exterior could burn during the process.
Make sure your oil is hot when you fry the cutlets.  Having hot oil is very important. I like my oil at around 350 degrees.  I put the frying pan over medium high heat and let it heat up slowly.
Use a light olive oil or a vegetable oil that handles high heat.  When the cutlet hits the oil you want it to seal in all the juices from the cutlet and create a crispy crust.  If the oil isn't hot enough the chicken cutlet will soak up the oil like a sponge.  Nobody wants that. 
When your chicken cutlets are nice and crispy they should be ready.  Make sure the internal temperature of the chicken cutlets is 165 degrees fahrenheit. You can test this with a meat thermometer. 
Remove the chicken cutlets from the hot oil and put them on a wire rack or on a plate lined with paper towels. This will remove any excess oil. 
Chop the chicken cutlets into small pieces and toss them in a large mixing bowl with the Buffalo sauce.  Make sure they get completely coated. 
Ricotta Mixture
Now you can make your cheese mixture. In a large bowl, combine ricotta cheese, grated parmesan cheese and some chopped parsley and mix it all together. Add a little of the tomato sauce to loosen it up and make it easier to spread.  
This is a really good ricotta cheese mixture.
Boil Your Lasagna Sheets
Bring some cold water to a boil and add a lot of salt.  
Cook your pasta if you need to boil noodles. If you have the lasagna sheets that you don't need to boil, follow the directions on the box. 
Al dente pasta is the best so make sure you don't overcook it. If it's fresh it doesn't need a lot of time. Boil some water and drop the lasagna sheets in the hot water. Take them out and drain them.
How To Build The Buffalo Chicken Lasagna
Now it's time to build the lasagna. Get a baking dish and spread tomato sauce on the bottom of the pan. A thin layer of sauce is fine as long as you have full coverage.
Add a layer of noodles on top of the sauce. Now spread on the ricotta cheese mixture. Add a layer of provolone and a sprinkle of your grated cheese. 

Add more tomato sauce and start a new layer. Put on a sheet of pasta, then the ricotta mixture, more cheese, more sauce. 

Next, add half of the chicken mixture. 

Repeat this process.  

Do this until you reach the top of the baking dish.

The last steps are to add a layer of tomato sauce, the remaining mozzarella cheese and some more grated cheese to the top of the lasagna.  

Bake it in a 400 degree oven for about 45 minutes. Place the lasagna on top of a baking sheet or piece of aluminum foil to avoid a mess in the oven in case it bubbles over.

When the top layer of the lasagna is golden brown it should be ready.

Let it rest for another 20 minutes after you take it out of the oven.  Drizzle some blue cheese dressing on top and serve!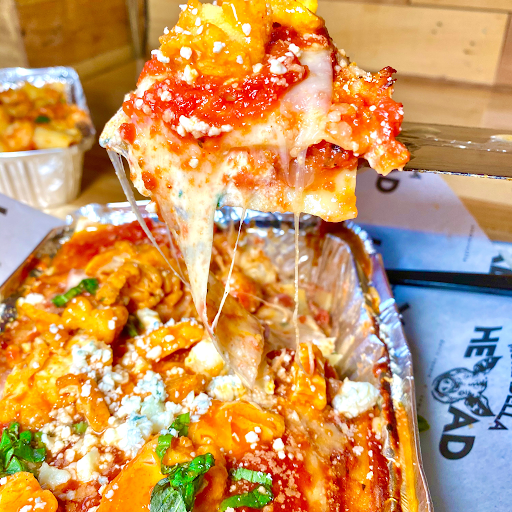 Buffalo Chicken Lasagna FAQs
What if I can't find ricotta cheese?
You should be able to find some kind of ricotta cheese in your supermarket.  However, if you can't find it, I've heard that cottage cheese or cream cheese can be used as a substitute.  I've never tried it myself, but I think it will work. 
What if I don't like blue cheese?
If you don't like blue cheese leave it out.  It will still be delicious.  Dry drizzling Ranch dressing on top. 
How much sauce should I use to make an authentic lasagna?
That is totally up to you.  I prefer my lasagna a little saucier, so I make sure to add a good amount to each layer.  If you like things less saucy, add less. You can always add more tomato sauce over the top of the lasagna when you eat.
Do I have to make this recipe with chicken cutlets?
No. This is a great recipe to use up leftover chicken or a rotisserie chicken.  I like chicken cutlets because of the crispiness and flavor.
If you want to try a Buffalo Chicken Lasagna, but don't feel like doing the work, here are some quick links to get one shipped to you.  Each tray of lasagna weighs about 2 ¼ pounds and feeds 3-4 people.  Follow the cooking instructions on the package and you have a really delicious dinner that's fast and easy. 
Build Your Own Box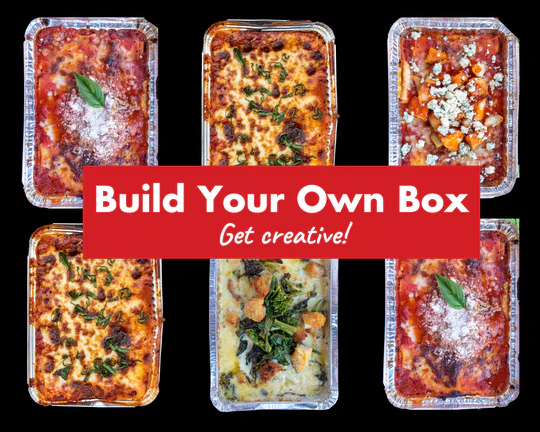 Boxes with Free Shipping

Specialty Products