I'd been begging my friends and family to get an outdoor pizza oven for awhile.
That is, until I discovered the grilled flatbread pizza.
Let me explain.
A simple summer flatbread requires putting your favorite flatbread pizza dough (homemade or pre-made pizza dough) right on top of the grill, letting it cook for 2-3 minutes on each side, putting your favorite toppings on top, and grilling it a bit longer until it finishes cooking.
Honestly, all in all, it takes under ten minutes to make.
That's why we love making them so much.
It's the perfect pizza to enjoy in the summertime, and you don't even have to turn your oven on.
Of course, when you're making a summer time themed pizza, summer time themed toppings are the way to go.
Here are all of my favorite summer flatbread recipes!
Sun-Dried Tomatoes and Feta
Everyone knows that sun-dried tomatoes are the perfect summertime food.
And they make the perfect flatbread recipe.
They go perfectly on a flatbread pizza, and you don't even have to use a pizza sauce when cooking with them.
Grill your flatbread pizza dough for two minutes on each side. Top with a tablespoon of olive oil, fresh minced garlic, a ton of chopped sun dried tomatoes, and a whole bunch of feta cheese.
Close the grill, and cook until the cheese is melted.
Top with some fresh spinach, and it'll be delicious!

Bruschetta Flatbread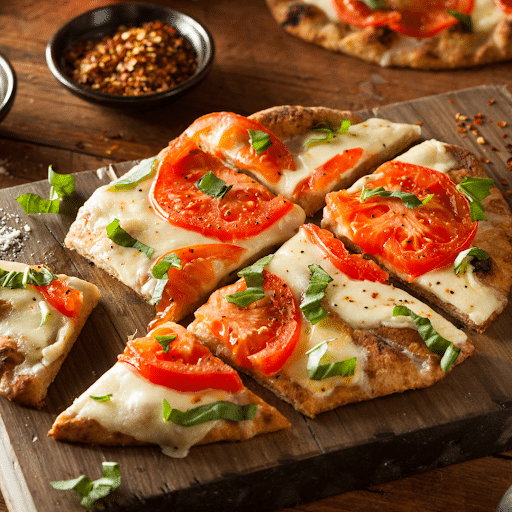 This one is also super delicious, and requires no tomato sauce whatsoever!
Grill your flatbread pizza crust for two minutes on each side, until mostly firm.
Brush your pizza crust with some olive oil and some freshly roasted garlic cloves.
Take a log of low moisture whole milk mozzarella cheese, and rip off some pieces.
​After that is done, cut some cherry tomatoes in half going the long way.
Top the flatbread with the cheese, and cherry tomatoes. Grill until the cheese is melted.
Once the flatbread is ready, drizzle with some balsamic vinegar glaze and top with a bunch of fresh basil.
This is one of my favorites!
Garden Veggie Flatbread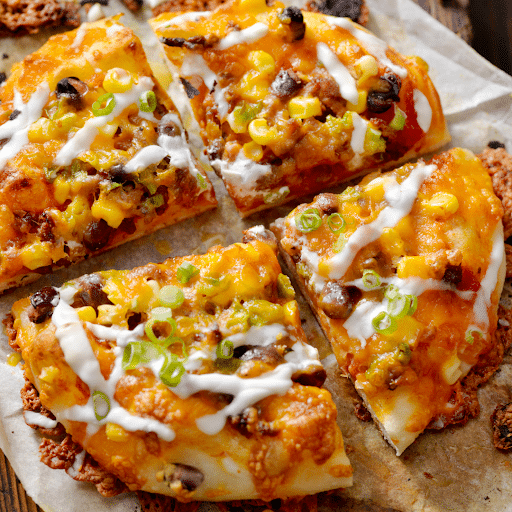 If there ever was a competition for the best summer time flatbread pizza recipe, this one might win.
Seriously. It's the best summer flatbread there is, because all of the vegetables are perfectly in season.
Take a bunch of fresh veggies from your garden or from your local farmer's market.
I'm talking about fresh tomatoes. Yellow squash. Zucchini. Tons of fresh herbs and red onion.
Grill them up so they're perfectly cooked and tender.
Layer them all on your flatbread dough after it's done baking, along with a drizzle of olive oil and shredded mozzarella cheese, salt, pepper, and red pepper flakes.
Grill until the cheese is melted, and enjoy—this is a great way to get your veggies in!
How Do I Make These Flatbreads Without A Grill?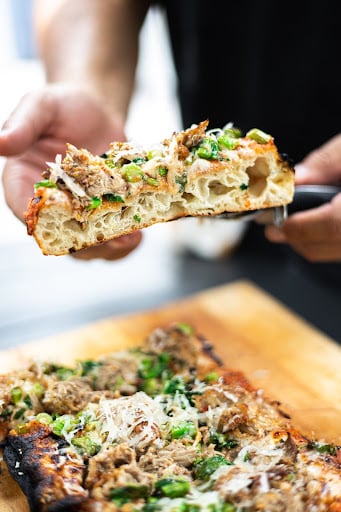 Not all of us have the luxury of owning a grill, or having a yard or balcony to grill off of.
Luckily, if this is the case for you, there are some ways that you can still enjoy these delicious summer flatbread recipes.
First, you can most definitely use your oven. 
Take a baking sheet or pizza stone and put your entire flatbread pizza creation right on top, and cook it to perfection in the oven at 450° for about 15 minutes.
You can also try baking this in the toaster oven or air fryer with a pan.
Your toaster can get just as hot as your oven, and to be honest, is a lot easier.
Plus, it won't get your house all hot, which is a huge bonus.
No matter how you choose to enjoy your summer flatbread recipes, you'll love them regardless!