I've been super into Caprese as a whole lately.
Who doesn't love fresh basil?
A drizzle of balsamic glaze?
Fresh tomatoes and high quality mozzarella?
Truth be told, I'll eat this for breakfast just about every day.
Now that it's springtime, the ingredients tend to be a lot more fresh and nice; you can source them from the farmer's market rather than the grocery store.
It's the perfect time of the year to start indulging in this perfect combination of fresh flavors.
Which is why this is also the perfect recipe for those easy weeknight dinners, especially now that springtime activities are starting to ramp back up again.
That's right, caprese salad makes the perfect caprese pizza or Margherita pizza.
And whether you have a typical crispy flatbread, a naan flatbread, or traditional pizza dough, this easy caprese flatbread is a great way to spice up your main dish for the whole family.
What Do I Need To Make A Caprese Flatbread?
This caprese flatbread has all the typical flavors of a traditional caprese salad that you could think of.
Fresh tomatoes of your choice

Balsamic reduction

Fresh basil

Fresh mozzarella cheese

A tablespoon of olive oil

Whatever flatbread your heart desires
All you gotta do is toss it in the oven, and you're good to go!
It's really that simple.
What Would I Serve With This Caprese Flatbread?
Appetizer: You can always use some of the remaining ingredients to make caprese skewers—one of our favorite appetizers!
Side dish: Have you ever tried making caprese chicken? If not, you're missing out big time! All it involves is preparing your caprese flatbread as you would, except instead of a flatbread, you'd put it over a sliced chicken breast!
Dessert: Something light is ideal here. Try making this traditional Italian dessert!
https://www.tiktok.com/@mortadellahead/video/7117278968784358699
Caprese Flatbread FAQs:
Q: I don't like balsamic. What else could I drizzle on at the end?
A: Try this out with some pesto sauce, to make this a delicious caprese basil pesto flatbread!
Q: Is there any meat that I could add to this flatbread pizza?
A: Try adding some fresh prosciutto, or if you have a rotisserie chicken on hand, break up some pieces of that and put it on top. The chicken would also go great with a pesto coating, like we did in the video below:

Q: What kind of tomatoes should I use?
A: Really any kind you want. We used cherry tomatoes in our recipe, but feel free to use grape tomatoes, small heirloom tomatoes, or anything else. As long as you're using juicy tomatoes, this will be delicious!
Print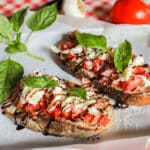 Easy Caprese Flatbread Recipe | With Balsamic Glaze
---
2

flatbreads

1 cup

cherry tomatoes, halved

1 cup

fresh mozzarella, sliced

1/4 cup

fresh basil leaves, chopped

2 tbsp

balsamic glaze

1 tbsp

olive oil

2 tbsp

fresh parmesan cheese

Salt and black pepper to taste
---
Preheat your oven to 400°F.

Place the flatbreads on a baking sheet and brush them lightly with olive oil.

Top each flatbread with equal amounts of sliced mozzarella and cherry tomatoes.

Sprinkle the chopped basil leaves over the top of the mozzarella and tomatoes.

Season with salt and pepper to taste.

Bake the flatbreads for 8-10 minutes, or until the cheese is melted and the edges of the flatbread are crispy.

Remove the flatbreads from the oven and allow them to cool for a few minutes.

Drizzle the balsamic vinegar over the top of the flatbreads.

Cut into slices and serve hot.