A lot of the time, when I'm working from home, I crave something simple, delicious, and easy.
To make it easier on myself, a lot of the time on Mondays, I'll prepare a massive pasta salad ahead of the week, store it in an airtight container, and take it with me to my laptop as I work throughout the week.
When I tell you I've made a lot of whimsical creations, I'm being very serious.
A few weeks ago, in fact, I conjured up this chicken caprese orzo salad recipe.
A little bit of grilled chicken, diced juicy cherry tomatoes (or grape tomatoes if you prefer), fresh basil leaves and baby spinach, mozzarella cheese, salt, pepper, and balsamic over my orzo was the perfect combination for a delicious meal.
Another pasta salad combination that I've been loving has been this wonderful concoction:
Red onions. Orzo. Extra virgin olive oil. Red wine vinegar. Diced peppers and cucumbers. Chickpeas. Tuna salad, and feta cheese.
It's truly elite.
In fact, I thought that was the best pasta salad combination that there ever was.
Until I tried this orzo pesto pasta salad.
Then my mind was changed forever.
What's In It?
This orzo pesto pasta salad has all of the best ingredients in it.
Mozzarella Pearls: To evenly distribute the fresh flavor of mozzarella throughout each and every bite. If you don't like mozzarella, try substituting with feta cheese.
Chopped Asparagus: Make sure they're cooked beforehand. Personally, I like roasting them with fresh garlic, lemon juice, lemon zest, olive oil, and a tiny sprinkle of parmesan cheese, but you can also sauté on medium heat if you prefer.
Pesto Sauce: I prefer to make my own homemade pesto using a food processor or blender. I don't ever use pine nuts in mine, since I am allergic, but feel free to use those if you'd like. Check out our quick and easy pesto recipe without pine nuts, it pairs perfectly with this dish and makes a really flavorful pesto sauce!
Artichoke Hearts: Take these straight from the jar and chop them up. When in doubt, I'll always add these to a pasta salad. It's one of those ingredients that just works.
Olives: I prefer using kalamata olives in my pasta salads. The creator that inspired this recipe uses green olives in hers, though, and I bet they'd taste just as good.
Roasted Peppers: Roasted peppers are the move with this pasta salad, particularly the ones that are packed in olive oil. You can pick up a jar of these from your local supermarket!
Red Onion: Red onions provide a bit of a kick that pairs perfectly with this pasta salad. If you don't have any, a shallot would taste fine with this!
Parmesan Cheese: Yep, you heard me right. There are two different types of cheeses in this pasta salad. How amazing is that?!
Protein: Now, there's honestly not a specific protein that I would recommend using with this pesto orzo pasta salad. I've used canned tuna fish. I've used crunchy roasted chickpeas, which honestly have my vote. But you could use some shredded chicken too, if you'd like! That's the beauty of this pasta salad, you can really do whatever you like.
This is one of the most delicious recipes I've ever made.
The fresh flavors just make it.
It can be served as its own main meal, or as an easy side dish.
I give full inspiration credit to @babytamagooo on Instagram, who's version of this pasta salad makes me drool every damn time.
View this post on Instagram
Pesto Orzo Salad Recipe FAQs:
Q: What if I don't like mozzarella cheese?
A: You can use feta cheese, too! Or take them both out and just leave the parmesan cheese in there. It'll still taste great!
Q: I noticed there's not really any protein in this pesto orzo recipe. What can I use for it?
A: I love using crunchy roasted chickpeas. I season them with salt, pepper, paprika, garlic powder, and onion powder, and toss them in the air fryer at 400° for about 20 minutes. They get nice and crunchy, and add the perfect burst of protein to your pasta salad.
Q: How long does this orzo pesto salad last in the fridge?
A: I'd say this is good for 3-4 days in the fridge before it starts getting super soggy. Just store your crunchy chickpeas separately, though!

Print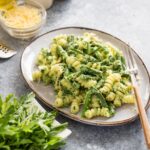 Easy One Pot Orzo With Pesto Pasta Salad
---
Author:

Total Time:

15 Minutes
Description
This easy one pot orzo with pesto pasta salad recipe is a delicious and simple dish that is perfect for a quick flavorful meal. Try it today!
---
1

lb orzo pasta

½ cup

roasted bell pepper, chopped

½ cup

mozzarella cheese pearls

½ cup

chopped asparagus, roasted

½ cup

artichoke hearts, chopped

½ cup

olives, chopped

½ cup

red onions, diced

½ cup

fresh or store-bought pesto sauce

¼ cup

parmesan cheese

1 tsp

cracked black pepper

1 tsp

crushed red pepper

2 tsp

kosher salt

½ cup

crunchy roasted chickpeas (optional)
---
Boil your orzo pasta in a pot of boiling water until al dente.

While the orzo cooks, chop up all of your vegetables finely into bite-sized pieces.

Drain your pasta water, and add all of the vegetables, seasonings, and pesto sauce right into the pan or in a separate large bowl.

Stir to coat everything, and refrigerate for at least 30 minutes.

Serve as a cold pasta salad, top with extra pesto, and enjoy!!