Regular readers of this blog know that I love cheese in every form. However, recently I've been trying some plant-based alternatives to expand my horizons. And a few days ago, I've tried making my first nut-free vegan ricotta. 
It tool much less time than I expected, and the result was very satisfying.
Whether you're a vegan, lactose intolerant, nut-allergic or just looking for a healthier alternative to regular ricotta cheese, this recipe is for you!
Regular ricotta cheese is a dairy product made from leftover milk whey, and it's known for its creamy texture and mild, slightly sweet flavor. However, with the rise of plant-based diets, vegan ricotta cheese has become a popular alternative. There is a lot of vegan ricotta recipes online, using either soy, tofu or almond and other nut fruit.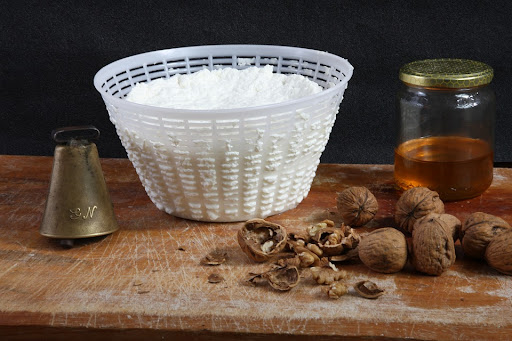 My favorite one is almond ricotta, and I'm going to try making a vegan cashew ricotta cheese soon. However, today I will show you how to make ricotta with just soy, a dash of lemon juice, and your favorite herbs and spices. 
The reasons are simple. First of all, unlike the two alternatives I cited above, this recipe is perfect for both lactose-intolerant and nut-allergic people. Second, even if it's not the most simple recipe that you'll find online, it's by far the more budget friendly. Also, it can be customized to your need, and it takes little to zero effort.
I'm not saying this is the best vegan ricotta cheese out there, but it's a delicious starting point to begin exploring the world of plant-based ricotta substitutes. Let's start!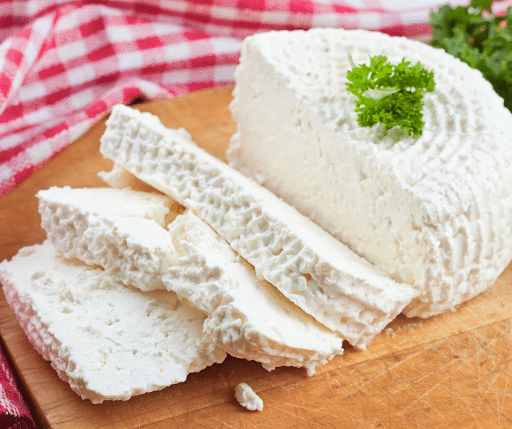 Ingredients Needed For Nut-Free Vegan Ricotta
As I was saying, you need only two simple ingredients to make homemade vegan ricotta cheese, and you can add salt and spices to your liking. 
Unsweetened soy milk: the key ingredient. there are no particular requirements for this. If you already have a favorite brand, go with it. Otherwise, anything from the shelves of your trusted grocery store will do.
Organic fresh lemon juice: the citric acid contained within the lemon will promote the coagulation of the soy milk proteins, thus the separation of curd and whey. People often use apple cider vinegar for that, but the effect is the same, so you can use whichever you like. 
(optional) Fine salt, fresh herbs and spices: go with what you like. For my first attempt, I used fresh basil and marjoram, along with a bit of ground black pepper and a pinch of salt. Some people like to add some garlic powder, or even nutritional yeast. They say it adds a nutty, cheesy flavor, but I still have to try it.  
I usually list the exact amount of each ingredient in the recipe card that I add at the bottom of all my posts. However, the only thing you need to know for this recipe is that the ratio of lemon juice and soy milk is 30 ml of juice for 1 l of milk. In imperial measures, it's about 1 : 33 fl oz.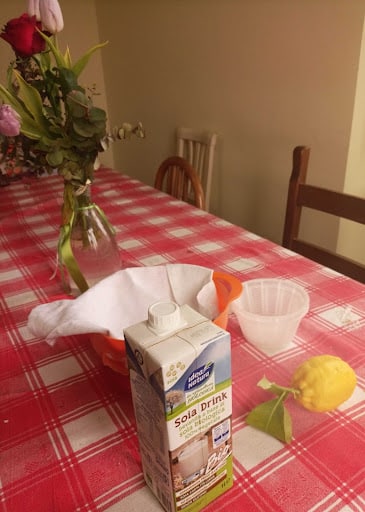 You are also going to need the following tools:
a clean cheesecloth

. Make sure that it doesn't smell like detergent – it has to be odorless and sterile.

a glass bowl

. Soy milk acidifies best when it is in a glass container, so it is best to avoid other materials such as steel and plastic, which can negatively impact the final yield.

a

ricotta strainer and a colander

.

How to Make Dairy-Free Ricotta Cheese Without Nuts
First, heat the soy milk in a small pot.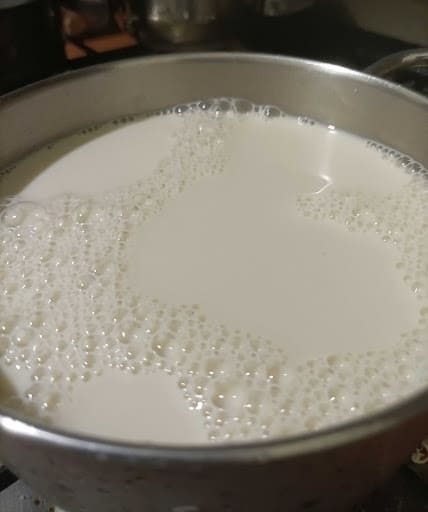 You don't need to bring it to a boil: turn off the stove right when it starts making the first bubbles. 
When it's ready, pour it into a glass bowl, add the lemon juice, and mix continuously for about one minute. The curd will start to form.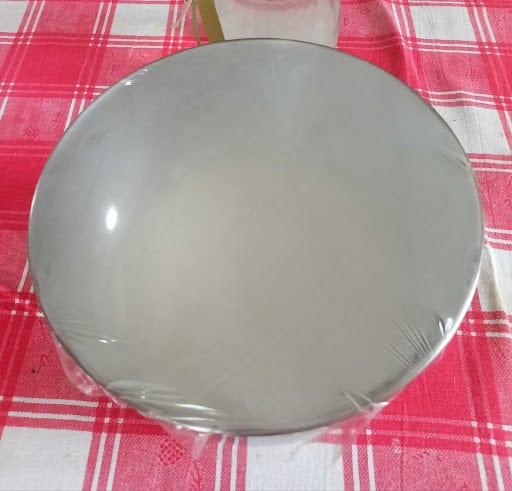 Now, cover the colander with a cheesecloth, and place it on bowl. 
It's important that the colander doesn't touch the whey once it has been filtered. So, make sure to use a taller bowl with a similar diameter. This way, you can use the colander's handles to hang it at the top of the bowl, and leave enough room for the whey at the bottom. 
Pour the acidified soy milk into the colander. The cheesecloth will hold the curd, while the whey sifts into the bigger bowl.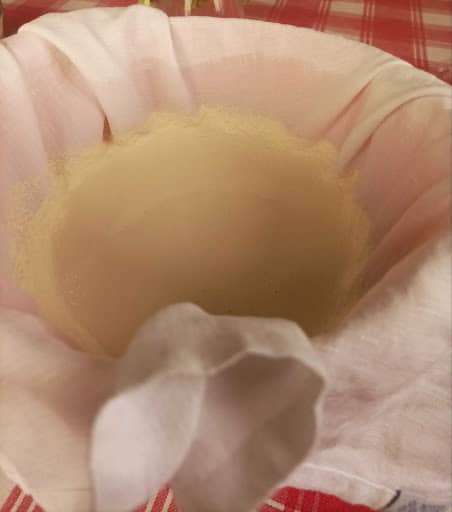 Put everything in the refrigerator, and leave it there for about 90 minutes. Halfway through the process, add the salt, herbs and spices, and mix well.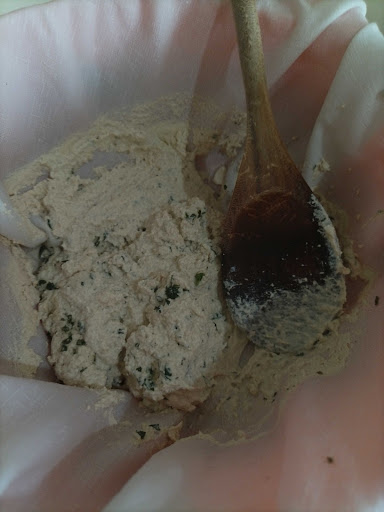 When the time has passed, close the cloth around the curd ball that has formed, and squeeze well to take out the remaining whey. Then transfer the curd into a ricotta strainer and let it sit there for another ten minutes.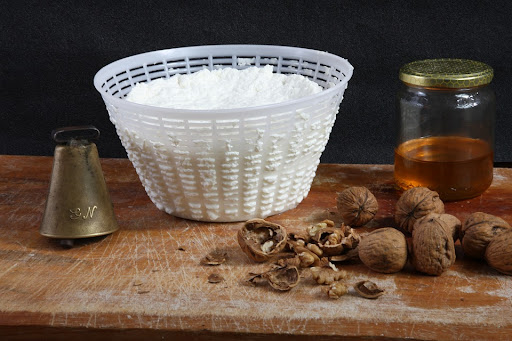 Your nut-free vegan ricotta is ready. Store it in your refrigerator inside an airtight container, and consume it within 2-3 days. You can use the leftover whey for other recipes, like whey pizza dough.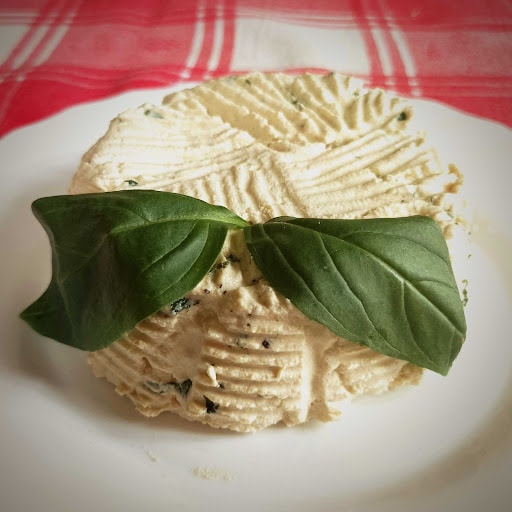 Other Variants of Nut-Free Vegan Ricotta
Soy milk is not the only ingredient that you can use to make nut-free vegan ricotta. The most used are tofu and sunflower seeds. 
Vegan tofu ricotta cheese is made by blending extra firm tofu, olive oil, miso paste and lemon juice/apple cider vinegar in a food processor or a high speed blender. Sunflower ricotta uses the same method, but before starting you'll need to soak the seeds in boiling water for at least 20 minutes, and then rinse them. 
If you'd like to know more about these two recipes, let me know in the comments.
These methods are quicker than using soy milk and are both delicious vegan cheese recipes. However, I don't really see what they have in common with ricotta. The recipe I showed you, on the other hand, tries to replicate the traditional ricotta making process, while using a plant-based alternative to milk. So, I think it's more fit to be considered a ricotta substitute. 
Now you know everything you need to start making your own dairy-free ricotta cheese. There's only one thing left: how will you use it?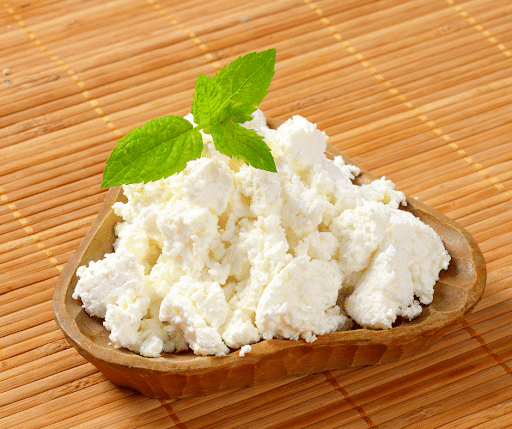 What To Do With This Recipe
You can use this nut-free vegan ricotta for any recipe that calls for traditional ricotta. From pasta dishes to desserts, the possibilities are endless!
Here are some savory dishes where vegan ricotta can shine:
Lasagna or other baked pasta dishes

Stuffed shells or cannelloni

Pizza toppings

Cheesecake or other desserts that call for ricotta

Savory dips and spreads

Ricotta pancakes or waffles

Savory crepes or blintzes
If you're looking for more inspiration, check out my favorite quick & easy ricotta pasta recipes, or Gianna's list of ricotta desserts for some ideas.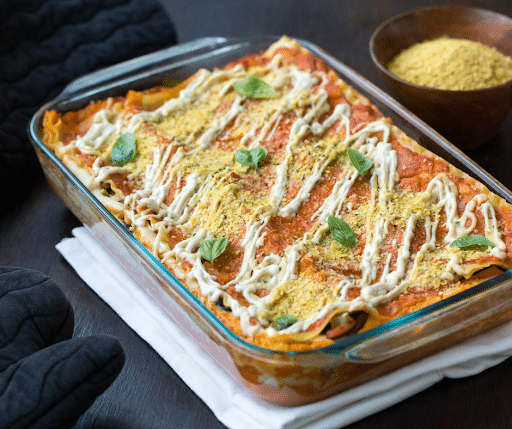 With its creamy texture and tangy flavor, vegan ricotta is a versatile ingredient that can elevate many savory recipes. Now, you can make it any time you want with just two healthy ingredients, and a little patience.
Try it out in your favorite recipes and discover a new world of plant-based deliciousness!
Print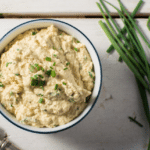 Nut-free vegan ricotta
---
Author:

Total Time:

120 Minutes

Yield:

About

1 cup

1

x

Diet:

Vegan
33

fl oz unsweetened soy milk

1

fl oz organic fresh lemon juice or apple cider vinegar

(optional) 2 tsp fine salt, 

(optional) ground black pepper to taste

(optional) fresh herbs of your liking
Necessary tools:
a cheesecloth

a glass bowl

a ricotta strainer

a colander
---
Heat soy milk in a pot until it starts making bubbles, then pour it into a glass bowl and mix with lemon juice for about one minute.

Cover the bowl with plastic wrap and let the soy milk acidify for 10 minutes.

Cover a colander with a cheesecloth and pour the acidified soy milk into it, letting the curd stay in the cloth and the whey sift into a bigger bowl below.

Put everything in the refrigerator and leave it there for 90 minutes, adding salt, herbs, and spices halfway through the process.

Close the cloth around the curd ball that has formed, and squeeze well to take out the remaining whey. Transfer the curd into a ricotta strainer and let it sit for another 10 minutes.

Store the nut-free vegan ricotta in an airtight container in the refrigerator and consume within 2-3 days. You can use the leftover whey for other recipes.

Enjoy!
Prep Time:

110 Minutes

Active Time:

15 Minutes

Cook Time:

10 Minutes

Category:

Cheese
Keywords: nut free vegan ricotta, dairy-free cheese, vegan recipes, vegan ricotta, best nut-free ricotta.