If you've ever been to La Madeleine and eaten off of their full menu, you know just how good that Balsamic Chicken is.
It's seriously so delicious, and one of the best menu offerings the French bakery has.
There's nothing like juicy, balsamic-marinated chicken thighs, seasoned with salt and pepper.
I make it almost every week for dinner—they're perfect for those busy weeknights.
But lately, I have been thinking about different ways to spice the dish up a bit.
Sure, who wouldn't love just plain old chicken, with a balsamic sear?
It's always a hit in my house, it's one of those healthy dinners that you just can't seem to get enough of.
But to me, balsamic chicken deserves to get all of the hype, and to be prepared the right way.
That's when I got the genius idea to make bruschetta balsamic chicken thighs.
And man… has it been a hit.
It's one of my favorite chicken recipes.
Truth be told, I haven't actually made this for dinner in a long time.
This is one I created in college.
It's cheap, easy, and feeds an entire crowd.
All you have to do is follow a few simple steps using a few key ingredients from the grocery store, and you'll be in business.
What's In This?
Boneless skinless chicken breast: You can use chicken thighs or chicken tenders, too! But I find that this recipe is a wonderful way to spice up some boring old chicken breasts.
Balsamic vinegar: Because what's balsamic chicken without balsamic vinegar?
Honey: This is my favorite binding agent in any marinade, to be honest.
Extra-Virgin Olive Oil: This is the perfect addition to any bruschetta recipe. 
Fresh mozzarella cheese: The key to any great bruschetta recipe. Trust me, once you see how we use the mozzarella cheese in this recipe, you're going to be mind blown.
Tomatoes: Any kind of big old ripe tomato will work.
Red onions: This is a bit of an unsuspecting ingredient, but in this recipe, it really works. If you don't have red onions, I honestly wouldn't bother adding in any onions at all. White onions don't give you the same bite that red onions to, and usually end up overpowering the dish.
Garlic cloves: If you want to take your bruschetta mix from good to great, the key is minced garlic. Not garlic powder, real garlic cloves.
Fresh basil: Key word on the fresh! If you don't have fresh basil, you might as well not use any basil at all and opt to get some for next time. In this instance, a sprinkle of Italian seasoning could also work with this too.
Balsamic vinaigrette glaze: What bruschetta recipe isn't complete without a drizzle of balsamic glaze?
Here's How You Make It: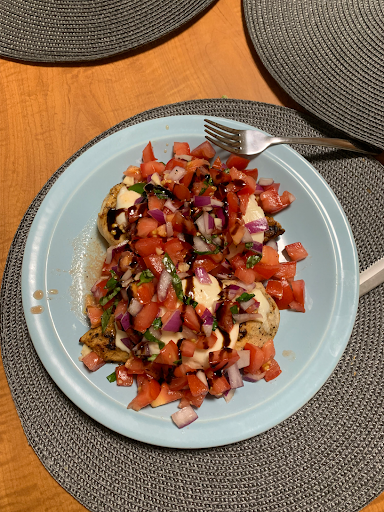 Butterfly cut the boneless chicken breasts in half. Throw them in a bag with balsamic vinegar, olive oil, honey, salt, pepper, and an optional squeeze of fresh lemon juice or lime juice, along with an optional dash of brown sugar and soy sauce. Let sit in the fridge for a few hours if possible.
Place chicken on a foil lined pan after it is done marinating. Season chicken with more salt and pepper.
Bake chicken in the oven at 350° for 22 minutes. While the chicken is baking, get started on your bruschetta mixture. Dice up your tomato and red onion, and toss them in a bowl. I like to also mince a few cloves of garlic with this, too.
Once your ingredients are in the bowl, toss them together with some slices of fresh basil, coarse salt, pepper, olive oil, and a small dash of balsamic vinegar. Mix everything well!
After 22 minutes, take the chicken breasts out of the oven, and top with slices of whole milk low moisture mozzarella cheese. Put the pan back in the oven, and this time broil on high for 3 minutes or until the cheese is melted, bubbling and golden brown.
Take the chicken out of the oven, and top with bruschetta mixture. Drizzle with some balsamic glaze at the end. When cool, store in an airtight container.
What To Serve With Balsamic Chicken: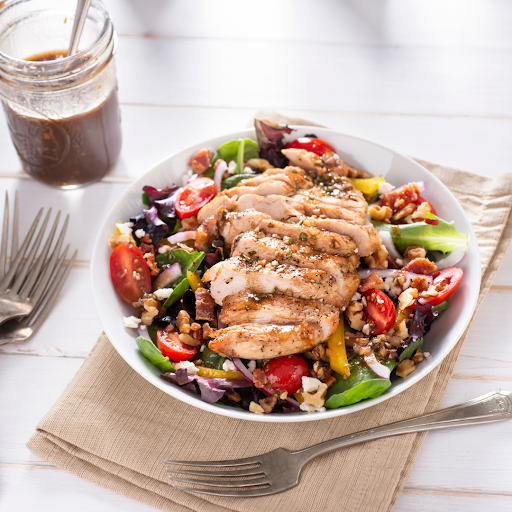 Wine: Any dry pour would taste great. Personally, I prefer sauvignon blanc.
Appetizer: I love enjoying this salad with mixed field greens or arugula salad. Toss your greens together with olive oil, salt, pepper, vinegar, and shaved parmesan cheese. Serve on the side of your chicken, or all together as a whole meal.
Side dish: Rice rice baby! To me, nothing goes with this chicken better than a traditional rice pilaf. You have to trust me on this one.
Dessert: Keep it light! These tiramisu cups are perfect for when you want a little something sweet, but nothing very heavy.
Balsamic Chicken FAQs: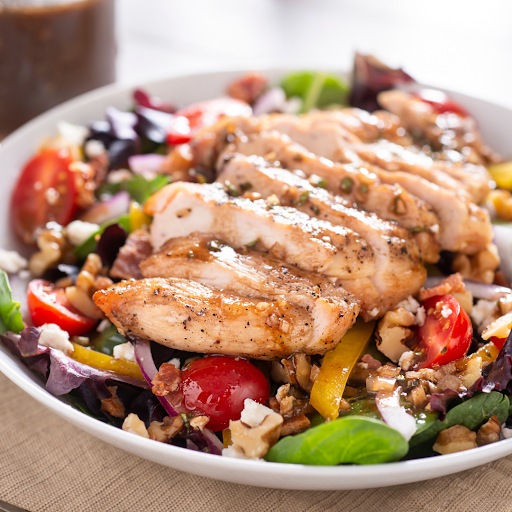 Q: How does this compare to La Madeleine balsamic chicken?
A: It essentially is the same exact recipe, except with a little more pizzazz. We loved the chicken on its own, but if there's one thing we love doing, it's creating a little more spice. That's what this recipe is all about!
Q: What other kind of cheese could I use with this?
A: If you're a fan of burrata, this is delicious, too. Just leave the chicken in the oven for a few more minutes. If you're not a fan of this kind of cheese, I find that this chicken recipe tastes delicious with parmesan cheese. No need to broil it, either.
Q: How do I know when the chicken is cooked through?
A: Use a meat thermometer to make sure the internal temperature of the chicken reaches 165°F. If you don't have one, always air on the side of caution. Carefully cut into the center of the largest breast and make sure it's cooked all the way through after your timer goes off.
Q: Can I serve this with just the chicken?
A: Yes! In fact, if you want my opinion, these would make the perfect appetizer for a special occasion: cookout, barbecue, or indoor event like the Super Bowl. Cut chicken into cubes and pan fry over medium heat in a large skillet with some chicken broth. Sprinkle with some mozzarella cheese, toss into the broiler, and serve with bruschetta mix.

Print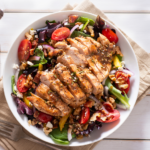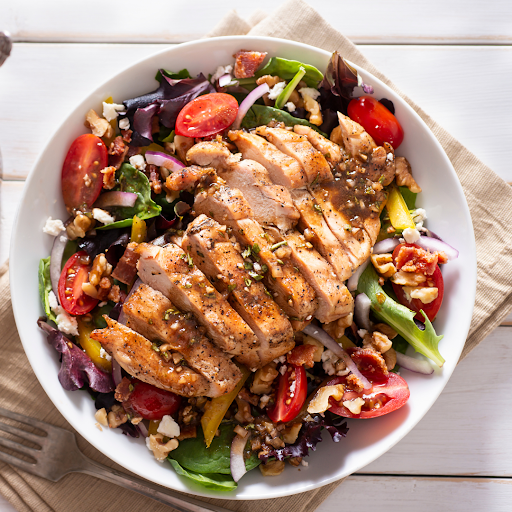 Balsamic Chicken Bruschetta Recipe
---
4

boneless, skinless chicken breasts

1/4 cup

balsamic vinegar

2 tbsp

honey

1/4 cup

olive oil

2 teaspoons

salt, divided

1 teaspoon

black pepper, divided

1 teaspoon

dried oregano

2

medium tomatoes, diced

1/2

red onion, diced

3

cloves garlic, minced

8

–

10

fresh basil leaves, thinly sliced

1/4 teaspoon

balsamic vinegar

4

slices whole milk low moisture mozzarella cheese

Balsamic glaze, for drizzling (optional)
---
Butterfly cut the chicken breasts in half, and place them in a large resealable bag.

In a small bowl, whisk together the balsamic vinegar, olive oil, 1 teaspoon salt, 2 tbsp honey, 1/2o teaspoon pepper, and dried oregano. Pour the marinade over the chicken in the bag, seal it, and toss to coat. Allow the chicken to marinate in the fridge for at least 2 hours, or overnight if possible.

Preheat the oven to 350°F. Line a sheet pan with aluminum foil.

Arrange the chicken breasts in a single layer on the prepared sheet pan. Season with the remaining 1 teaspoon salt and 1/2 teaspoon black pepper.

Bake the chicken in the oven for 22 minutes.

While the chicken is cooking, prepare the bruschetta topping. In a medium bowl, combine the diced tomatoes, diced red onion, minced garlic, and sliced basil leaves. Add 1/4 teaspoon balsamic vinegar, 1 tablespoon of olive oil, and a pinch of salt and black pepper. Toss everything together to combine.

Once the chicken has cooked for 22 minutes, remove the pan from the oven. Place a slice of mozzarella cheese on top of each chicken breast.

Return the pan to the oven and broil on high for 3 minutes, or until the cheese is melted and golden brown.

Remove the pan from the oven again, and top each chicken breast with a generous spoonful of the bruschetta mixture.

Drizzle each chicken breast with balsamic glaze, if desired, and enjoy!