Jason's Deli is a great chain for grabbing a quick sandwich, soup, or salad. 
Their best offering, however, is their fresh salad bar. 
If you've never been to the salad bar at Jason's Deli, you need to try it. It is loaded with fresh veggies, cheese, nuts, and all kinds of toppings for a custom-built salad. It also offers a variety of delicious side dishes such as potato salad, chocolate mousse, and the famous Italian pasta salad.
The Jason's Deli Italian pasta salad is so simple yet so delicious. Made with fresh, zesty veggies and flavorful dressing, this classic tri-color pasta salad is easy to make and delightful to eat.
Next time you have a hankering for their pasta salad, there's no need to go to Jason's Deli. You can make your own easy pasta salad with this great recipe. You may be surprised how easy and how similar it is!
Ingredients
Pasta: Jason's Deli uses tri-color rotini for that colorful, fun look. You can substitute any noodles you like for pasta salad! Farfalle, orzo, or penne pasta are my other favorites.
Broccoli: Broccoli is a less popular vegetable choice for pasta salad and I think that's part of what makes this recipe special. The lightly steamed broccoli adds a unique texture and flavor to this pasta salad that I really enjoy.
Red bell peppers: Along with the flavor, red bell peppers bring crunch and color to the pasta salad.
Black olives: Simple black olives are a true crowd-pleaser, perfect for this cold pasta! They have a delicate flavor that isn't overpowering compared to kalamata or green olives.
Italian dressing: The dressing is what really makes a pasta salad. We will be whipping up a flavorful Italian dressing that is much like the one used at Jason's Deli.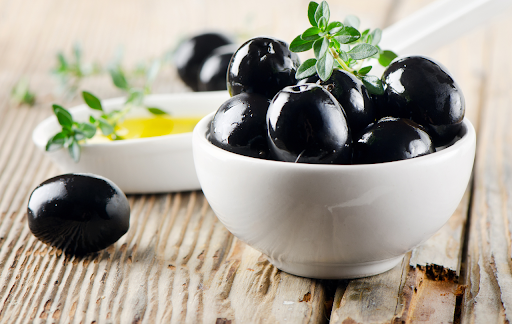 How to Make Jason's Deli Pasta Salad
Boil the noodles. Add your dried noodles to boiling salted water and cook them according to the package instructions. It's best to cook your noodles al dente so they don't get soggy as they marinate in the dressing.
Boil the broccoli. Add your broccoli to the boiling water about three minutes before the noodles will be finished cooking. Alternatively, you may boil the broccoli separately or steam it lightly. If you like your broccoli softer or you use larger florets, you may need to boil it longer than three minutes.
Drain and chill. Drain the noodles and the broccoli into a colander and run them under cold water until they have completely cooled.
Make the dressing. To make the Italian dressing, add all of the ingredients into a small bowl or jar and whisk it vigorously. Make sure all of the mustard is incorporated into the dressing.
Make the pasta salad. To assemble the salad, combine all of the ingredients and the salad dressing in a large bowl and stir well. 
Chill the pasta salad. Pasta salad tastes best if it has time to chill and marinate in the fridge. I recommend putting it in the fridge, covered, for at least 2 hours or up to overnight.
Optional Add-ins
Jason's Deli has perfected the minimalist pasta salad with just five main ingredients. If loads of veggies, meat, and cheese are more your style, here are some delicious ideas to dress up your pasta salad:
Fresh Veggies: Red onions, green onions, cherry tomatoes (or grape tomatoes), green peppers, kalamata olives, and artichoke hearts are delicious options.
Cheese: For pasta salad, I usually opt for feta, parmesan, mozzarella, or parmesan cheese. Cut them into small cubes or shred the cheese.
Meat: Hard salami, crispy bacon, or chicken are popular choices for adding protein to your pasta salad.
Fresh herbs: Fresh parsley or fresh basil will add extra flavor and an extra pop of color.

Frequently Asked Questions
How many calories are in Jason's Deli Pasta Salad?
According to the Jason's Deli website, one serving (182 grams or about 1 cup) of their pasta salad is 350 calories. Our copycat recipe has about 325 calories in a one-cup serving.
What kind of dressing does Jason's Deli use in their pasta salad?
Jason's Deli uses their signature Italian Dressing for the Italian pasta salad. While they don't sell their dressing, we are going to make a very similar one for this copycat recipe.
Should you rinse pasta when making pasta salad?
Rinsing pasta after it's finished cooking is not typically recommended. The main exception is when you are making pasta salad. Rinsing your noodles in cold water after you drain them cools the noodles and rinses off excess starch.
How long does pasta salad last?
Pasta salad lasts 3-5 days in the fridge, stored in an airtight container. When you are ready to eat it, I recommend adding a little bit more dressing or some oil and vinegar as most of the dressing will be absorbed into the noodles while the salad sits.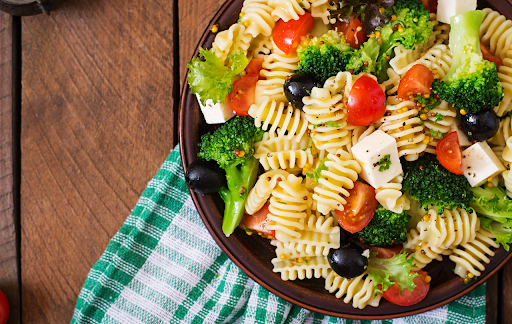 Try More Fantastic Pasta Salad Recipes
We are on a pasta salad kick and loving it! Try more of our tasty pasta salad recipes for your next family dinner, cookout, or potluck.
Print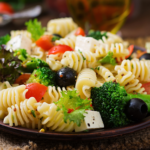 Italian Pasta Salad Recipe | Easy Jason's Deli Copycat
---
8 ounces

Tri-color rotini (or noodle of choice)

1

6-ounce can of black olives, sliced

2 cups

small broccoli florets

1 cup

red peppers, diced
For the Dressing
3/4 cup

extra virgin olive oil

1/4 cup

red wine vinegar

2 tablespoons

fresh lemon juice

1 tablespoon

grated parmesan romano cheese

1/2 teaspoon

garlic powder

1/2 teaspoon

onion powder

2 teaspoons

Italian seasoning

1/2 teaspoon

Dijon mustard

1/2 teaspoon

red pepper flakes (optional)

Kosher salt and black pepper to taste
---
Bring a large pot of salted water to a boil. Cook the noodles al dente according to the package instructions.

While the pasta is boiling, mix up your Italian dressing by combining the ingredients in a small bowl and whisking them together.

About three minutes before the pasta will be finished cooking, add your broccoli florets to the boiling water. You may need to boil the broccoli longer than three minutes if your florets are big or if you like softer broccoli.

Drain your pasta and broccoli and run them under cold water for 1-2 minutes, until they are completely chilled.

Combine your pasta and broccoli in a large bowl with the remaining ingredients. Add your dressing and toss to ensure all of the ingredients are coated in the dressing.

For best results, chill in the fridge for at least 2 hours before serving.