Who knew a vegetarian dish could be so damn good?!
The first time I made a minestrone soup, I was a bit skeptical.
I am a huge advocate for meat being present in all dishes, so when I looked at a minestrone for the first time years ago, I thought, "meh, can't be that great, right?"
Wrong!
It's just so delicious, bursting with flavor on all ends.
I'll have to admit, I can make a pretty decent minestrone recipe myself. It's such a delicious and easy soup recipe that's just about impossible to screw up, especially when it comes to adding a bunch of different vegetables.

So when I saw all of the hype around the famous minestrone soup recipe from Carrabba's Italian Grill, I thought, for sure I found a soup recipe that can compare to my own.
And while it was delicious, (fresh green beans in a soup can never go wrong) I still found my own original minestrone recipe to be better than Carrabba's minestrone soup recipe.
Honest.
Seriously, this recipe is the bee's knees—it makes for a mean bowl of soup.
And with a little work on your end, I guarantee you that this will be your new favorite soup recipe, as well.
What You Need: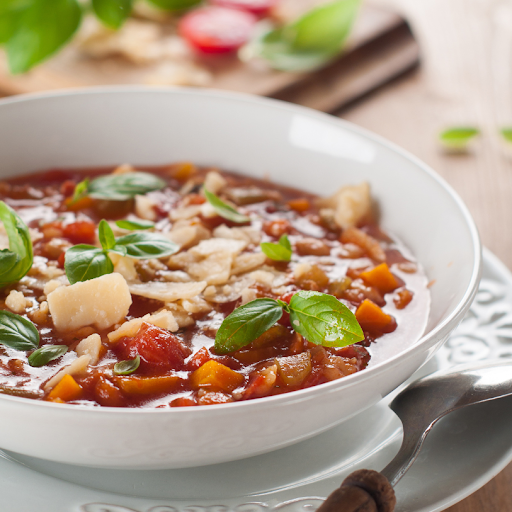 Broth: Here's a little secret, I'm partial to chicken stock or chicken broth, making this recipe not technically vegetarian. Of course, you're more than welcome to substitute this hearty Italian minestrone soup with vegetable broth if you prefer.
Diced Tomatoes: If you only have crushed on hand, that's fine, but this soup is a lot heartier when you use diced tomatoes. I am partial to fire roasted, but you can use whatever you would like.
Mirepoix: Or otherwise known as Italian soffritto, Mirepoix is the base of this delicious soup. It's the key here. It consists of diced white onion, chopped carrots, and celery. It makes the soup flavorful, tender, and nutrient packed.
Beans: Beans beans beans. They make up this soup. You can use cannelini beans, garbanzo beans, kidney beans, anything you'd like. Typically, I use kidney beans and garbanzo beans, but it's entirely up to personal preference. Remember, the beans are the source of your protein!
Zucchini: When zucchini is in season, that's when it's really time to shine. Personally, I love to chop up a small zucchini, and toss it into the soup right after the mirepoix is done cooking. It's the secret to taking this soup to the next level.
Spinach: When in doubt, toss an entire bag of spinach in there. It'll make the soup really flavorful and delicious.
Minestrone Soup FAQs: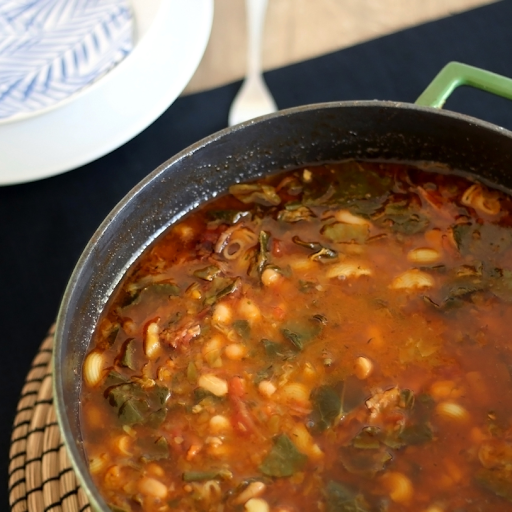 Q: Can I cook this in the slow cooker?
A: To be honest, I wouldn't. If you wanted to, you can cook this on high for 2-3 hours, or low for 5-6 hours. All you would need to do is add everything, and then walk away. But I think what makes this soup so special is the layering of the ingredients. By allowing the mirepoix to saute, it really gives off a nice aromatic flavor that a slow cooker just wouldn't give you.
Q: What kind of meat could I add into this?
A: If you want to anger your local Italians, try adding in some browned Italian sausage. Brown it in the stock pot at the beginning, remove, and add back in during step 2. As much as it will piss some people off, it sure will be delicious.
Q: What could I use besides pasta in this?
A: Many things would be delicious in this. You could do it as my grandmother did, and dice up some medium potatoes, adding them right in. You could also make this with rice, chickpea pasta, cauliflower gnocchi, or even regular gnocchi. Any way is fair game!
What Can I Serve With Minestrone Soup?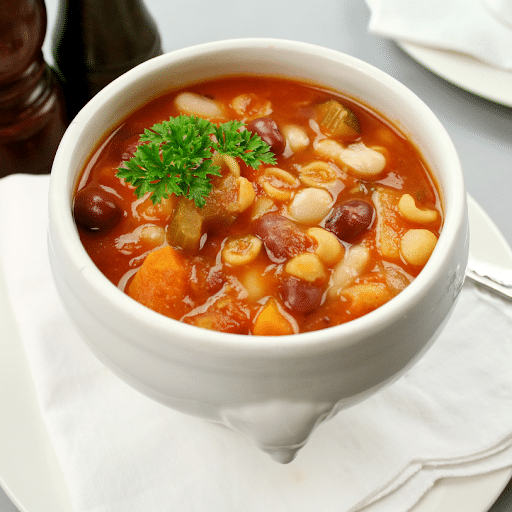 Drink: I am a big fan of light red wines with my soups. That's why a pinot noir would be my top choice for this.
Appetizer: Since this soup is on the lighter side for a main course, what better way to begin your meal than with a more robust appetizer? Try our caprese flatbreads and thank us later.
Side dish: If you're not eating your soup with some garlic bread like you would at any of the high end Italian restaurants in your area, you'd just be doing it all wrong.
Print
Italian Minestrone Soup Recipe
---
Author:

Total Time:

45 minutes

Yield:

4

-

6

bowls

1

x
2 tbsp

olive oil

2

carrots, chopped

2

stalks celery, chopped

4

cloves garlic, minced

1

white onion, chopped

1

zucchini, chopped

1

bag of spinach, uncooked

1

can diced tomatoes, undrained

1

can garbanzo beans, drained and rinsed

1

can kidney beans, drained and rinsed

1

pecorino Romano rind (optional)

1

bay leaf (can add more if desired)

1 cup

elbow pasta, or pasta of your choice

1 tsp

basil

1 tsp

green goddess seasoning (or Italian seasoning)

1/2 tsp

crushed red pepper flakes

1 tsp

salt

1/2 tsp

black pepper

6 cups

chicken or vegetable broth
---
In a large pot, heat olive oil over medium heat. Sauté celery, chopped carrots, onion, and a pinch of salt  for about 5 minutes or until the vegetables start to soften. Add in garlic at the 4 minute mark.

Add the zucchini, diced tomatoes, garbanzo beans, kidney beans, parmesan rind, bay leaves, elbow pasta, basil, green goddess seasoning, crushed red pepper, salt, black pepper, and vegetable broth. Stir to combine.

Bring the soup to a boil, then reduce the heat to low and let it simmer for about 20-25 minutes or until the vegetables and pasta are tender.

Add in a bag of spinach, and stir until wilted.

Remove the bay leaves and Romano rind. Taste the soup and adjust the seasoning as needed.

Serve hot with some

garlic bread

, if desired. Enjoy!
Prep Time:

10 minutes

Cook Time:

35 minutes