You've seen it on TikTok. You've seen it on YouTube.
But have you ever actually tried a Flamin' Hot Cheetos Pizza?
Speaking for us at Mortadella Head, we most definitely hadn't until recently.
We've seen Cheetos mac and cheese, Cheetos quesadillas, and even burgers with Cheetos. But we had never tried a Flaming Hot Cheetos Pizza.
So, once we found out about it, we had to learn how to make it.
Sure, it sounds like a great way to give yourself a heart attack. But what's the harm in trying?
Visualizza questo post su Instagram
How Do Most People Make This?
Once we started researching what goes into making a Hot Cheetos Pizza, we noticed some common trends.
A lot of people will opt to go for a combination of shredded cheddar cheese and slices of mozzarella cheese, rather than just using fresh mozzarella. They'll top this pizza with ghost peppers, chili powder, red onions, and create crushed Cheetos with a food processor.
Finally at the end, the Cheeto dust will get sprinkled onto the pizza after it comes out of the oven.
Of course, there were some people who took a different approach. For example, we even saw one guy making a massive stuffed crust with a bunch of pieces of spicy Cheetos.
This seems all well and good, but we wanted to be different.
We wanted to do this like no one else had done before, make a different kind of pizza than anyone was making.
That's when we got the genius idea to make Flamin' Hot Cheetos Chicken, and top the pizza with that.
Visualizza questo post su Instagram
How Did We Make Flamin' Hot Chicken?
We had a couple of already breaded boneless chicken wings, so we decided to take those and run with them.
We first ground up half of the bag of Cheetos in the food processor. While that was grinding, we cracked and whisked 2 eggs in a bowl. Once the Cheetos were crushed, the dust went into a separate bowl, creating our two different breading stations.
The chicken wings first went into the egg wash, and then got rolled around in the dust.
After the wings were completely coated with Cheetos crumbs, it was time to cook.
We put canola oil into a frying pan and let it heat up, rather than using one of our deep fryers. We figured it would allow us to pay close attention to the chicken, since we didn't know how quickly it would cook.
Once the pieces of chicken started to sear nicely, we put them onto a paper towel to get rid of any excess oil.
Overall, the chicken cooked nicely when coated with dust from Cheetos. If you're copying this recipe and don't eat meat, you can always recreate this with cauliflower pieces. It'll taste an awful lot like hot Buffalo cauliflower bites.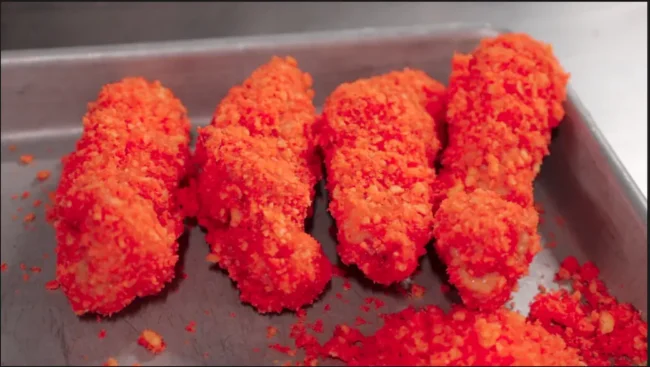 How Did We Make The Rest Of The Pizza?
It was actually pretty simple.
We already had some crust from our Roman pizza dough, so we were able to use some of that to put this experiment to the test.
First things first, of course, is the pizza sauce. We spread it all over the pizza crust as we normally would, and covered that up with mozzarella cheese. We decided to not use any cheddar or any other common types of cheeses with this, and opted to use feta instead.
We cut the chicken up, and spread it all over the pizza base.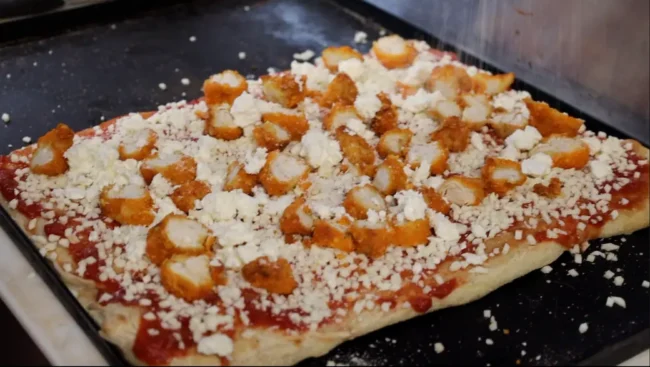 Finally, we were ready to put this spicy treat into the oven.
Once it came out, we decided to get a little crazy, and here's where things may have gone a bit overboard with the pizza toppings…
We had decided a bit early on in the process that we were going to make this pizza just as we would make a buffalo chicken pizza.
So as we would have, we drizzled it with buffalo sauce.
Instead of the creamy gorgonzola dressing, however, we decided to also drizzle it with ranch. We figured it was a bit more versatile than the other option, to accommodate for the Cheetos that we added.
Then, on a whim, we decided to add yellow cheese sauce.
In hindsight, I'm not sure we would do this again. So if you're following this recipe and debating on whether or not to add this, I wouldn't. However, if you're omitting the buffalo component altogether, then you may want to add the cheese sauce.
Finally, we sprinkled it with leftover Cheetos, and took a look at our masterpiece.
Chuck was appalled. Sebby felt disgustingly great about it.
We cut it up, and gave some slices to a few customers and got their reactions.

How They Reacted
"There's too much going on," one customer said, clearly trying to act less disgusted than she was. "If I wanted Cheetos, I'd have Cheetos."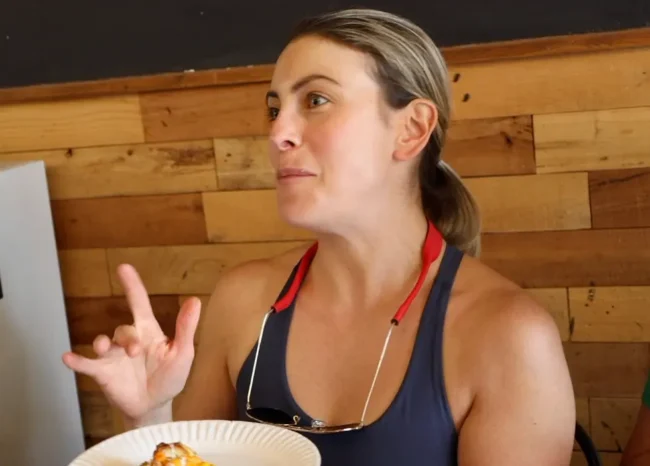 However, another customer had a different opinion. "It's actually really good. Whatever you've got going on with all the sauces, you're doing something right."
Score.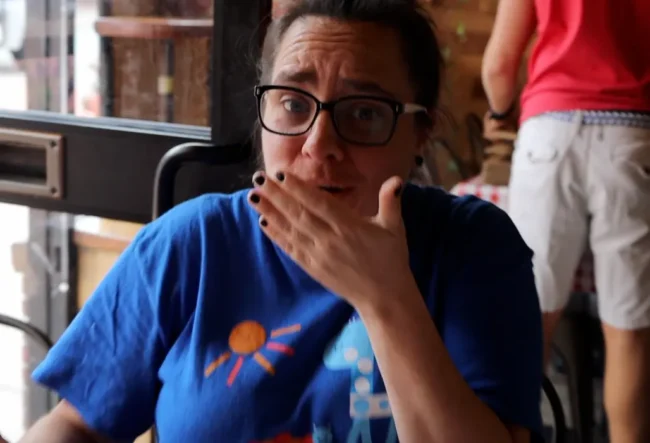 Sebby came in at the end, though, with the ultimate taste test.
The end result?
"This would be good if you were really high."
Honestly, he's not wrong.
Would We Do This Again?
Meh.
Probably not the way we did it today. Again, we would either stick to the buffalo chicken component or just add the cheese sauce to not overwhelm the taste buds.
Other than that, there's no real reason Cheetos should go on pizza.
What I will say is that everyone should be trying this at least once. Which is why I'm including a recipe card at the bottom of this post, so you can recreate this masterpiece for yourself if you would like.
Overall, this wasn't the most marvelous pizza I've ever had. If I saw this on a menu, I would still go for my other favorites, like a pulled pork or buffalo chicken pizza. But some people may love this!
If you give it a try, let us know in the comments section below.
Print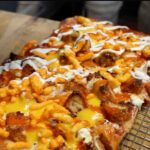 Hot Cheeto Pizza Recipe
---
Author:

Total Time:

35 minutes

Yield:

1

1

x
A bag of Flamin' Hot Cheetos

Your favorite pizza dough (check out our homemade pizza dough recipe if you want to learn how to make it like the pros!)

1 cup tomato sauce

4 oz. chicken

1 cup flour

2 eggs

½ cup canola oil (you won't want to use olive oil with this one since you're deep frying)

½–1 cup mozzarella cheese

½ cup feta cheese

Buffalo hot sauce (optional)

Yellow cheese sauce (optional)

Ranch dressing (optional)
---
Preheat oven to 400°
Grind ½ the bag of Cheetos in a food processor, creating Cheetos dust. Set the remainder of the bag off to the side (you'll be using the whole thing), and put the dust into a bowl.
Crack and whisk two eggs in a separate bowl.
Put flour into a mixing bowl.
Begin to bread your chicken; first with the four, then the beaten egg wash, then the Flamin' Hot Cheetos dust.
Heat up oil in a frying pan, and begin to sear the chicken on each side until fully cooked.
Cut each piece of chicken into little pieces.
Spread out your pizza dough, and top with tomato sauce, then mozzarella cheese, then the pieces of chicken, and then finally, the feta cheese.
Put in the oven for about 15 minutes or until the crust is golden brown and the cheese has melted.
Once the pizza is done, top with ranch dressing, buffalo sauce, cheese sauce, and the remainder of the bag of Cheetos.
Let us know if you enjoy it!
Prep Time:

20

Cook Time:

15

Category:

Pizza