Whenever I think of Caprese Bruschetta, I picture a sun-drenched patio during summer time, a plate of fresh Caprese Bruschetta, and vibrant aromas of ripe, fresh, and juicy tomatoes, fresh basil, and creamy mozzarella playing with my senses – doesn't this sound absolutely amazing?
 Let me go even further, picture this: a golden brown, perfectly toasted slice of French baguette, topped with the juiciest and freshest tomatoes that are bursting with flavor, scattered cubes of soft and melting mozzarella, and the sweet lingering balsamic glaze to crown it – a culinary masterpiece and an explosion of flavor for your taste buds.
 Whether you want this as a quick snack or a classic appetizer, you won't be disappointed with this super easy recipe! 
What You'll Need for the Caprese Bruschetta Recipe
My description may sound too good to be true, however, it's not! It's actually super easy to make this recipe and enjoy a piece of Italy literally anywhere.
Here's what you'll need:
1 French Baguette, sliced into 1/2-inch rounds

2 cups fresh and juicy cherry or grape tomatoes, halved (you can also take 2 larger tomatoes and dice them)

1 cup fresh mozzarella cheese, diced (

mozzarella balls are ok too!

)

1 cup basil leaves, chopped (consider also having some whole leaves to garnish it)

2 cloves garlic, peeled and halved

1/4 cup extra virgin olive oil, plus more for drizzling

2 tablespoons balsamic glaze (or balsamic reduction) –

optional!

Sea salt

Freshly grounded black pepper
 That's it! This will probably be the easiest appetizer you've ever made!
 Tip: If you're dairy-intolerant, some amazing dairy-free mozzarella options are made of cashew or almond cheese! Alternatively, if you're just not a fan of mozzarella, consider adding goat cheese or some slices of avocado; while it won't mimic the taste of the mozzarella, it will add some creamy and rich texture!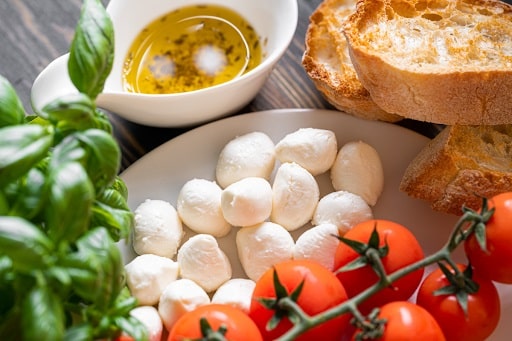 How to Make Caprese Bruschetta in 4 Steps
Like any culinary masterpiece, this delicious dish demands a touch of multitasking to ensure all the components are flawlessly prepared!
 Before you start prepping everything, preheat the oven to 375°F (190°C).
Step 1: Prepare the Baguette
Slice the French Baguette into 1/2-inch rounds and arrange them on a baking sheet to make them all fit. Then, lightly brush one of the sides of the bread with olive oil using a pastry brush (if you have one) or drizzle olive oil over the pieces.
 Next, place the baking sheet into the preheated oven and toast the slices for about 8–10 minutes, or until they're gold and crisp enough to your liking — just make sure they won't turn black! Once you've got the baguette pieces where you want them, take them out of the oven and let them cool off slightly.
Step 2: Rub the Pieces with Fresh Garlic
 Take a garlic piece and cut it in half. Once the baguette is cooled off enough, so you can touch the baguette pieces without burning yourself, but they still need to be warm, brush the olive-oil side with the cut side of the garlic glove to infuse it with a subtle yet key taste – just thinking about this makes me want to run into the kitchen and make it!
Step 3: Prepare the Caprese Topping
As the baguette slices continue to chill (pun intended!), you can start preparing the Caprese topping. You will need a mixing bowl in which you will combine the following:
Halved cherry tomatoes

Diced mozzarella

Chopped basil leaves

1/4 cup of olive oil
 Start mixing and tossing it until everything is well mixed. Add salt and freshly ground pepper to your taste – I prefer to have it slightly saltier than I'd like, as it will combine with the prepped baguette flavors.
Step 4: Finish Off the Caprese Bruschetta
You're almost done! Next, assemble the Caprese Bruschetta by spooning a good amount of the topping onto the side of the toasted bread slices smeared with olive oil and garlic.
Now, place them on a serving tray or napkin, depending on your plans. Finally, drizzle a dab of balsamic glaze over the top just before serving to add that extra flavor, and add the whole fresh basil leaves to crown it.
 Voilà! Now you have your own little piece of paradise.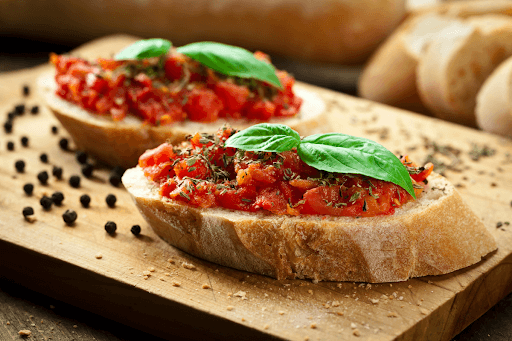 Expert Tips
Here are some extra tips to make this experience even better:
If you're up for a tasty adventure (

ha

!), a great way to spice things up is to add a pinch of red pepper flakes to the Caprese mix to give it an extra punch.

Pick either an Italian or French baguette based on your preferences (

more so in the FAQ

s!)

Serve and eat immediately as soon as it's done, so it won't become soggy, and you'll get to enjoy the crispy bread with the simple tomato mixture

Let the Caprese mix marinate in the fridge for 15-30 minutes to let the flavors meld more
Serve it at room temperature, even if you're tempted to put the Caprese Baguette in the fridge before guests arrive.

Unfortunately, the cold fridge temperature can mute the flavors –

so make sure to time it well!
 On another note, when it comes to the Baguette, the size, and the baguette type make a difference! Italian and French baguettes differ in crunchiness when baked and how well toppings will hold. It will depend on your preferences – I will go into more detail below in the FAQs!

Make Your Own Traditional Balsamic Vinegar Glaze
Want to make your own Balsamic Glaze while you're at it? Do it! It's actually SUPER easy!
 Simply simmer 1/2 cup of balsamic vinegar in a small saucepan over low heat until it shrinks," reduces itself by like half, and thickens up more – let it cool off. That's it!
 Add it on top of your delicious bruschetta and enjoy!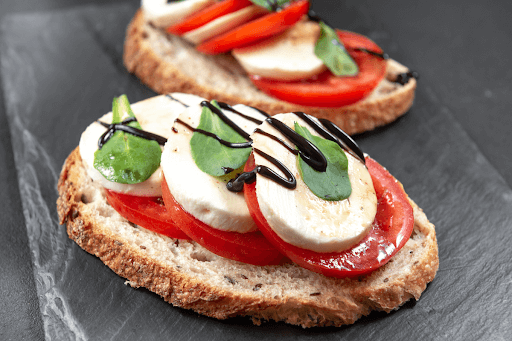 Other Variations of Caprese Bruschetta
Looking for something similar? Here's an overview of all the different variations of this Italian appetizer:
Vegan Caprese Bruschetta

– replace the mozzarella with dairy-free cheese

Avocado Caprese Bruschetta – add slices of ripe avocado to the Caprese mix
Caprese Chicken Bruschetta

– Add some grilled chicken (or even prosciutto) for extra protein to make it an entire meal

Mediterranean Twist

– Replace the Mozzarella with feta cheese and add diced cucumbers with a sprinkle of oregano for a more Greek-inspired version

Sun-Dried Tomato Caprese Bruschetta

– Sun-dried tomatoes can add a deeper and more concentrated tomato flavor

Pesto Caprese Bruschetta

– add a layer of basil pesto to the bread before adding the Caprese mix to get an extra rich and herby flavor
 There are so many versions, maybe you're even inspired to create something on your own?
Frequently Asked Questions
While many important questions surround this recipe, here's an overview of the most frequently asked ones!
Is Italian or French baguette better for Caprese Baguette Recipe?
Whether Italian or French Baguette is better for a Caprese Baguette recipe depends entirely on your preferences.
 Italian Baguette
Denser and chewier

Thicker, chewier crust and firmer crumbs

Robust and deeper flavors with olive oil touches
Why it works well: Holds Caprese mix well without becoming soggy, while the olive oil mix complements the taste
 French Baguette
Thin and crispy crust with tender crumbs

Soft and airy inside

Subtle and slightly sweet-yeasty flavor
Why it works well: The crusty bread adds that extra crunch to each bite and contrasts perfectly with the soft and juicy Caprese topping
 As you can see, it depends on your preferences! The Italian Baguette is my favorite thing, as I love experiencing everything from an authentic Italian restaurant at home.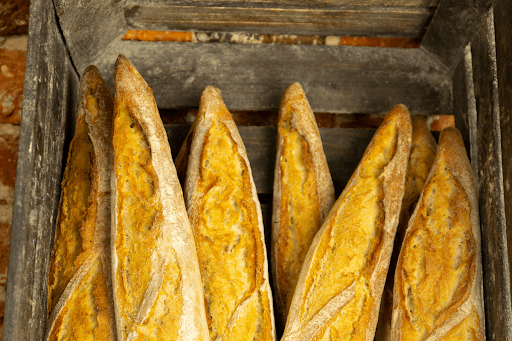 Can I Make Caprese Bruschetta Ahead of Time?
The simple answer is: yes and no, ha. The Caprese mix can be prepared up to 45 minutes in advance and marinated in the refrigerator for 15 to 30 minutes. However, once the Caprese mixture is placed on top of the toasted bread, it should be served right away to avoid the bread becoming soggy and losing its flavor.
Best Ways to Store Leftover Caprese Baguette?
Yes! The leftover tomato-mozzarella mixture can be kept fresh for up to three days, while the toasted baguette can be kept for up to two days. Caprese should be stored in the fridge in an airtight container, while the bread can be kept at room temperature in a sealed bag. Make sure to check the expiration date on any store-bought balsamic glaze or store any homemade versions in an airtight container in the fridge for up to two weeks.
 When you're ready to eat the leftovers, re-toast the bread in the oven for a few minutes, spread the Caprese mixture on the freshly re-toasted baguette, and finish with a sprinkle of balsamic glaze – perfect if you have a toaster oven!
Can I Use Dried Basil Instead of Fresh?
While fresh basil is recommended for its vibrant flavor and presentation, you can also use dried basil if you're in a pinch. However, make sure not to use as much of it since it's a more concentrated flavor – maybe about 1 tsp of dried basil for every tablespoon of fresh basil.
Print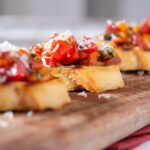 Easy and Delicious Caprese Bruschetta Recipe
---
For the Pizza Crust:
1

whole wheat pizza crust (store-bought pizza dough or homemade dough) (can substitute cauliflower pizza crust for keto pizza)

1 tablespoon

olive oil
For the Tomato Sauce:
1 cup

low-sodium tomato sauce, or

one

whole tomato, sliced

1 teaspoon

dried oregano

1 teaspoon

dried basil

1/2 teaspoon

garlic powder

Salt and pepper to taste
For the Toppings:
1 cup

cooked and shredded boneless, skinless chicken breast (can substitute leftover chicken or any other chicken mixture)

1/2 cup

part-skim mozzarella cheese, shredded (can substitute fresh mozzarella cheese)

1/4 cup

grated Parmesan cheese

1/4 cup

fresh basil leaves, torn

Crushed red pepper flakes (optional)
---
Instructions:
Preheat the Oven: Preheat your oven according to the pizza crust instructions or to 400°F (200°C) if you're using homemade or store-bought whole wheat pizza crust.

Prepare the Tomato Sauce: In a small bowl, mix the tomato sauce, dried oregano, dried basil, garlic powder, salt, and pepper. Set aside.

Prepare the Toppings: Season the cooked and shredded chicken breast with a pinch of salt and pepper. Toss to combine.

Prepare the Crust: If using a store-bought crust, follow the package instructions for pre-baking or preparing the crust. If using homemade dough, roll out the dough with a rolling pin on a lightly floured surface to your desired thickness. Place the rolled-out dough onto a pizza stone or baking sheet.

Assemble the Pizza:

Brush the olive oil over the surface of the pizza crust to prevent it from getting too soggy.

Spread the prepared tomato sauce evenly over the crust, leaving a small border around the edges for the crust.

Distribute the cooked and shredded chicken evenly over the sauce.

Sprinkle the shredded mozzarella cheese over the chicken.

Bake the Pizza: Place the pizza in the preheated oven and bake according to the pizza crust instructions or until the cheese is melted and bubbly, and the crust is golden brown, about 10-15 minutes.

Finish and Serve:

Once the pizza is out of the oven, sprinkle the grated Parmesan cheese over the top.

Scatter torn fresh basil leaves over the pizza.

If desired, add a pinch of crushed red pepper flakes for some heat.

Slice and Enjoy: Allow the pizza enough time to cool slightly before slicing it into desired portions. Serve it warm and store in the refrigerator or freezer in an airtight container.