Have you ever eaten anything that tastes like a warm hug?
Maybe you've tasted it and immediately thought that all would be right in the world if everyone ate what you're eating. That's exactly how we feel whenever we take even a bite of these delicious caramelized onions and mushrooms.
This easy recipe adds the most perfect, savory flavor to anything you'll be serving.
You don't even need anything fancy like balsamic vinegar, soy sauce, or white wine.
You might think that this is too complicated to make, that this is something you can only get in a restaurant. And sure, there are ways and methods of cooking this that definitely do take awhile.
But here's a little secret: this recipe is so ridiculously easy.
If we were to be using sauteed mushrooms or sauteed onions, for example, this would be a different story. But today, we're going to show you how to caramelize these onions and cook these mushrooms in none other than your very own oven on medium heat.
That's right, no need for a large skillet or anything like that. Just a normal baking sheet and 50 minutes of your time.
A simple recipe, for a great side dish!
What kind of onions and mushrooms do I need?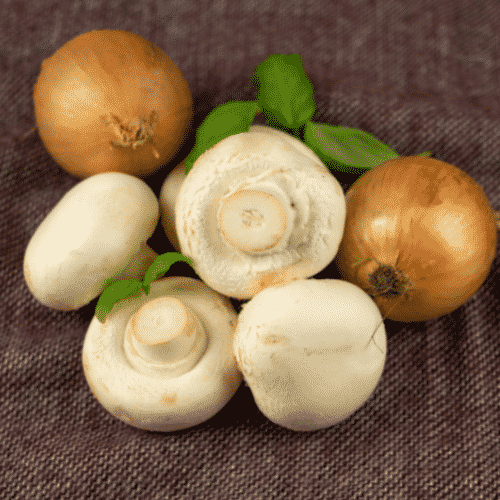 Typically, when caramelizing onions, it's recommended that you use yellow onions. They are filled with sugar and moisture that will melt down very nicely in a baking sheet and coat the mushrooms perfectly.
That's not to say that you can't use a red onion or a white onion with this recipe, but you'd definitely be getting a different flavor with these.
In terms of the best mushrooms to use, baby bella mushrooms are going to be your best bet. They are strong and can withstand high temperatures for longer periods of time.
Something like white mushrooms, which are tiny, thin, and cook fast, would risk burning in the oven with the onions while they cook down.
When preparing your onions and mushrooms, do not slice them too thin, as the thinner they are, the greater the risk of burning.
How should I prepare these?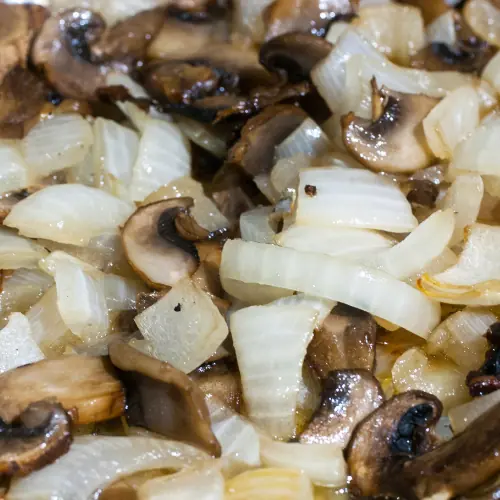 After slicing the onions and mushrooms, toss them in a large bowl with olive oil, salt, pepper, red pepper flakes, garlic, and parsley.
You're going to want to use your hands to thoroughly integrate the seasonings, making sure that every last bit of onions and mushrooms is completely coated.
If there's a time to use freshly minced garlic, instead of garlic powder or pre-chopped garlic it's now.
Pre-chopped garlic is filled with its own oil and seasonings that may interfere with the natural flavors of the onions and mushrooms. Get a few cloves of fresh garlic and mince them yourself, making sure the garlic will stick to every slice.
What kind of pan do I use?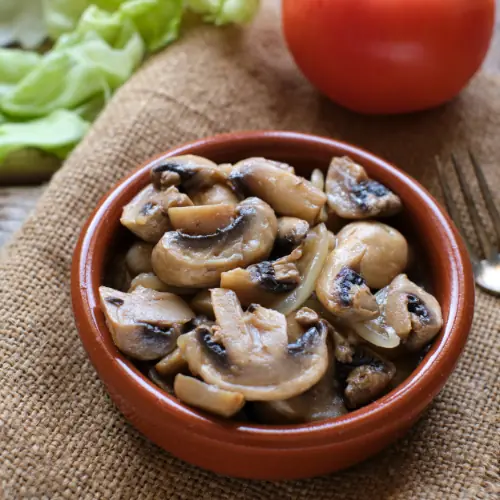 No need for a large sauté pan or anything like that.
Just a normal, regular old baking sheet will do the trick just fine.
Once the seasonings are evenly distributed among the onions and mushrooms, drizzle some olive oil over a baking sheet and evenly spread the ingredients around, hitting it with some more olive oil at the very end.
The baking sheet will take care of the caramelization process for you!
How long do these go in the oven for?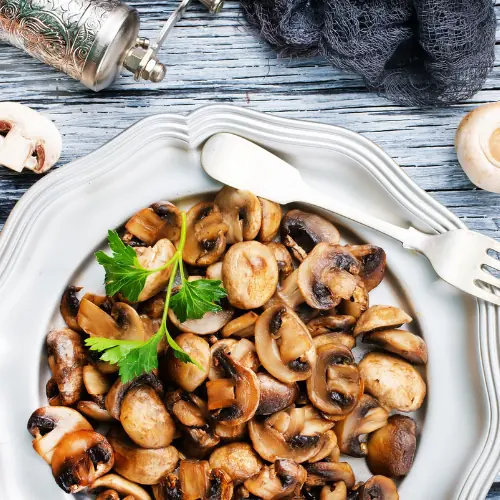 To get the really tender and earthy delectable flavors of caramelized onions and mushrooms, these will cook slowly and on low heat.
Instead of cooking these on medium-high heat, set your oven to about 350° F and give them about 45 minutes to an hour to cook.
Patience is key here, as that's what it takes to make this perfect.
It's important that halfway through the cooking process, you take out the hot pan and shake the ingredients around, so they don't stick to the bottom of the pan.
You'll know the end of cooking is approaching when the onions are golden brown and translucent, and the mushrooms are dark and have reduced in size. Store these in an airtight container until ready to serve.
What should I serve these with?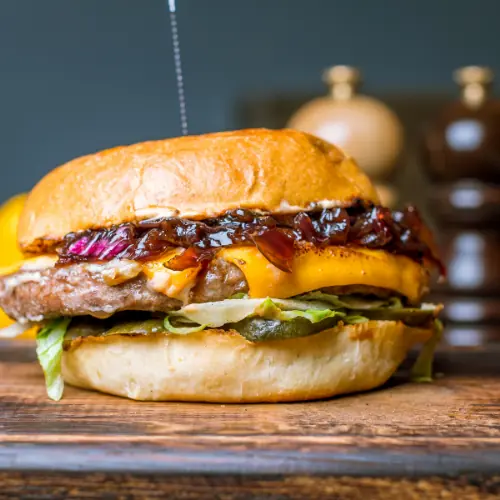 The sky's the limit with this perfect side dish!
A lot of people love to top hearty meats like pork chops or steaks with caramelized onions and mushrooms. While that sounds delicious, make sure that the onions and mushrooms are still warm and haven't reached room temperature yet.
You could take your weeknight dinners to a whole new level by serving these with sliced sausages. Just put them in the pan with all the rest during the cooking process!
And of course, what would a gourmet burger be without swiss cheese and some delicious caramelized onions and mushrooms. Seriously, this burger is the kind that would get a five star rating at every burger joint you see.
My favorite way to eat these, though?
Is by putting them on top of a big fat Roman pizza. I will show you how that's done in the video below.
Print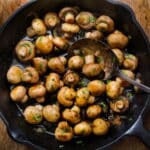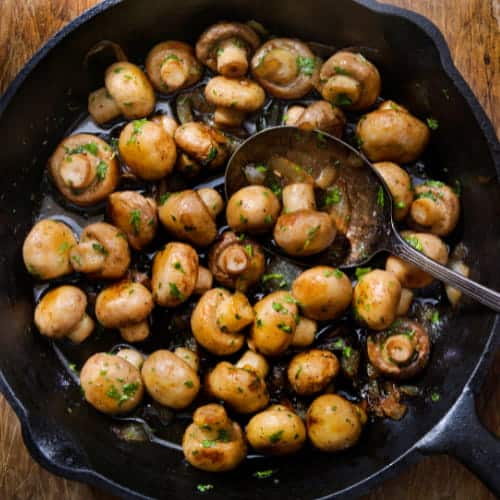 Caramelized Onions And Mushrooms
---
Author:

Total Time:

55 minutes

Yield:

2

-

4

people

1

x

Diet:

Vegetarian
1 yellow onion, sliced

1 package of baby bella mushrooms

3 tbsp olive oil

1 tbsp salt

1 tbsp pepper

1 tbsp red pepper flakes

4 cloves of garlic, minced

1 tbsp fresh parsley

---
Preheat your oven to 350°.
Slice your onions into thick, 1 inch slices.
Slice your mushrooms in ½ inch slices.
Finely mince 4 cloves of garlic.
Toss the garlic, onions, and mushrooms in a mixing bowl with olive oil, salt, pepper, and parsley.
Use your hands to incorporate the seasonings into the onions and mushrooms, making sure that each and every slice is thoroughly coated.
Spread the onions and mushrooms evenly across a baking sheet, and put it in the oven for about 45 minutes to an hour.
About halfway through, take the pan out and shake the onions and mushrooms around, making sure that none of it is sticking to the bottom of the pan.
You'll know onions and mushrooms are done cooking when onions are golden brown and translucent, and mushrooms have reduced in size.
Serve this on top of steak or pork chops, alongside sliced sausages, or on top of pizza.
Buon appetito!
Prep Time:

5

Cook Time:

50

Category:

Side dishes

Method:

Baking