When I think of ham, I don't think of wine.  I think of mustard.  I think my taste buds have been programmed to do that.
But maybe I'm missing something.  The ham you see on the table at Easter dinner might actually be better if you had the right wine with it.  
And maybe if you had a clue about the best wine pairings for the ham you're serving at your holiday meal it would make dinner more interesting and fun. 
Imagine showing up to Christmas dinner with a bottle of wine that you can talk about?  Your family will be so impressed with your wine knowledge while they sit around the table and stuff their faces with swine. 
The reality is there are so many different types of ham in the world.  Each type of ham can taste better if it's served with the right wine to match the richness of the ham.

Let's talk about the best wine to drink with the ham you're eating.  And we're not just talking about holiday hams.
Here's a list of different types of ham and suggested wine pairing.
If there's a ham you have questions about and you don't see it below, leave a comment and I'll update the article.  I love researching the perfect pairing for all different types of foods.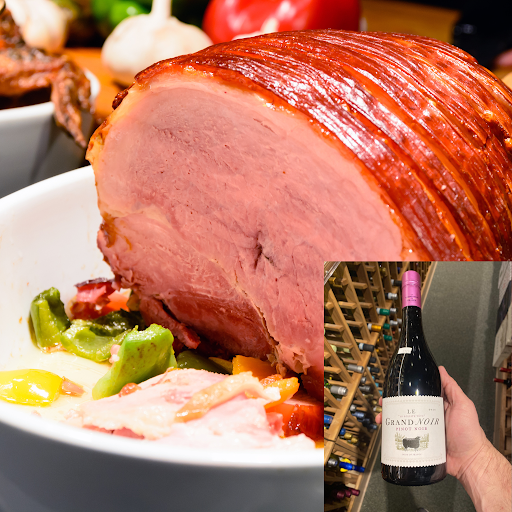 Baked Ham
I'm going to start with this type of ham because it is a really popular one at the holidays.  This could be called a Honey Baked Ham, honey-glazed ham or some type of spiral cut sweet ham. 
They are usually covered in something sweet like brown sugar, honey glaze or a fruit glaze.  You'll see these piled up in the grocery stores wrapped in foil.  People love buying them for the holidays or some type of special occasion.
It's not an easy task to find the right wine to pair with a piece of pork that is salty, sweet and rich like this type of ham.
However, many wine experts say that a wine that is acidic and sweet is a good match.  An off-dry Riesling is a great example because it has just enough sugar in it to compliment the flavors of a Honey Baked ham.  It also has hints of citrus, pear and apple which are a nice flavor profile for this sweet and salty ham.  
A sweet wine is the perfect match for the holiday ham dinner.
If you are looking for a good red wine you can try a California Pinot Noir which is one of the lighter reds. You could also try an Australian Shiraz which has notes of dark fruit, smoke and chocolate similar to a Petite Sirah.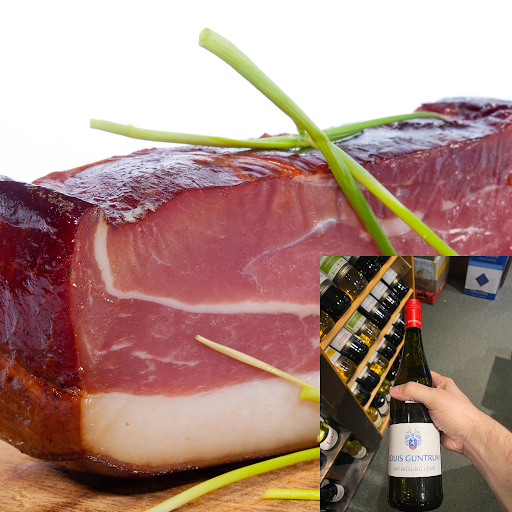 Black Forest Ham
A traditional Black Forest Ham comes from the Black Forest region of Germany.  The strict standards of an authentic Black Forest ham require it to be  a raw ham, cured in salt and then smoked.
In the United States you will see things called Black Forest ham at the deli counter in the grocery store, but we aren't talking about that.
A Zinfandel works well with the smokey flavor of the Black Forest ham.  Many types of Pinot Noir would be a good choice as long as they aren't too tart.  
You could also drink a Lambrusco, which is a sparkling red wine. 
A Riesling would be a good choice for a white wine.
Prosciutto
Let's not forget that prosciutto is ham.  It might not be the centerpiece of the dinner table, but it is definitely a ham.
It's uncooked, unsmoked and dry-cured.  
It's naturally going to be a good match with Italian wines made with the Sangiovese grapes.  I'm talking about Chianti, Montepulciano and Rossi di Montalcino.
If you are in the mood for something white I'd suggest a Pinot Grigio. The crisp white is great with the fatty and salty flavor of the prosciutto.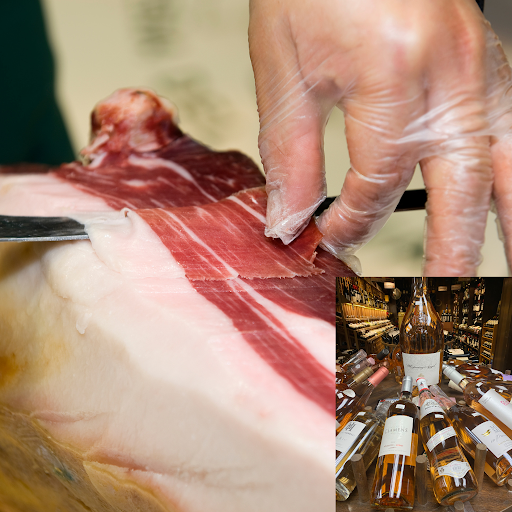 Iberico Ham
Another dry-cured ham, this is called Jamon Iberico in Spain.  It's a ham that is dry-cured in salt and is similar to the prosciutto mentioned above.
You could go with a Pinot Grigio, Pinot Gris or Chenin Blanc or some other dry white wine. 
If you prefer sparkling wine try a dry rosé.  A rosé wine is usually a lighter wine made from red grapes that can be sweet or dry.  It is actually the perfect wine for any style of ham. 
If you want to pair it like a true Spaniard, enjoy your Iberico ham with a glass of dry Sherry.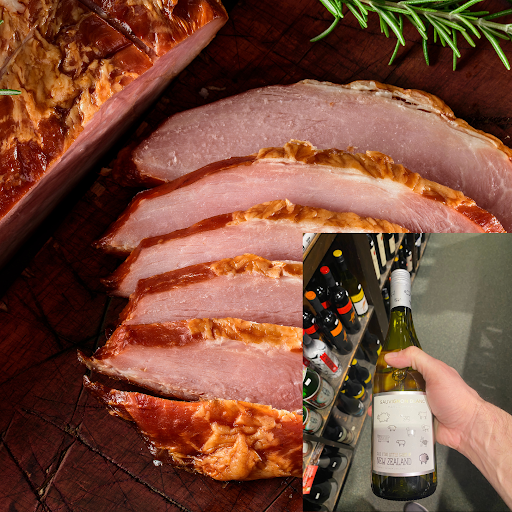 Country Ham
A Country Ham is a fresh ham cured with a lot of salt and is usually smoked.  It's usually something you see in the Southern part of the United States. 
You want a wine that's a little fruity like a Sauvignon Blanc or an unoaked Chardonnay.   A wine with high acidity is an excellent choice for smoky flavor and saltiness of ham like this.
If you're going for something red, try a Zinfandel or a light Pinot Noir.  But then again, if the ham has a lot of fat in it, a Cabernet Sauvignon might be your best bet.
Here's a quick list of the best red wines and white wines to pair with ham:
Pinot Noir

Zinfandel

Shiraz

Petite Sirah

Chianti

Pinot Grigio

Chardonnay

Off-dry Rieslings
The most important thing to remember when putting together wine and food pairings is to choose something you like.  At the end of the day if you aren't drinking a wine that you like, it's no fun.
You can do all the research you want.  Read Wine Enthusiast, scour the internet, and travel the world searching for the perfect ham pairing.  If you aren't drinking your favorite wines you've missed the point.  
A good pairing is finding what tastes good to you with the meal you are about to eat.
The best advice I ever got was to start trying different wines and take notes.  You'll find some bad wine, some good wine and some great wine.   But the more you drink, the more you'll learn.
If you're looking for a great side dish to go along with your holiday ham, try a lasagna.  It's something everyone loves and it's easy to make.
There are some great wines out there that pair well with both ham and lasagna.