The Best Restaurants in Rome's Jewish Ghetto
Visiting Rome's Jewish Ghetto for the first time means discovering a side of the city you never imagined you would find. Despite being located in the heart of Rome, this quiet and peaceful district makes you forget about the chaos and the traffic of the nearby areas. With a short walk, you can take a full immersion in the Judeo-Roman culture. You can visit the Great Synagogue of Rome or the Jewish Museum, where you'll learn about the history of the ghetto. You can attend the events organized by the Jewish Community of Rome (C.E.R) – and, of course, you can take a chance to taste local kosher food. I have already mentioned one of these foods in "5 foods to eat in Rome", and I will talk more about it later.
There are many restaurants in Rome's Jewish Ghetto. Here are some of the best ones.
Ba'ghetto
First opened in 2009, Ba'ghetto is one of the most famous restaurants in Rome's Jewish Ghetto. It offers the best food of the Judeo-Roman tradition, as well as other midde-eastern meals. After its big success, the owners opened 2 more restaurants in the nearby streets: Ba'ghetto Milky and Su'Ghetto. The first specializes in kosher dairy, fish and pizza dishes, while the latter offers lactose-free kosher food.
Ristorante Piperno
If you've read our article on what to eat in Rome, you already know Carciofi alla giudia (Jewish Artichokes). This meal is one of the most representative foods of the Judeo-Roman tradition. If you want to eat a good one, you should go to Ristorante Piperno, one of the oldest restaurants in the Jewish Ghetto. Its origins date back to 1860. It was opened by Pacifico Piperno, a renowned Jewish chef, and is now run by two families: Mazzarella and Boni.
Their Carciofi alla giudia have always been appreciated. In 1909, painter Romeo Marchetti, owner of the local illustrated newspaper "Il Pupazzetto", fell so in love with Piperno's food that he set up an annual company party with all his employees. This feast was called "Carciofata" and was held from 1909 to 1962. Sounds like a nice reference to me.
Nonna Betta
Speaking of giudia artichokes, here's a funny quote: "Life is too short to get the wrong giudia artichoke". It was said by Anthony Bourdain after tasting Nonna Betta's Carciofi alla giudia. As the name suggests, this restaurant is another family-run business. It's owned by Betta's grandson, the last descendant of an ancient Judeo-Roman family. Nonna Betta takes quality very seriously. It made remain unnoticed among the other kosher restaurants of the ghetto, but it's totally worth trying.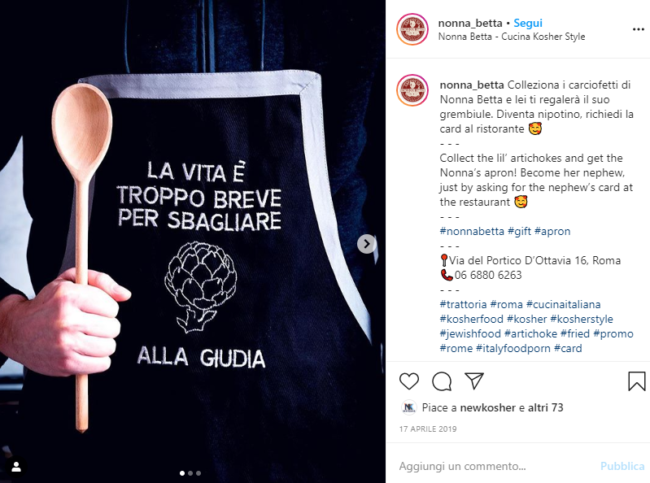 Il giardino Romano
A few steps away from Nonna Betta, there's the last (but not least) restaurant of this list. Il Giardino Romano offers kosher food from the Judeo-Roman tradition and other traditional Roman meals, like Spaghetti Carbonara or fried cod fillets. You can eat outside the front door, enjoying both the food and the views of the Jewish Ghetto, or you can ask for a table in the restaurant's garden, if you prefer a cozy, chilling atmosphere.
All these restaurants are a chance to discover a new, less famous side of Rome. The Jewish Ghetto is one of my favorite places in the city and its restaurants are very special. I hope I made you want to visit one of them.