It may be a predictable destination. It may be full of tourists, it may be chaotic, noisy, and everything… but Rome is Rome, it's as simple as that.
Even its most heartfelt detractors can't help but fall in love with it, when they go there. It's like a separate world hidden at the left side of Central Italy, with a strong identity, a complex history and wonderful food.
Food in Rome reflects the spirit of the city: genuine, strong-tasting, and often spicy. If you're coming here for the Holidays, here are 5 dishes that you can't miss out!
Bucatini all'Amatriciana
You can't talk about what to eat in Rome without mentioning bucatini all'amatriciana. Bucatini are tubes of pasta, shaped like spaghetti, but thicker. This recipe wants them to be dressed with amatriciana sauce.
I've already written a long post about it.
Amatriciana sauce is made with tomatoes, chili pepper, pecorino cheese and guanciale, a type of cured pork meat similar to bacon, but made from the animal's jowl.
It originated in the town of Amatrice, and it lately spread to the rest of Central Italy thanks to the local shepherds' seasonal migration. It became part of Rome's culinary tradition centuries ago, and now every roman loves bucatini all'amatriciana.
If you visit the city, you should definitely give it a try. And if you want to know more about amatriciana and its history, here's the post I mentioned before → The Authentic Amatriciana Pasta Recipe
Pasta alla Carbonara
Along with bucatini all'amatriciana, here's another traditional roman food that it would be a shame to miss. You probably know it well already. At Mortadella Head, we have a fries specialty named after it. I'm talking about Carbonara, of course.
Like amatriciana and many other dishes of the Roman tradition, this dish is made with guanciale along with egg yolks, black pepper and pecorino cheese.
There are different theories about its origins. Most people think it was a meal eaten by carbonari (charcoal burners). Others say it was invented in 1944 by a cook from Emilia Romagna who had to make something for the American soldiers in Rome. I personally believe in the second one.
This is probably on of the most debated dishes in Italy. Everyone has very strong opinions on it, be them on the dish's origins or in how it could be made. I will write something about it soon.
But for now, let's put aside all the debates.
If you're in Rome, the only thing you should care about is to enjoy it. I don't think there's a restaurant that doesn't have carbonara on their menu. But if you want a tip, try going to L'Arcangelo – Ristorante. It's halfway between the Vatican City and Villa Borghese, and it serves a delicious amatriciana as well.
View this post on Instagram
Testaccio's Street Food
If you happen to walk near the street market in Testaccio, don't miss to taste the local street food. Many tourists don't know it, but you can find real treats there. They are all mostly meat-based and they might look a little inelegant, but they offer a different perspective on the city's traditions and the people who lived there.
If you just visited John Keats' and Percy Shelley's tombstones in the nearby Protestant Cemetery, what better way to go back to life?
View this post on Instagram
Carciofi alla Giudia
Carciofi alla giudia is a traditional meal of the Roman Jewish population. It originated in the Jewish neighbourhood and later spread to the rest of the city.
It's basically fried artichokes. The recipe calls for a special type of artichoke, though. It's called mammole, and it is much appreciated because it's tender and has no thorns.
The former Jewish ghetto is one of Rome's places you should definitely visit. If you go there, you'll easily find a shop or a restaurant that makes carciofi alla giudia. It will be a chance to try a meal that testifies the history and the importance of the Jewish Community in Rome.
View this post on Instagram
Abbacchio alla scottadita
Abbacchio alla scottadita is a food made with lamb meat, spread with butter and rosemary.
The meat must be softened by beating it with a meat tenderizer. Then it is buttered and finally grilled.
For those who understand it, the name is funny and meaningful: "alla scottadita" literally means "made so you burn your fingers"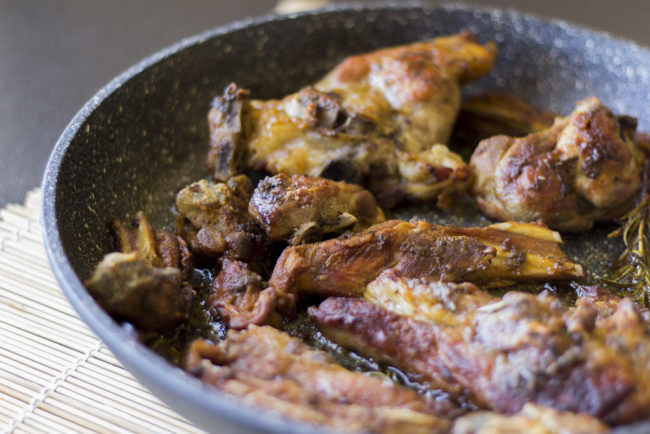 Which one of these foods is your favorite one? Let us know in the comments!