The pear and prosciutto pizza is one of my favorite pizza recipes. The sweet and salty flavors contrast so nicely to give you that irresistible flavor you've been craving. Here's how we made it!
So you've learned how to make Roman pizza dough. You've made the 72-hour fermented dough, perfected your homemade pizza crust, and became the star of pizza night among your family.
All this, and you're slowly running out of ideas for different kinds of pizza.
Don't worry, we have you covered with this classic Italian pizza recipe.
What is pear prosciutto pizza anyway?
I know, I know. Thinking about a pear pizza in any way, shape or form probably sounds a little odd. But would we ever steer you wrong?
The sweet pears and salty prosciutto blend together to give you that touch of umami that you're looking for.
A lot of people make this and top it with caramelized onions or half of a red onion. We're not going to do this today, as the fresh arugula we're adding gives the pizza that tiny kick that sets it apart.
This is one of the top pizzas we sell here in the shop. We once had a guy come in here who lived in Rome for 20+ years, and he said the Pear And Prosciutto Pizza was the best pizza he's ever had in his life.
So yeah, it's legit.
*Tired of reading? We get it. Watch the Youtube video on how to make one of the best pizza creations ever!*
Here's what you're gonna need...
Roman pizza bianca: Here's our recipe for 72-hour fermented dough. If you don't want to use this recipe, you can use a premade dough to make a few flatbread pizzas.
Garlic cream sauce: Learn how to make this using our recipe here!
Prosciutto: Ask the deli guy for some sliced thin prosciutto. He'll know what to do.
Poached figs: We poach these fresh in house using brown sugar, honey, cinnamon sticks, and water. Try it for yourself!
Poached pears: Read our recipe or watch our Youtube tutorial on how to poach fresh pears. We used bosc pears for this, but you can use bartlett pears or anjou pears if you'd like.
Mozzarella cheese: Use some shredded low moisture mozzarella cheese for this.
Arugula: I'm telling you, this is the key! Buy a package of this fresh from the local grocery store.
Balsamic reduction: A nice balsamic vinegar glaze is exactly what you're going to want to top this pizza with.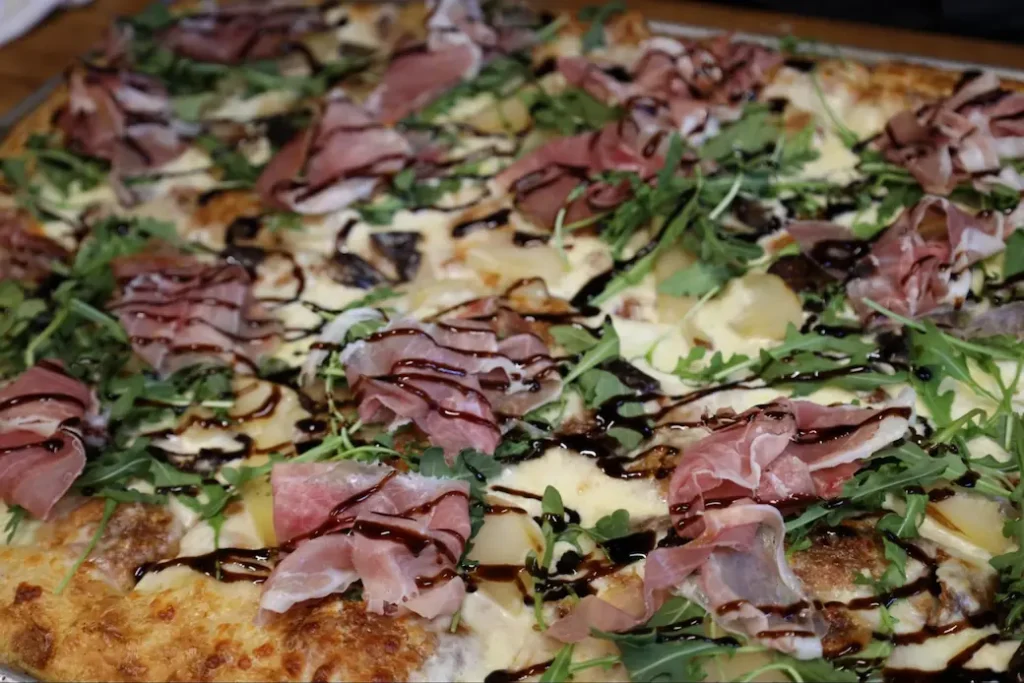 Spread some garlic cream sauce all over the Roman pizza bianca. Make sure you get around the whole surface level, getting in all the divots and crevices.
Once the sauce is spread, sprinkle the layer with mozzarella cheese. You don't want to use too much of this, just enough to know it's there.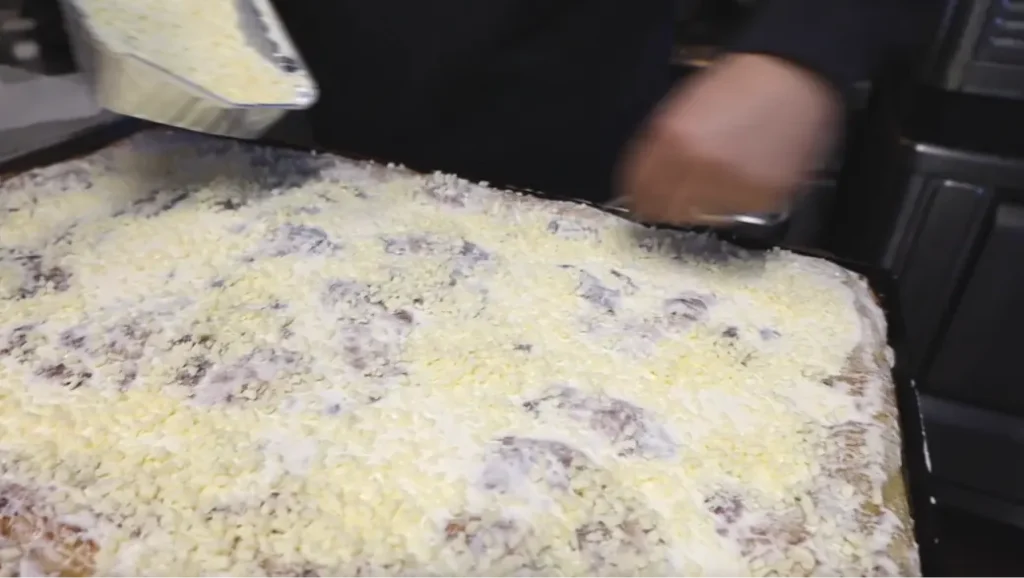 Now spread your figs and pear slices all over the pizza, making sure every slice will have some pears and figs to go along with it.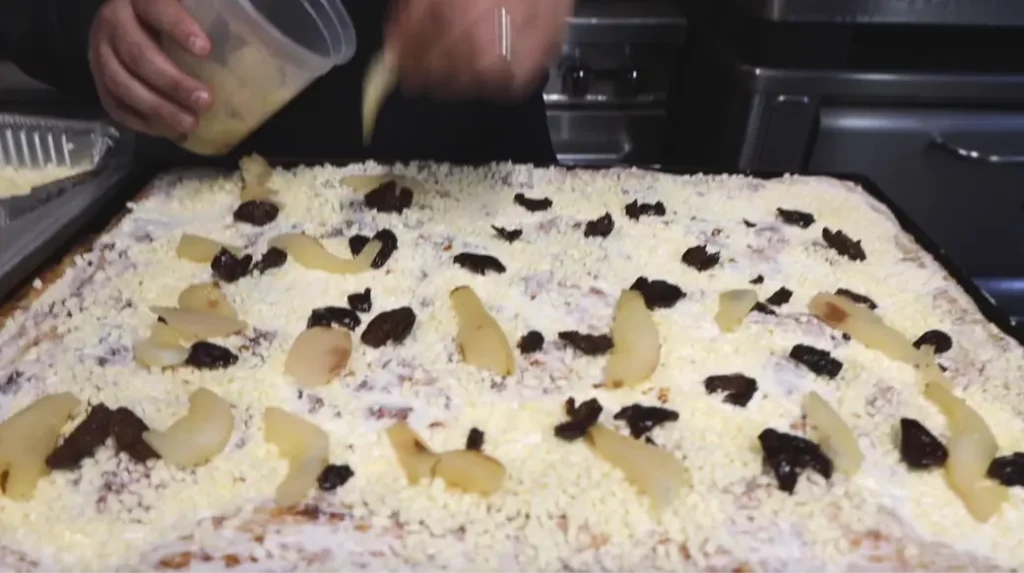 Time to cook this bad boy! Preheat your oven to 450 degrees. Put your pizza bianca on a baking sheet and cook it for about 12 minutes. Make sure you do not put your prosciutto in the oven. The meat is already cured and will dry out if cooked any longer.
Once the pizza is done cooking, remove it with a pizza peel, slice it, and top it with prosciutto and arugula. Don't be skimpy, make sure every slice has some arugula and prosciutto on it.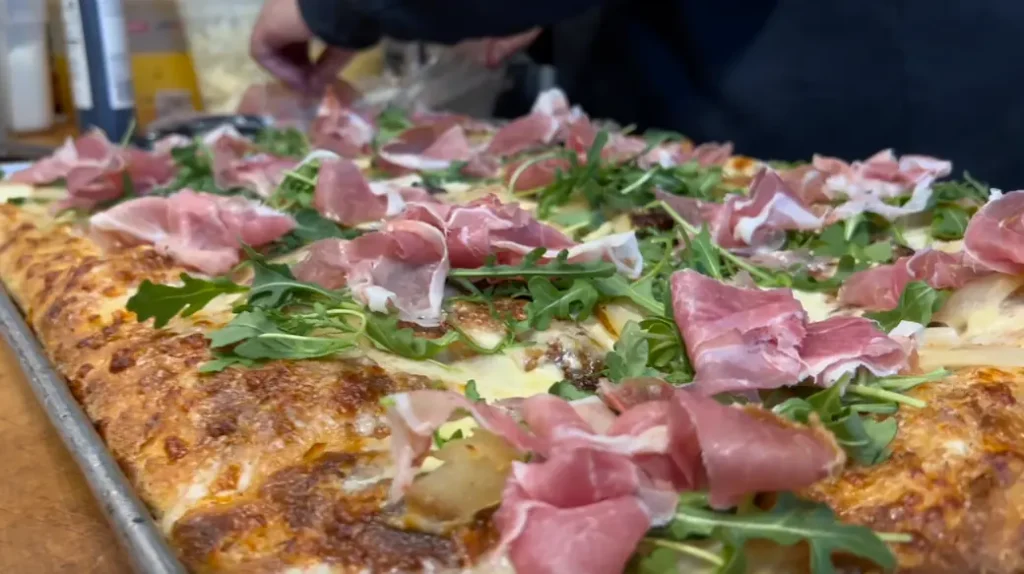 Drizzle with balsamic reduction and marvel at the piece of art you just created for yourself. Buon appetito!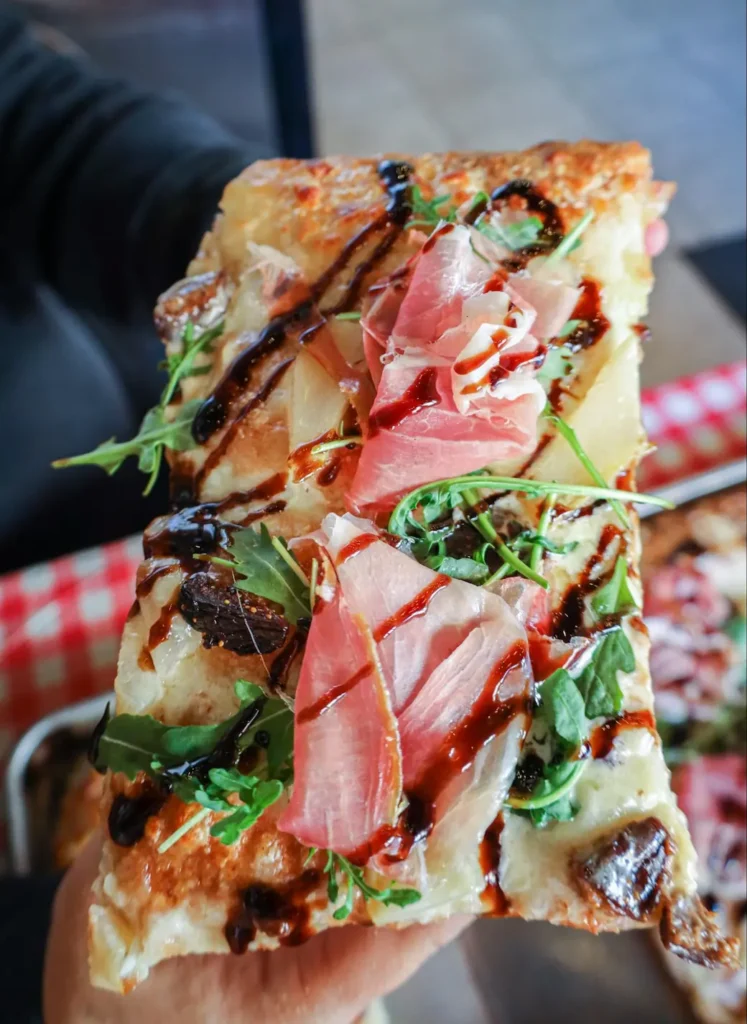 PEAR AND PROSCIUTTO PIZZA FAQs
Q: What other kinds of cheese can I add to this?
A: We love making this pizza with a blend of gorgonzola cheeses! If gorgonzola isn't your thing, try goat cheese or blue cheese. Some feta cheese would also be nice on it.
Q: I don't like balsamic. What else could I drizzle on at the end?
A: Try this with a honey drizzle. It will be delicious when combined with the sweetness of the pears!
Q: Remind me again, why can't I put prosciutto in the oven?
A: Prosciutto is best when eaten at room temperature. You can put it in the oven if you want, but I wouldn't.
Q: I hate figs! Am I doomed?
A: Not at all! Caramelize an onion and add it to the pizza. You'll love it!
What to serve with this pizza
Wine: Try a nice pinot grigio with this. The white wine will contrast the flavor of the pears nicely.
Side salad: Use some leftover figs, pears, balsamic and arugula to make a fresh side salad.
Dessert: If you have leftover pear slices, throw some warm pears over vanilla bean ice cream for a delectable dessert.
Print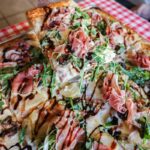 Poached Pear & Prosciutto Pizza With Arugula
---
Author:

Total Time:

20 minutes

Yield:

8

1

x
Description
I know, I know. Thinking about a pear pizza in any way shape or form probably sounds a little odd. But would we ever steer you wrong?
This classic Italian pizza recipe is the perfect solution for when you're out of ideas. It's simple, it's quick, and it's delicious. Try it today!
---
2 Poached pears
Roman pizza bianca dough
2 cups garlic cream sauce
3 cups shredded mozzarella
1/2 cup marinated figs
1/2 lb prosciutto
1 package arugula
Balsamic glaze
---
Preheat your oven as high as it'll go
Top a roman pizza Bianca with garlic cream sauce, shredded mozzarella, figs, and pears
Cook in the oven for 10-12 minutes
Top with prosciutto, arugula, balsamic glaze
Enjoy!
Prep Time:

10

Cook Time:

10

Category:

Pizza

Method:

Baking

Cuisine:

Italian
Keywords: pear and prosciutto pizza, roman pizza bianca