I'm not sure what's been in the air lately, but everyone's been dying to see us make baked ziti recipes.
And we've risen up to the challenge.
In the last couple months, we've made a chicken broccoli Alfredo baked ziti, a baked ziti with white sauce and roasted broccoli rabe, and plenty of baked ziti stuffed with meatballs, sausages, and pork.
But honestly, you can never go wrong with just a plain old baked ziti.
With no meat.
It's seriously one of the most simple dishes you could ever make, and with a few of our simple tricks, you'll be baking this San Giorgio ziti recipe like a pro in no time.
Here's how to make the best baked ziti recipe with no meat.

Here's What You Need:
Ziti: But if you had rigatoni, that's fine too. I suggest using the San Giorgio brand for all of my pasta products, but if you have Barilla on hand, that works too. If you want to know the difference between ziti and rigatoni, check out this article!
Ricotta cheese: This is the star of the show! Of course, you can substitute this for cottage cheese if that's what you have on hand. It is going viral on TikTok, after all. But I find ricotta to be creamier and more robust than cottage cheese.
Tomato sauce: The key to any baked ziti dish is lots and lots of tomato sauce. This keeps the baked ziti from drying out. Make sure you use a tomato sauce with high quality ingredients.
Provolone cheese: This gets a little controversial, but to me, no baked ziti dish is complete without a good amount of provolone cheese in between layers.
Mozzarella cheese: If it wasn't obvious enough, you'll be topping this bad boy with lots and lots of mozz.
Grated cheese: This is an essential ingredient to everything we make at this point.
Directions:
Take a big scoop of ricotta cheese, and mix it together with a scoop of tomato sauce, salt, pepper, parsley, and grated cheese. Add the cooked ziti into the ricotta cheese mixture, and mix that around too.
In a casserole dish or lasagna tray, use a spoonful of tomato sauce to line the bottom. Take half of the pasta mixture, and spread it evenly across the baking dish.
Top the first layer of pasta with more tomato sauce, grated Romano, and provolone cheese. Repeat this once more, or until you're out of the baked ziti mixture.
Top the dish with more tomato sauce, the mozzarella cheese, and more grated cheese. Bake in the oven for 45 minutes or until the cheese is melted and golden brown.
Meatless Baked Ziti FAQs:
Q: What kind of meat could I add into this if I wanted to?
A: You could use anything! Try breaking up some leftover meatballs, or if you really want to get creative, use a meat sauce or bolognese sauce instead of a tomato sauce. 
Q: I don't have San Giorgio ziti. What other kind of pasta would work with this?
A: My first answer would be rigatoni. Their straight cut edges and fat tubular shape would make this the optimal shape to use with a dish like this, so the sauce can get right between every nook and cranny of all of the pieces of pasta. You could also use penne lisce, or even shells if you prefer.
Q: What kind of cheese could I use instead of ricotta?
A: As previously stated, cottage cheese could give you that same consistency that you're looking for with the ricotta. You could also use a thicker greek yogurt. It might be a little more tangy in nature, but it would still taste just as good. I've even seen people use sour cream, but I really wouldn't recommend that.
Feeling bold? Try making your own ricotta mixture. This particular recipe is a vegan recipe, that also happens to be nut free!
Q: I don't have any tomato sauce. What could I use instead?
A: Try mixing some tomato paste with water if you're really in a pinch. Remember, less is more when it comes to using this method! You could also puree or blend some diced tomatoes in the food processor if you're really in a pinch.
Side Dishes For This Recipe:
Appetizer: When in doubt, pizza is the way to go. A lot of people might think of pizza as more of a main course, but I personally love putting some out as a light appetizer. Plus, when you use an olive oil based sauce instead of a red sauce, it can make everything a whole lot less heavy. Try making this olive oil pizza recipe!
Side dish: If you've never had Roman cicoria, you're missing out. With a flavor composition similar to broccoli rabe and the consistency of any other leafy green, these sauteed dandelion greens are always a massive hit with any crowd if you can find them. If you have any on hand, try sauteeing them using this method!
Dessert: A dish this heavy calls for something nice, light, and airy right after. When in doubt, try making this limoncello tiramisu. It's different, not many people will have had it. And I've yet to find someone that doesn't like this Italian dessert.
Print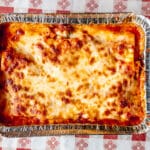 Meatless Baked Ziti Recipe With San Giorgio Pasta
---
Author:

Total Time:

65 Minutes
1

lb San Giorgio ziti

1 pint

ricotta cheese of your choice

1 cup

grated Romano cheese

1 cup

mozzarella cheese, shredded

¼

lb provolone cheese

1 quart tomato sauce

, warmed over medium heat in a large skillet

2 tbsp

chopped parsley

2 tsp

salt

2 tsp

cracked black pepper

1 tsp

crushed red pepper flakes
---
Heat oven to 400°

Cook pasta according to package directions a large pot of lightly salted water until al dente.

Place ricotta, half of the mozzarella cheese, ¾ of the grated Romano cheese, salt, pepper, and parsley into a large bowl. Combine well.

Add 8 oz of marinara sauce into the mixture. Stir to combine.

When the ziti noodles are fully cooked, strain them and add to the saucy ricotta mixture. Make sure it is fully combined into the bowl.

Add a thin layer of pasta sauce to the bottom of a baking dish. Spoon pasta mixture in a single layer over the bottom of the dish, about half of the mixture. Top with more tomato sauce, all of the provolone cheese, and grated Romano cheese.

Repeat step 6 one more time, using the rest of the pasta mixture and replacing the provolone cheese with the remaining mozzarella mixture.

Cover with aluminum foil and bake for 35 minutes.

At the 35 minute mark, remove the foil and bake for another 15 minutes.

Let rest 15-30 minutes before serving.
Prep Time:

15 Minutes

Cook Time:

50 Minutes