I'm not someone that is really into chain restaurants, but I've heard some good things about Maggiano's Little Italy.  It's an Italian restaurant chain that was started in 1991 in Chicago.  
After more than 30 years in business they have over 50 locations and serve old school Italian food that you remember from your childhood.  
People say that Maggiano's meatballs are pretty good so I figured I'd try to make them.  I found a couple of recipes online that claim to be Maggiano's recipe.  They came out pretty good.
If you're in the mood for some perfect restaurant style meatballs in the comfort of your own home you should make this recipe.
The Main Ingredients for Maggiano's Meatballs
Making great meatballs only requires a handful of simple ingredients. Here are all of the ingredients you are going to need.
Meat
You will need ground beef for this meatball recipe.  I like using a blend that is 80 percent lean and 20 percent fat.
Garlic
Get some fresh garlic cloves and chop them up really fine. 
Parsley
You'll need fresh parsley. I like using flat leaf Italian parsley chopped really small. 
Grated Cheese
You want a good grated cheese for your meatballs recipe. Pecorino Romano or parmesan cheese will work. Just make sure it's a good quality cheese. I suggest buying a big chunk and grating it yourself.
Breadcrumbs
For this recipe I am recommending using bread crumbs because they are quick and easy to use. 
Milk
You can use whole milk for this recipe.
Egg
You need some fresh eggs that will add as a binder for your meatballs.
Seasoning
All you really need is Kosher salt and black pepper. If you really love Italian seasoning, you can use it, but I normally don't. 
Tomato Sauce
You're going to need a good tomato sauce to go with your meatballs.
How to Make Your Maggiano's Meatball
The first step is to get your oven temperature ready. A preheated oven set at 350 degrees fahrenheit is important so you can start cooking as soon as your meatballs are formed. 
Now get a large bowl and add all of the ingredients. A large mixing bowl is important because it will give you enough room to really work all of the ingredients together. 
Start mixing everything together so all of the ingredients are evenly distributed throughout the ground meat. For the best results, use your hands to do the mixing. 
When everything is mixed together it's time to form your meatballs. 
The size of meatballs you make is up to you, but I think the perfect meatballs are the size of a golf ball. When I make meatballs I use a 2 ounce cookie scoop. You will end up with a 2 inch meatball. 
Get a large baking sheet and line it with parchment paper or aluminum foil. For the best results, if you use aluminum foil, spread some olive oil on it so the meatballs don't stick while they cook.
In a single layer, place the meatballs on the sheet pan giving them plenty of space. By not crowding them on the pan they will cook evenly on the outside giving them a nice crust. You want golden brown meatballs. The caramelization from the heat of the oven will create an extra dimension of flavors. 
Place the sheet pan with the meatballs into the 350 degree f oven for 25-30 minutes. 
Remove the baking sheet from the oven. Check the meatballs with a meat thermometer to make sure they are 165 degrees in the middle. 
Put the meatballs in a pot of Marinara sauce and allow them to simmer for about 20 minutes.
Serve with al dente spaghetti or ziti boiled according to the instructions on the box.
Maggiano's Meatball Recipe FAQs
Do Maggiano's meatballs contain pork?
No.  The Maggiano's meatball recipe only contains ground beef.
What are some other dishes that go with Maggiano's meatballs?
For an appetizer you can serve Manhattan clam chowder or minestrone soup.
For pasta, make lasagna instead of spaghetti.  If you try my lasagna with meat sauce recipe I guarantee that it's better than your mom's lasagna. 
If you are cooking for a crowd you can make some chicken parmesan to include in your Italian feast. 
Italian sausage with peppers and onions are also a good dish to serve at your Italian dinner.
Do I have to serve Maggiano's meatballs with pasta?
No.  If you are concerned about healthy eating you can serve the Maggiano's meatballs with a side of vegetables and a salad.
What type of wine should I serve with my Maggiano's meatballs?
I suggest a red wine such as Chianti or Cabernet Sauvignon.  But if you prefer white wine, I'd go with a Sicilian Etna Bianca.
Print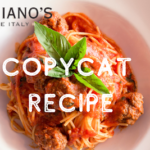 Maggiano's Meatball Recipe (Copycat)
---
2 lbs ground 80/20 beef
5 teaspoons chopped fresh garlic
2 tablespoon chopped parsley
2 teaspoons black pepper freshly ground
2 whole eggs
1 cup plain bread crumbs
1 cup of whole milk
1 cup grated Romano cheese or parmesan cheese
---
Mix all the ingredients thoroughly in a large bowl. Use your hands so you can really get everything incorporated.

Form the meatballs with your hands. Try to get the meatballs about the size of a golf ball. I think that size is perfect for soaking up the sauce and staying nice and moist. 

Place the meatballs on an oiled baking sheet and place in a 350 degree oven for about 25-30 minutes. 

Remove them from the oven and allow them to rest for another 15 minutes. 

Place the meatballs in a pot of marinara sauce and let them simmer for about 20 minutes.

Serve the meatballs with your favorite pasta.