So you want to know the best way to reheat meatballs? 
At Mortadella Head I make a lot of meatballs and reheat a lot of meatballs.  I'd go as far as saying I am a meatball pro.  And today I want to teach you how to reheat your meatballs like a pro.
There are many different ways to reheat leftover meatballs depending on the circumstances.  In this article I'm going to be talking about reheating homemade meatballs that have already been fully cooked.  
I won't be dealing with how to cook raw meatballs in this article. I will be talking about meatballs that have already been fully cooked.  When fully cooked the internal temperature of the meatball should be 165 degrees fahrenheit. 
Once the meatballs are fully cooked they can be refrigerated or frozen.  These methods of reheating the meatballs will work for frozen meatballs or meatballs that have been stored in the refrigerator.  These reheating methods can be used while the meatballs are frozen, cold or at room temperature. 
The reheating process will vary depending on whether you have plain meatballs or they are in tomato sauce. 
Reheating Meatballs and Sauce in the Oven with Sauce
There are only a few simple steps involved in reheating meatballs in the oven.  
The first thing to do is preheat your oven to 325 degrees Fahrenheit. 
If you are reheating meatballs that have been stored in tomato sauce, arrange them in a baking dish.  Make sure they are in a single layer. Cover the meatballs in tomato sauce and cover tightly with some heavy-duty aluminum foil. 
Now you want to put the baking dish in the oven and bake meatballs for about 40 minutes.  The cooking time may vary depending on the oven. 
Reheating Plain Meatballs in the Oven
If you are dealing with plain meatballs and no sauce, the oven is also a great way to reheat them.  
First, you should preheat your oven to 350 degrees Fahrenheit.  Add a little olive oil to the bottom of a baking sheet.  Place the meatballs on the baking tray in a single layer. 
Place the baking sheet in the preheated oven on the top rack.  Let them cook for about 20-30 minutes.  
Reheating frozen meatballs in the oven is actually pretty easy.  We ship a lot of frozen meatballs all over the country and we get rave reviews.  Our customers tell us that they get great results by following our detailed instructions.  They can cook them frozen or thawed out.  
If they are frozen we suggest cooking them at 400 degrees for 65-75 minutes. If they are thawed, they should be cooked in the oven for 35-45 minutes.  
You'll end up with perfect meatballs every time. 
Reheating Meatballs and Sauce in a Frying Pan
When I have leftover meatballs that are stored in tomato sauce, reheating them in a frying pan is the best method to add some extra flavor.  It's also a quick method resulting in some good meatballs. 
Take your meatballs out of the fridge and cut them in half.  This will allow the meatballs to soak up alot of the flavor from the Marinara sauce as they cook.  
Add the tomato sauce to the frying pan and then add the halved meatballs.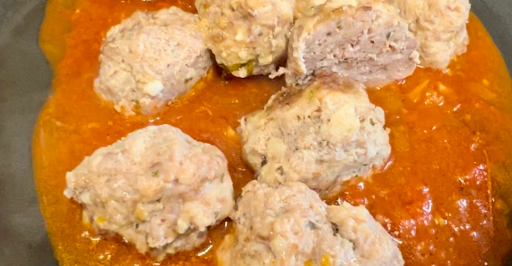 For the best results turn the stove on medium heat.  When the sauce starts to boil, turn it down to low heat.  The lower temperature will allow the meatballs to heat up slowly.  As they heat up the meatballs will absorb the tomato sauce like little sponges.  
This is a great reheating technique if you want to add some spaghetti to the frying pan and toss it with the sauce and meatballs.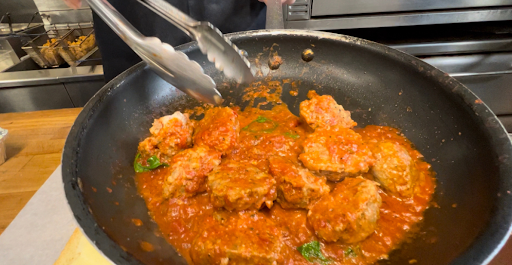 Reheating Plain Meatballs in a Frying Pan
If the meatballs are not in tomato sauce you can still heat them up in a frying pan with the stovetop method.  For the best results, put your meatballs in a frying pan and add a few tablespoons of water.  Cover the pan with aluminum foil and put the pan on low heat.  
As the pan heats up the water will help the meatballs steam.  If the water evaporates add a little excess water if necessary.  
Reheating Meatballs and Sauce In a Large Pot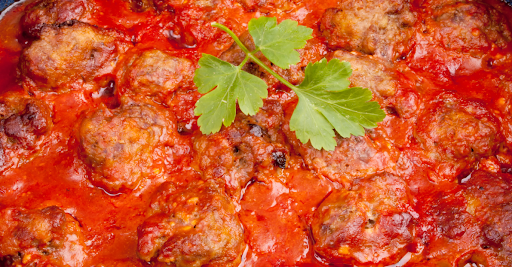 I like using this method to reheat meatballs when I am cooking for a large crowd.  With this method you can work with frozen meatballs or refrigerated meatballs.  
This is a good way to cook a big batch of meatballs in a hassle-free way.  A large pot can hold a large number of meatballs and sauce.
Get a big pot or Dutch oven.  Add the meatballs and completely cover them in tomato sauce.  
Cover the pot with a lid or aluminum foil.  Place the pot on medium heat and bring it to a slow boil.  After it comes to a boil turn the heat down to low.  This is a really gentle way to reheat your meatballs. 
You can let the meatballs cook slowly for 30 minutes or until the meatballs are completely reheated.  If you want to let them cook longer, that is perfectly fine.  You never end up with overcooked meatballs.  You'll just have a really rich and flavorful tomato sauce.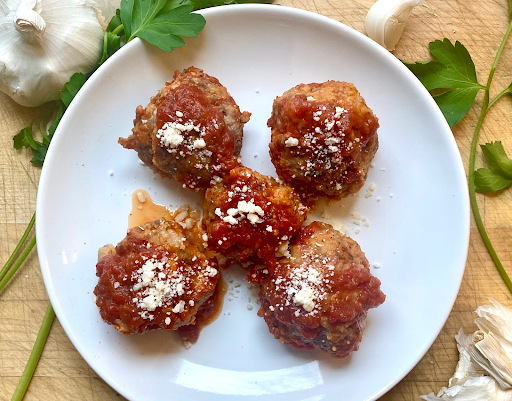 Reheat Meatballs in the Microwave
Reheating meatballs in the microwave is really easy.  It's the quickest way to heat up a small batch of meatballs. This method works for meatballs that are in tomato sauce or plain meatballs.
Put your meatballs in a microwave safe bowl.  Place a damp paper towel on top of the bowl.  This will eliminate a mess in your microwave and help the meatballs steam while heating.
Every microwave has different power levels.  You should know the best way to use your microwave.  I usually start heating my meatballs in the microwave for 3 minutes.  After 3 minutes I will check the inside of a meatball.  If it still feels cold I will put them back in for another minute and continue that process until they are hot.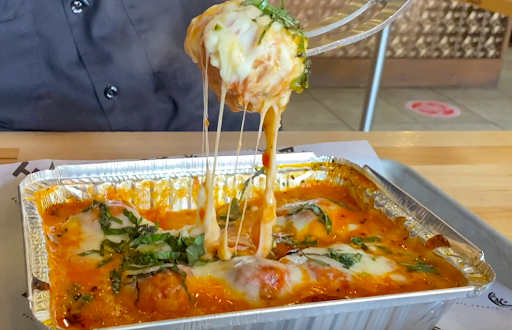 How to Reheat Frozen Meatballs Parm
Having meatballs in your freezer ready to go when you need them is the best.  It's the quickest way to put together a really nice dinner when you are short on time.  
It's important that you know how to freeze your meatballs.  There are a few ways you can do it.
The most important thing is that you avoid freezer burn so you want to do it right.
If you are freezing meatballs without sauce you can store them in freezer-safe bags.  Just place your meatballs in the bags and try to remove as much air as you can from the bag.  Place the freezer bags in the freezer and date them.  I will try to use them within 6 months.
You can also freeze your meatballs in an airtight container with sauce.  When you're ready to use them just thaw them out and reheat using one of the methods above.
My favorite way to freeze meatballs is in an oven safe container with sauce and cheese.  When you reheat the container you end up with a beautiful tray of meatball parmesan.  
The best practice for this method is to add tomato sauce to the bottom of the pan.  Place your meatballs in a single layer on top of the sauce.  Add some mozzarella cheese and grated Romano cheese.  Place the lid on the container and use plastic wrap on the outside to keep it tightly sealed.  
When it's time to reheat the meatballs just remove the plastic wrap and lid.  Put the frozen meatballs in a 400 degree oven for about 65 minutes.  
How To Reheat Meatballs FAQs
Are these methods only good for Italian meatballs?
No.  You can use these reheating methods for any meatballs such as meatballs in bbq sauce or Swedish meatballs in gravy. 
Are these reheating methods good for meatballs that aren't made with ground beef?
Yes.  You can follow these methods for meatballs made with any meat.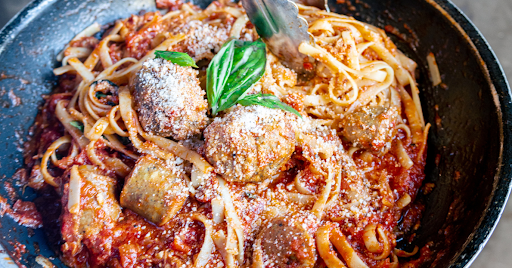 How can I serve my reheated meatballs?
There are many ways to serve your meatballs.  You can serve them with pasta, a side of vegetables or make a meatball sub.  Leftover meatball subs are a perfect lunch for work or school.