I think it's valid to judge someone based on how good their chicken parmesan calzones are. Who knew that some golden brown pizza dough mixed with chicken cutlets, marinara sauce, and parmesan cheese could be so damn delicious?

I'm going to be honest, we don't have calzones as a regular item here at Mortadella Head.
I know, I know, shocking.
But we really only just started making them recently.
I'll tell you this, though—every time we make one as a special menu item, or offer a slice to a customer that just so happened to be in the store on content filming day, everyone goes crazy for it.
We've made a lot of calzones over the years, but in my mind, only one sticks out as the best. And that is, the chicken parmesan calzone.
We dressed this bad boy up with a few more sauces than may have been necessary, so add those at your own discretion, of course. But the flavors of chicken parmesan were all there.
It's the same framework as a regular old chicken parmesan calzone, which is why we love it so much.
Ingredients:
Pizza Dough: Calzone dough is pizza dough. They're interchangeable. You can get some from your local grocery store, or make your own!
Provolone Cheese: Here's a little secret I learned from being in the Mortadella Head kitchen, provolone cheese works just as well, if not better, than mozzarella cheese. Of course, feel free to use whichever cheese you prefer, this just happens to be ours.
Mozzarella Cheese: To my above point, this recipe actually uses both provolone and mozzarella cheese to maximize flavor.
Tomato Sauce: Make your own tomato sauce or grab a jar of your favorite.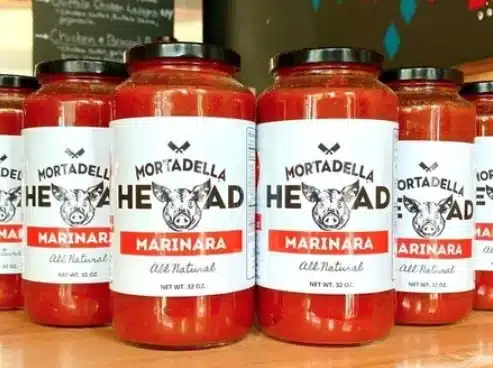 Crispy Chicken Cutlets: If you haven't seen how we make these, we have dozens of tutorials. You'll be making 'em like a pro in no time.
Grated Parmesan Cheese: In my opinion, you can never have too much of this in a dish. You can also substitute this with grated Romano cheese, too.
Fresh Basil: This is totally optional, but I like using this at the end to give my calzone a nice bit of freshness.
Egg Wash: No calzone is complete without an egg wash. Mix three eggs vigorously, and brush the mixture all over the top of the calzone.
Directions:
Roll out the dough flat on a pan, and sprinkle your working surface with some olive oil and flour.
Inside of the dough, layer on provolone cheese, fresh chicken cutlets, a nice heap of tomato sauce, mozzarella cheese, and grated cheese, over about half of the piece of pizza dough.
Fold the other half of the dough over the ingredients, and seal the edges with a fork. Brush the egg wash and grated cheese over the top of the calzone, cut some slits in the top to allow some breathing room, and pop it in the oven at 425° for 15-20 minutes.
Let the calzone rest for 10 minutes until cutting into it.

FAQs:
Q: What's the difference between a calzone and a stromboli?
A: Where we fold the calzone in half, a stromboli is typically rolled like a burrito before getting placed inside of the oven. As a result, a stromboli typically has a better dough to ingredient ratio. Both ways are equally as delicious.
Q: If I'm allergic to eggs, what can I use to replace the egg wash?
A: Simple: Olive oil! If you love to dip your bread into an olive oil and grated cheese mixture, it tastes just as well on top of a calzone.
Q: Can I freeze and reheat this calzone?
A: Absolutely. The best way to do it? In your air fryer.
What To Serve With This:
Appetizer: Who doesn't love bruschetta? Try making some using this recipe!
Side Dish: I like something nice and healthy to compliment my calzone. A lot of the time, that looks like a very delicious homemade soup.
Dessert: Who doesn't love cannolis? Try making some using this super simple recipe!
Print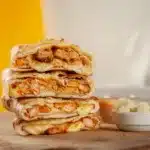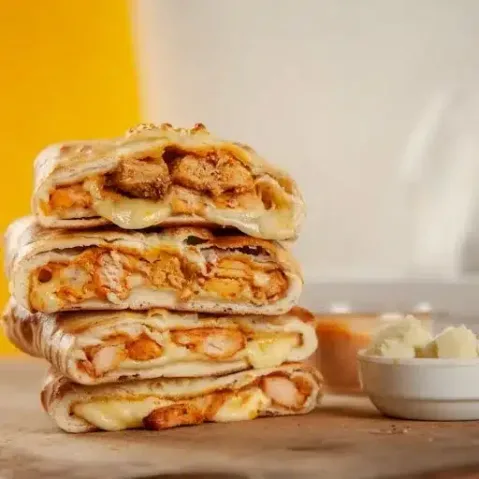 How To Make This Easy Chicken Parmesan Calzone Recipe
---
Pizza Dough (store-bought or homemade)

4

slices Provolone Cheese

1 1/2 cups

Mozzarella Cheese, shredded

1/2 cup

Tomato Sauce

2

Crispy Chicken Cutlets or Chicken Tenders (store-bought or homemade)

1/4 cup

Parmesan Cheese

Fresh Basil leaves

1

egg (for egg wash)

Salt and pepper to taste
---
Preheat your oven to 425°F (220°C). Place a pizza stone or an upside-down baking sheet in the oven to heat.

Slice the crispy chicken cutlets into thin strips or cubes. Set them aside.

On a lightly floured surface, roll dough into a large circle or rectangle, depending on your preference and the shape of your baking stone or sheet. Make sure it's not too thin to prevent the filling from leaking out.

Start by spreading a single layer of tomato sauce onto the center of the dough, leaving about a 2-inch border around the edges for sealing. Season with kosher salt and black pepper.

Place the Provolone cheese slices on top of the tomato sauce.

Add the sliced crispy chicken on top of the Provolone cheese.

Sprinkle the shredded Mozzarella cheese evenly over the chicken.

Sprinkle the Grated Parmesan cheese on top of the Mozzarella.

Tear a few fresh basil leaves and scatter them over the cheese and chicken filling.

Carefully fold the dough over the filling to create a half-moon shape.

Press the edges of the dough together to seal the calzone. You can use a fork to crimp the edges for a secure seal.

In a small bowl, beat the egg to make an egg wash.

Brush the top of the calzone with the egg wash. This will give it a beautiful golden brown color when baked.

Carefully transfer the calzone to the preheated oven, placing it directly on the pizza stone or baking sheet.

Bake for 15-20 minutes or until the calzone is golden brown and the cheese is melted and bubbly.

Remove the calzone from the oven and let it cool for a few minutes before slicing. Garnish with more fresh basil if desired.

Serve your chicken parm calzone with extra tomato sauce or pizza sauce for dipping, if you like.