Whenever I make my meals, I always make it a priority to include vegetables in almost everything I eat.
I love my veggies.
When cooked right, they can have lots of flavor and taste better than the main part of the meal itself.
Plus, everyone loves eating healthy, right? It makes you feel like you at least somewhat have your life together.
So, it's no secret that after eating quite literally everything in sight last week during my vacation, I was really craving some nice vegetables with my dinner. But my fridge was empty save a few random items, and I had no meat.
At that point, I had an idea to use every last bit of what I had to make a nice soup. I had bought some white Italian cannellini beans a few weeks back, and had yet to use them.
And honestly?
It was some of the best bean soup I've ever had.
The vegetables were everything that I needed and more, and the beans added the heartiness that something like chicken or ground sausage usually brings. I honestly didn't regret not putting any meat into this soup, which is a rarity.
So if you're in the mood for something light, fresh, and delicious, this delicious recipe is for you.
It's important to note that I used every vegetable that I had on hand for this soup, but if you don't like anything that I put into this, feel free to nix it and substitute it for something else. That's the beauty of this soup—it will taste delicious regardless of what basic ingredients you add to it. It's similar to a tuscan white bean soup, but contains a few ingredients that make it different and oh so delicious.
You Will Need:
White Cannellini Beans: An Italian delicacy, these white beans are delicious. You may opt to substitute these with garbanzo beans or a different type of white beans, but I feel as though those are all too firm for this Italian bean soup. These cannellini beans are soft, delicious, and melt into your mouth.
Kidney Beans: These will compliment the cannellini beans nicely.
Carrots: Make sure these are diced small, so there's a piece of carrots in every bite.
Celery: Similarly with the carrots, you're going to want to make sure that these are diced really small to be present in each and every bite.
Onion: A whole white onion will do the trick. Chop it up into nice small pieces.
Garlic: Three cloves of minced garlic will be all you need.
Spinach: I emptied an entire bag of triple washed spinach into my soup. It was delicious!
Diced Tomatoes: Crushed tomatoes could work too, but I find that diced tomatoes add a nice depth to the soup.
Pasta: Any pasta shape would be delicious with this. I used Banza chickpea pasta elbows, and they tasted perfect.
Chicken bouillon/stock: This is to make the broth. You can also use vegetable stock if you want.
Directions:
Put some olive oil in a large pot or dutch oven over medium heat. Heat oil, add your garlic, and let sauté until fragrant.
Add your diced onions, carrots, and celery. Cook until the onions are translucent and the carrots and celery have softened, about 5-7 minutes.
Add the diced tomatoes, beans, and broth. Season to your liking. Turn it up to a boil, and then reduce heat and let simmer for 30-45 minutes, stirring occasionally with a wooden spoon.
While the soup is simmering, toward the end, put a pot of water on the stove and bring it to a boil. Add your pasta and let cook until al dente or to package instructions. After the pasta is drained, stir in some olive oil to keep from sticking
At this point, the soup is just about ready. Add an entire bag of pre washed fresh spinach, and stir until wilted and cooked.
Add your soup and pasta to a bowl, and serve immediately.
FAQs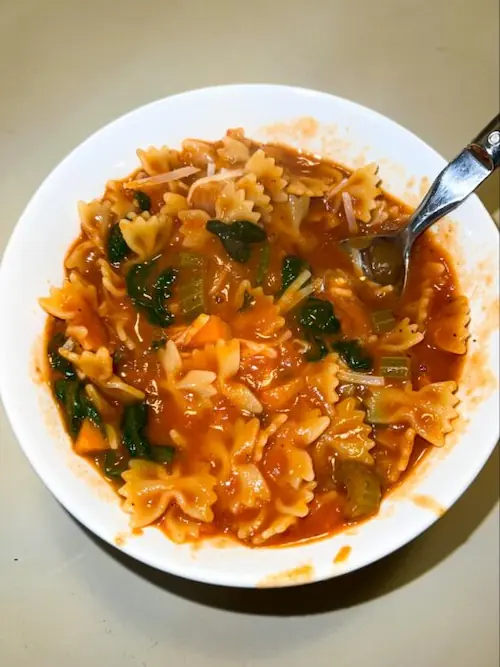 Q: What other kinds of beans could I put in this?
A: Black beans would be wonderful in this Vegetable and Italian Cannellini Bean Soup. I would substitute them for the kidney beans, but never for the white beans, as this is where the heart of the soup comes from.
Q: I want to add some meat to this soup. What do you suggest I use?
A: Try removing the casing from some sweet Italian sausage and browning it at the bottom of your pan when you add your initial vegetables. It might add a new depth of flavor you weren't expecting!
Q: Are there any other veggies that would go well with this soup?
A: Try dicing a pepper and adding it in at the beginning. It will give off a robust flavor that will compliment especially the tomatoes nicely. Instead of spinach, you could also try adding some lacinato kale if you have any on hand. Additionally, I bet some corn would taste delicious with this as well.
Q: How should I season my Vegetable and Italian Cannellini Bean Soup?
A: If you notice, I didn't list any specific seasonings above. That's because I'm a firm believer in seasoning with your heart. A soup like this is meant to be seasoned to your liking. However, personally, I seasoned this with some salt, pepper, Italian seasoning, green goddess seasoning, and parsley.
What To Serve With Vegetable and Italian Cannellini Bean Soup
Drink: A nice red wine, like a malbec would go great with this.
Appetizer: Since there's no meat in this soup, I recommend including that with your appetizer. To me, soup and salad go hand in hand. Try using some leftover cold cuts and making a chef's salad to go along with this!
Side dish: The only thing better than a good soup is good bread to dip in the leftover broth. For this, you should try making some garlic bread. Slice a sub roll or some french bread down the middle, brush with olive oil, and season with salt, pepper, and garlic powder.
Dessert: Who doesn't love tiramisu?
Print
Italian Cannellini Bean Soup
---
Author:

Total Time:

50 minutes

Yield:

4

1

x
1

can white Cannellini Beans

1

can kidney Beans

2

carrots, diced

2

celery stocks, diced

1

onion, diced

3

cloves of fresh garlic, minced

1

bag of baby spinach

1

can of diced Tomatoes

½

lb-1 lb pasta of your choice

4 cups

chicken bouillon/stock (can substitute for vegetable broth)

1 tbsp

olive oil

Salt, pepper, crushed red pepper flakes, fresh herbs, bay leaf, Italian seasoning, green goddess seasoning to taste (optional)
---
Add some olive oil to a pot and begin to saute your garlic on medium-high heat until fragrant.

Add your onions, carrots, and celery to the pan. Season with salt and pepper. Cook until onion is translucent and carrots and celery soften.

Add beans, tomatoes, and chicken stock to a pot. Season to your liking. Bring it to a boil, then reduce heat and simmer for 30-45 minutes, stirring occasionally, making sure nothing is sticking to the bottom of the pot.

Bring a pot of salted water to a boil, and add your pasta. Cook until al dente or according to package instructions. Toss with olive oil after draining to prevent sticking.

Add everything to a large bowl, top with some parmesan cheese, and enjoy!

Store in an airtight container for up to five days.
Prep Time:

5

Cook Time:

45

Category:

Soup

Method:

Cooked

Cuisine:

Italian
Keywords: italian cannellini bean soup recipe