I don't know about you, but I'm all about the side dishes in a meal. Entrees are great, but mashed potatoes, veggies, fries, and noodle dishes are what I most look forward to.
Of all the amazing sides out there, mac and cheese is one of my all-time favorites. Cooked noodles coated in a rich, creamy sauce is so decadent and so satisfying.
Mac and cheese is the ultimate comfort food. Whether you grew up eating homemade mac and cheese or mac and cheese from a box, we can all agree that it's an incredible dish.
This simple mac and cheese recipe is perfect for a weeknight dinner for two. It is easy to make and packed full of flavor. If you are in need of an easy recipe in small portions, you're going to want to bookmark this one.
Mac and Cheese for Two
If you find yourself making macaroni and cheese for just you and another person, you may find that most recipes make more mac and cheese than you need. If you don't want to have loads of leftovers, this can pose a challenge in your cooking. 
This easy homemade mac and cheese is perfectly portioned for only two people, so you can enjoy this delicious side with little to no leftovers!
This is my favorite recipe for super easy-to-make mac and cheese and it comes together in under half an hour. Mac and cheese is the perfect side for just about any meal and it makes a great main dish too!
Ingredients
Cheese: The best mac and cheese recipes use a combination of cheese types. In this one, we'll use sharp cheddar and parmesan cheese. 
​Noodles: For a classic mac and cheese, use elbow pasta. If you want to mix it up, any noodle with a large surface area is great, such as cavatappi or fusilli.
Seasoning: We're going for maximum flavor in this recipe with a variety of seasonings including garlic powder, onion powder, and dry mustard.
Milk: For the creamiest, most delicious mac and cheese, use whole milk.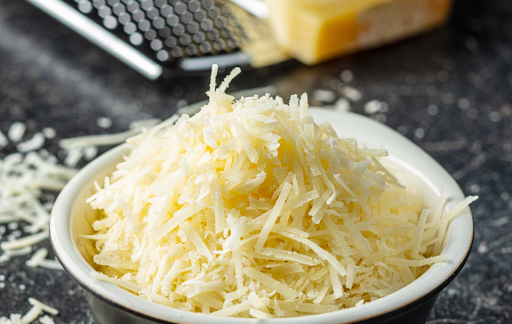 What to Serve with Mac and Cheese
Mac and cheese is one of the most versatile sides. It goes with all kinds of main dishes or it can even be the main dish! 
To make mac and cheese a little more filling as an entree, it's a great idea to stir in some bacon, chicken, or vegetables. If you'll be eating your mac as a side dish, here are some ideas of what to serve it with.
Meat: Mac and cheese goes with basically everything! Pulled pork, brisket, or grilled chicken are great options.
Vegetables: I like to pair mac and cheese with a nice side salad or some green beans. 
Garlic Bread: You can't go wrong with garlic bread as a side. Add this easy sourdough garlic bread to your meal for a light, flavorful side.

Tips
Don't use pre-shredded cheese.

If you can, try to shred your own cheese for the best results. Freshly grated cheese melts better than pre-shredded cheese and will give your mac and cheese the best texture possible.

 

Watch your roux closely.

One of the easiest mistakes to make when whipping up a pot of mac and cheese is burning the roux. Once you add the flour to the butter, whisk it constantly to prevent burning or sticking.

Don't overcook your noodles.

Noodles can become mushy so easily, especially in mac and cheese. Be sure to cook them al dente or just a hair softer.
Frequently Asked Questions
​What's the best cheese for mac and cheese?
I like to use a combination of cheeses for a flavorful, well-rounded mac and cheese. A combination of sharp cheddar cheese and parmesan is good for a tangy mac and cheese. For a sweeter, creamier macaroni and cheese, use low-moisture mozzarella, cheddar, and American cheese.
How long is macaroni and cheese good for?
Leftover mac and cheese can last about 3-4 days in an airtight container in the fridge. It can also be frozen for long-term storage.
Can I make this a baked mac and cheese?
Yes! If you prefer baked mac and cheese over stovetop mac, all you need to do is put the finished macaroni and cheese into a greased baking dish. Sprinkle it with extra cheese and bread crumbs and pop it in the oven at 350 for about 25 minutes or until the top is golden brown and crispy.
Can I double this recipe?
If you need larger portions, you can definitely double or triple this recipe! You can also make our full-portion mac and cheese recipe.
Print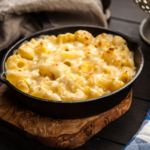 Homemade Mac and Cheese for Two | Easy Small Batch Recipe
---
1 ½ cups elbow macaroni noodles

2 tablespoons butter

2 tablespoons all-purpose flour

1 cup whole milk 

1 cup sharp cheddar cheese, shredded

½ cup parmesan cheese, shredded

¼ teaspoon garlic powder

¼ teaspoon onion powder

¼ teaspoon paprika

¼ teaspoon dry mustard powder

¼ teaspoon red pepper flakes

¼ teaspoon salt, or to taste

Black pepper to taste
---
Bring a large pot of water to a boil and salt generously. Cook the noodles al dente according to the package instructions.

While the noodles cook, melt butter in a medium saucepan over medium heat. Add the flour to the melted butter and cook for a couple minutes, stirring constantly.

Add the milk and whisk for 2-3 minutes until it thickens.

Remove from heat and add in the seasonings and shredded cheese. Stir until the cheese melts and the spices are fully incorporated.

Once your noodles are finished cooking, drain them. Add your cooked pasta to the cheese sauce and stir until combined. 

Serve immediately and enjoy.