I'm going to come in strong with a hot take:
I don't hate Olive Garden.
That's right, I don't hate the American family favorite. It doesn't claim to have authentic Italian food, never even tried to.
Now, don't get me wrong, there are many Italian restaurants that I prefer over Olive Garden.
It's just a great place to go if you want unlimited salad and breadsticks with something saucy as your main course, that has a slight hint of the best of your family's tastes and favorite foods.
So when I first tried the Olive Garden recipe for eggplant parmesan, I'll have to admit, it wasn't as bad as I thought.
But I still think that I can make a better one.
So this is our favorite eggplant parmesan recipe, and while we're still a fan, we'd be lying if we said that the Olive Garden's eggplant parmigiana is better than our version of the Italian staple.
What Makes Our Eggplant Parm So Much Better Than The Olive Garden Eggplant Parmigiana Recipe?
A lot of the time, eggplant parmesan has three ingredients: fried eggplant, tomato sauce, and parmesan cheese. Occasionally mozzarella cheese, but never that much.
We build our eggplant parm dishes like we build our lasagnas.
Provolone cheese.
Layer after layer of eggplant.
Crispy, seasoned, fried eggplant.
And all of the fixings that eggplant parm is traditionally known and loved for.
Aside from that, we fry each slice of eggplant with love and care. Watch our video below to see how we achieve this!
To me, the difference between a good dish and a great dish lies in the little details that are added in between steps.
The salt and pepper after the eggplant is done being fried.
The sprinkle of Romano cheese in between each step.
It's things like that that show that a recipe is made with love and care, and to me, what I believe sets our eggplant parmesan above all of the rest.

Eggplant Parmesan FAQs:
Q: Can I freeze eggplant parm?
A: Absolutely. Assemble this as you would before baking, let cool completely, and toss it in the freezer covered in plastic wrap, or in an airtight container. Store for up to 6 months before eating!
Q: Can I use any sauce other than marinara?
A: For sure. A lot of the time, I love to make my eggplant parmesan with a bolognese sauce. It's how my family always enjoyed it, and it's a wonderful way to get some meat in with this classic vegetarian dish.
Aside from bolognese sauce, another great option would be vodka sauce. It's not very traditional, but still just as delicious!
Q: Do I have to fry my eggplant beforehand?
A: If you're trying to make a lighter version of this dish, you absolutely don't have to. I just recommend slicing the eggplant even more thinly, generously coating the slices with salt and pepper beforehand, and tossing them in the air fryer for a few minutes. It'll be delicious!
What To Serve With Eggplant Parmigiana:
Appetizer: I like to brighten it up with an easy caprese salad. It's a healthy, light, and simple side salad, and uses the same flavor profiles as the eggplant; and plus, there's nothing better than a fresh slice of mozzarella over a tomato!
Side dish: My favorite side for any pasta is garlic bread. This easy ciabatta garlic bread recipe is one of the best side dishes we've tried, you'll love it!
Dessert: Finish dinner strong with an easy tiramisu martini!!
Print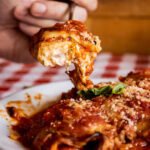 Eggplant Parmesan Recipe | Better Than Olive Garden!
---
Author:

Total Time:

1 hour and 20 minutes
1

eggplant, peeled and sliced into

¼

inch thick slices

1 cup

all purpose flour

3

beaten eggs

1 tsp

salt

1 tsp

black pepper

1 tsp

crushed red pepper flakes

1 ½ cups

olive oil (not extra-virgin olive oil)

2 tbsp

fresh basil leaves

½ cup

fresh mozzarella cheese, shredded

1 cup

grated Romano cheese

1/4

lb provolone, sliced

4 cups

of your favorite

marinara sauce

(try our own!)
*Note: We don't use bread crumbs when frying our eggplant, but you certainly can!
---
Preheat your oven to 400 degrees f

Season flour and eggs with salt and pepper

Dredge each eggplant slice in flour, and then in the egg wash mixture. Set aside

Heat olive oil in a pan over medium heat until it reaches 375°

Brown slices of eggplant on each side in the hot oil. Once slices are golden brown transfer them to a plate

Season with more salt and pepper on each side once done frying

Ladle sauce over the bottom of a casserole dish or baking sheet

Add a single layer of fried eggplant over the tomato sauce

Top with provolone cheese, grated Romano, and basil

Repeat this process until you run out of remaining eggplant slices

The final layer of eggplant parmiagiana should be extra marinara sauce, mozzarella cheese, grated Romano cheese, and basil over the top

Bake in the oven for 40 minutes, or until the cheese is melted, bubbling, and golden brown

Let rest for 20-25 minutes before serving with remaining amount of sauce and a teaspoon of basil on top
Prep Time:

20 minutes

Cook Time:

about 1 hour