I am honestly so happy to see chicken piccata get its moment in the spotlight again.
I feel like for a long time, not a lot of people were giving this savory dish the hype that it deserves.
Which is wild to me, because who wouldn't like this classic Italian dish?
(Check out this easy chicken piccata recipe!)
It's lemony. Juicy. Tender. Flavorful.
Tangy in all the right ways, and perfectly seasoned to bring out the fresh flavors with a few simple ingredients.
The lemon caper sauce makes it, and when paired with tender chicken breasts in the form of floured chicken cutlets, it can't be beat.
This is one of my all time favorite dishes to make, as it's super easy and doesn't take very long to cook in a large skillet at all.
But lately, I've been feeling like spicing things up a bit.
And as the autumn season slowly lingers ahead of us, I've started planning all of the wonderful soups that I'll be making as the air gets colder.
And that's how this chicken piccata soup was born.
It's got all of your favorite flavors of a classic chicken piccata, only it's in soup form!
That's right, the delicious lemony sauce that chicken piccata is known for is now broth, and it's life changing.
I'd honestly say that this soup is like a warm hug in a bowl.
And now that I've perfected it, I can say that I'll be making this one often in my house come fall.
Chicken Piccata Soup FAQs:
Q: What can I substitute the eggs with?
A: One cup of heavy cream or coconut milk should be enough to do the trick, and still give you that yummy delicious flavor that creamy lemon chicken piccata is known for!
Q: I don't have dry white wine. Is this necessary to use in the soup?
A: It is not entirely necessary. You can replace this with equal parts chicken broth and a tiny bit more lemon juice for when it's time to deglaze the pot and stir up any browned bits.
Q: Can I freeze this chicken piccata soup?
A: You can! Store it in an airtight container and for best results, freeze it without the chicken, and add freshly cooked chicken pieces to the pot upon thawing.

Print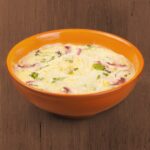 Easy Homemade Lemon Chicken Piccata Soup Recipe
---
1

lb boneless, skinless chicken thighs, cubed (can also use boneless skinless chicken breasts)

2 tablespoons

all-purpose flour

Salt and pepper to taste

2 tablespoons

olive oil

1/4 cup

unsalted butter (4 tablespoons of butter)

1

shallot or small onion, finely chopped

3

cloves of garlic, minced

1/2 cup

dry white wine: Pinot Grigio, sauvignon blanc, etc. (optional, can replace with chicken broth)

4 cups

chicken broth

1

whole egg, 2 egg yolks

1/2 cup

fresh lemon juice (about

3

lemons)
Zest of

1

lemon

1/4 cup

capers, drained

1 cup

orzo (optional)

1/4 cup

chopped fresh parsley

2 tablespoons

chopped fresh thyme leaves

1/2 cup

grated pecorino Romano cheese (can use grated Parmesan cheese)

Salt and black pepper to taste

Lemon slices and additional parsley for garnish
---
In a shallow dish, mix the all-purpose flour with salt and pepper. Dredge the raw chicken thighs in the flour mixture, shaking off any excess.

In a large soup pot or Dutch oven, heat the olive oil over medium-high heat. Add the floured chicken cubes and cook until golden brown and cooked through, about 3-4 minutes per side. Remove the chicken from the pot and set it aside.

In the same pot, melt the butter over medium heat. Add the chopped shallot and garlic, sautéing until the onion becomes translucent and fragrant.

If using, pour in the dry white wine to deglaze the pot, scraping up any brown bits from the bottom of the pan or pot. Let it simmer for a 3-5 minutes to reduce the wine slightly.

Pour in the chicken broth, stirring to combine. Bring the mixture to a simmer.

Add the fresh lemon juice, lemon zest, capers, optional orzo, chopped parsley, and thyme to the pot. Let the soup simmer for about 15 minutes to allow the flavors to meld.

With five minutes left in the simmering process, take about a cup of the broth from the pot, and set aside. Prepare your egg and egg yolks, and put them in a bowl or large cup. SLOWLY add the hot broth to the eggs as you vigorously whisk. This will keep the eggs from scrambling once added back into the pot.

Stir in the eggs and grated Romano cheese until they melt into the soup, creating a creamy texture.

Return the cooked chicken slices to the pot and let them warm through in the soup for a few minutes.

Taste the soup and season with additional sea salt and fresh ground pepper if needed.

Serve the Chicken Piccata Soup hot, garnishing each bowl with a lemon slice and a sprinkle of fresh parsley.