If you're looking for an easy, healthy, and tasty side dish for your next meal, look no further. This delicious air fryer zucchini with crispy parmesan comes together in minutes and is a perfect low-carb way to eat your veggies.
When the summer months roll around, fresh zucchini abounds. Whether you are a gardener, know a gardener, or just love to shop seasonal produce, there is no shortage of zucchini. 
Fortunately, zucchini is a tasty vegetable that is incredibly easy to cook. I love mixing it with pasta, making noodles out of it, or enjoying it air fried with some parmesan cheese.
This crispy parmesan air-fried zucchini is definitely one of the easiest ways to enjoy this summer vegetable. It's ready in under 10 minutes and requires just a few ingredients.
Why You'll Love This Recipe
Easy: With just a few ingredients and the ease of an air fryer, this great recipe is ideal for those nights you need an easy side dish fast. 
Crispy: The salty, crispy parmesan cheese on this zucchini complements the mild flavor and soft texture of summer squash perfectly. 
Low Carb: Whether you're on the keto diet or just looking to reduce your carb intake, these air-fried zucchini rounds are a great low-carb dish to pair with your favorite entrees.
Healthy: Not only does this dish add some vegetables to your diet, but air frying is considered a much healthier option to pan frying, deep frying, or even baking zucchini. This is because air fryers use far less oil than other cooking options while still delivering a perfect crispy texture.
Ingredients
Fresh Zucchini

Garlic powder

Onion powder

Smoked paprika

Shredded parmesan

Salt and black pepper

Olive oil cooking spray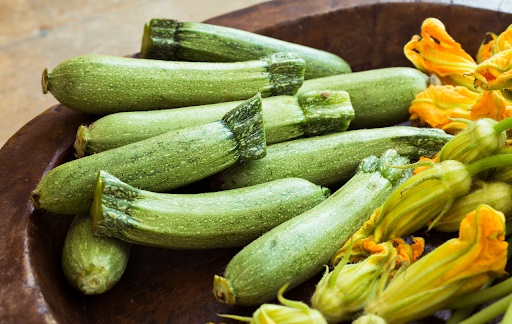 Best Dipping Sauces for Parmesan Zucchini
This crispy parmesan zucchini is made even better with a variety of delicious dipping sauces! Use your favorite dipping sauce or try one of these tasty recommendations:
Ranch dressing (make it buffalo ranch or sriracha ranch for even more flavor!)

Garlic aioli

Honey mustard 

Tzatziki sauce

Variations
Make crispy zucchini fries. Instead of slicing your zucchini into rounds, cut them into thin, 4-inch strips and make them into fries instead. These are a great alternative to french fries!
Change up the seasoning. Instead of smoked paprika, try Italian seasoning, za'atar, or cajun seasoning. Don't be afraid to get creative with the spices.
Make them breaded. If low carb is not your goal, make these zucchini crisps extra crispy by breading them with flour, egg wash, and parmesan panko bread crumbs.
Make them vegan. Instead of parmesan cheese, use vegan parmesan or nutritional yeast for a dairy-free alternative.
Use a different veggie. You can make all sorts of delicious veggies with some parmesan and an air fryer!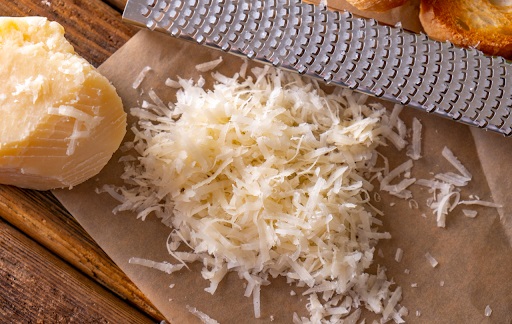 Frequently Asked Questions
What if I don't have an air fryer?
You can still make fantastic parmesan zucchini with a conventional oven. To make parmesan zucchini in the oven, follow the instructions below but lay the rounds on a baking sheet lined with parchment paper instead of an air fryer basket. Bake the zucchini in the oven at 350°F until soft and golden brown. Broil if necessary to get crispy cheese without overcooking the squash.
Why is my fried zucchini mushy? 
If you find that your zucchini is mushy, it could be due to a couple of reasons. The most likely is that it is overcooked, so try cooking it for less time on the next batch. It may also be mushy if you used a large zucchini. Bigger summer squash has more seeds, which tend to cook faster and get mushy very easily. If your zucchini is large, cut it into fries and remove the seeds instead of slicing it. 
Can I use yellow squash in this recipe?
Yes, yellow squash is very similar to zucchini and would make a great alternative for this recipe. You can use a variety of summer squash and other veggies for a parmesan vegetable medley.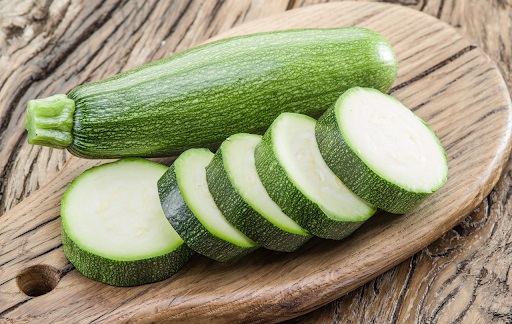 More Great Air Fryer Recipes
The air fryer really is a great way to have a quick and easy meal. Try some more of our simple air fryer recipes:
Print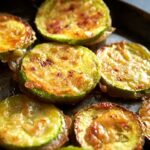 Crispy Parmesan Zucchini | Easy Air Fryer Recipe
---
2 fresh zucchini, small or medium

½ teaspoon garlic powder

½ teaspoon onion powder

½ teaspoon smoked paprika

½ cup shredded parmesan cheese

Salt and black pepper to taste

Olive oil cooking spray (avocado oil will also work)
---
Begin by removing the ends of the zucchini then slicing them into ½ inch rounds. You can adjust the thickness of your zucchini slices if you like your zucchini on the softer or crunchier side.

In a small bowl, combine the spices and stir.

Spray the zucchini rounds with cooking spray, then sprinkle the spice mixture over them. Toss until the zucchini is well coated in spices.

Line the basket of your air fryer with aluminum foil. Lay the zucchini slices in a single layer in the air fryer basket, then sprinkle them with parmesan cheese.

Preheat the air fryer to 400°F. Once it's preheated, air fry the zucchini rounds for 6-10 minutes or until soft and golden brown. Adjust cooking time as needed to reach your desired texture. 

Remove from the air fryer and enjoy with your favorite dipping sauce.