If you're anything like me, I guarantee this has happened to you before:
It'll be some ungodly time of night, let's say 11:00 PM.
You'll be sitting in bed, and all of a sudden your stomach starts rumbling—you're craving something delicious.
And not just anything delicious, something that's seemingly impossible to get your hands on at such an hour.
Maybe something from your favorite American casual dining restaurant chain.
The other day, this happened to me with the Ruby Tuesday Chicken Parmesan Pasta.
Look, for all intents and purposes, I'm Italian.
I'm of Italian descent, and was raised with the culinary traditions of Italy in my family.
But, I can't deny the part of me that is inherently American.
I grew up here, after all.
And sometimes, the American in me is up at 11 PM craving Ruby Tuesday's Chicken Parmesan Pasta.
I can't help it, I'm only human.
It was my go to as a kid, and brings back so many fond memories.
Nowadays, I can't even tell you when the last time I've been inside of a Ruby Tuesday's was, let alone where the one closest to me is.
But I do remember how much I loved that chicken parmesan pasta.
And here, in all of its glory, is my own version of it.
​Nope, this isn't one of those complete Ruby Tuesday copycat recipes.
This is a wonderful dish that brings back all of my happy childhood memories, but with my own Italian flare.
It's a great way to get a taste of your childhood right in your very own home.
What You'll Need
Freshly Fried Chicken Cutlets: There is nothing, and I mean nothing better than a freshly fried chicken cutlet. We've done countless tutorials on these, but if you need a refresher, all you need is some all purpose flour, an egg wash mix, breadcrumbs, salt, pepper, garlic powder, parsley, grated cheese, and a large skillet with some neutral oil (any vegetable oils) over medium heat. They'll come out golden brown, crispy, and delicious.
A High Quality Jar of Tomato Sauce: You are more than welcome to use your own, but it's always nice to have a premade jar of fresh marinara or bolognese sauce on hand. For this recipe, marinara is the way to go!
Fresh Pasta: You can get the best pasta from the Italian food section of your local grocery store. For this recipe, we used linguine.
Provolone Cheese: This might sound weird. Why wouldn't we use mozzarella here? Personally, I find that provolone is sharper and compliments the chicken a bit better. But of course, if all you have is mozzarella cheese, feel free to use that.
Grated Pecorino Romano or Parmesan Cheese: With my chicken parmesan, I prefer using Romano. Shocking, I know. But Parmesan cheese would be just as good to keep the subtle Parmesan flavor that gave this dish its name, too!
Basil: Totally optional, of course, but this is an easy way to give your dish a whole new level of "zing" to it.

Chicken Parmesan Pasta FAQs:
Q: What's the best kind of pasta to use with this recipe?
A: I prefer using linguine with my chicken parmesan pasta, but feel free to use anything you have on hand. Rigatoni or penne pasta would be other wonderful options!
Q: What are some ways to make this dish a bit healthier?
A: You can try grilling your chicken rather than frying it, and adding some toasted breadcrumbs to the top of this dish if you'd like. That way it still keeps its crunch, but less oil is used. In fact, you can order your own Ruby Tuesday parmesan chicken pasta this way at the restaurant, too. You can also try making your chicken in the air fryer, too!
Q: Is there any way to make this dish vegetarian?
A: Absolutely! I always am a proponent of using freshly fried eggplant in lieu of chicken cutlets when in a pinch. The catch? I only fry them in egg batter. It's delicious and just as tasty!
What To Serve With Chicken Parmesan Pasta
Appetizer: You can never go wrong with eating some big fat homemade mozzarella sticks as a starter dish. If that's not you jam, you can never go wrong with some crusty garlic bread!
Side Dish: If you want a nice, light and healthy summertime dish, try putting together a bed of mixed field greens, strawberries, and goat cheese and make this strawberry balsamic vinaigrette! 
Dessert: You can never go wrong with this incredibly delicious tiramisu cup dessert!
Print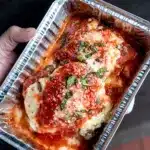 Chicken Parmesan Pasta; Better Than Ruby Tuesday's
---
2

boneless, skinless chicken breasts, pounded and fried into chicken cutlets

Salt and black pepper, to taste

1/2 cup

grated Parmesan cheese

1/4 cup

olive oil

2 cups

marinara sauce

8 oz

linguine pasta

3

slices fresh provolone cheese

Fresh basil leaves, for garnish

Crushed red pepper flakes (optional)
---
Preheat your oven to 375°F (190°C).

Bring a large pot of salted water to a boil.

Add the linguine into the hot water. Cook pasta according to the package directions until al dente. Drain the linguine and set aside.

Pour the marinara sauce into a medium saucepan. Cook over medium low heat.

While the sauce is simmering, transfer the chicken cutlets onto a foil lined pan, place provolone cheese over the top, and bake for about 3 minutes or until the cheese is melted.

Add the cooked linguine to the simmering marinara sauce and toss to coat the pasta with the sauce.

Plate the cooked pasta, putting the cheesy chicken cutlets on top of the pasta.

Garnish top of pasta with parmesan cheese, a yummy drizzle of marinara sauce, fresh basil leaves and crushed red pepper flakes, if desired. Store in an airtight container for up to five days.