I cook a lot of sausages at work everyday.  I cook sausage sandwiches, sausage pizzas, sausage calzone, and sausage cacciatore.  I'm pretty familiar with the Italian sausage.
That being said, fresh sausage is the type of sausage that I'm used to cooking.  This whole Summer sausage thing is new to me.  
But…I recently spent a weekend in Burlington, Vermont.  On the way back to Boston I decided it would be fun to stop in all of the little farm stands and country stores that I passed along the route.
In addition to all the jars of maple syrup and blocks of cheddar cheese I came across, there was a lot of Summer sausage.
I've seen Summer sausages before, usually in gift baskets, but I don't know much about them. I did know that they can be left at room temperature and usually have an expiration date that's pretty far out.
Wanting to learn more about the interesting cured meat, I thought it would be fun to buy a few different types of summer sausage and play around with them when I got home. 
So that's what I did.  And I made a delicious Summer sausage frittata.  I think if you try it, it will become one of your go to sausage recipes.
What Is Summer Sausage?
Summer sausage is the American way to describe any sausage that doesn't need to be kept in the refrigerator until it is opened.  A Summer sausage usually has a pretty long shelf life if it's stored correctly.
It was a way to preserve meat during warmer temperatures in the summer months, hence the name Summer sausage. 
A Summer sausage can be described as a semi-dry sausage.  They usually have a smoky flavor because they are cooked in a smokehouse. 
A Summer sausage is usually fermented and mixed with a variety of spices and curing salts.  Some of the most commonly used spices in making Summer sausage are whole mustard seed, salt, black pepper, sugar and garlic powder. 
Summer sausage can be made with a just about any type of meat.  Originally it was a meat mixture seasoned with spices and stuffed into animal intestines.   Today, modern summer sausage is usually made with collagen casings.
The preservation process is what makes a proper summer sausage.  When the moisture content of the meat is reduced and the ph of the meat is increased, the sausage will last longer.  There are many different methods of preserving homemade summer sausage.  If you decide to try making it yourself, it's important to follow a reputable recipe to avoid food poisoning.  Any time you try to preserve ground meat, you have to strictly adhere to a proper curing process.
What type of meat is used for Summer Sausage?
​When it comes to Summer sausage, their are lots of meats to choose from for your sausage stuffer.  It can be ground beef, pork or even wild game.
How to Make a Summer Sausage Frittata
When I got home from my Vermont trip I had to do something with all of the delicious summer sausages I bought.  I decided to make a frittata.  That's always a great way to experiment with new ingredients.

Here's What You Need for the Summer Sausage Frittata
Eggs
Get some nice fresh eggs.
Olive Oil
Use a good quality extra-virgin olive oil.
Vegetables
I suggest using onions and peppers for the Summer sausage frittata.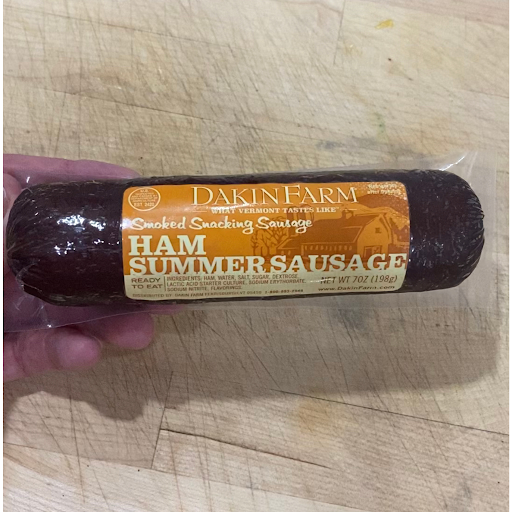 Summer Sausage
Get yourself a really nice Summer sausage from a producer who makes them in small batches.  You can also use something made from a larger producer like a Hickory Farms Summer Sausage that you'll find in the supermarket.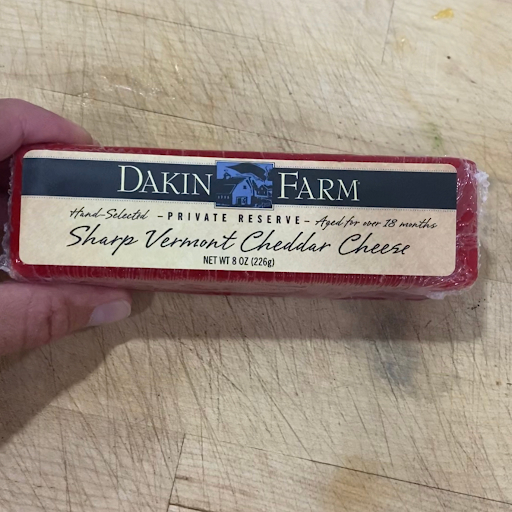 Cheese
You can choose from a variety of cheeses for this recipe.  I used a Vermont Cheddar for this recipe. Mozzarella, cheddar, Swiss and American will all work fine.
Spices
I like using Kosher salt and freshly ground black pepper.
Here's How To Make Your Summer Sausage Frittata
​The cooking process for this is really simple.
​​In a large bowl, beat your eggs really good.
Cut up your onions, peppers and any other vegetables you are using.  I like a small dice or a thin slice for egg dishes.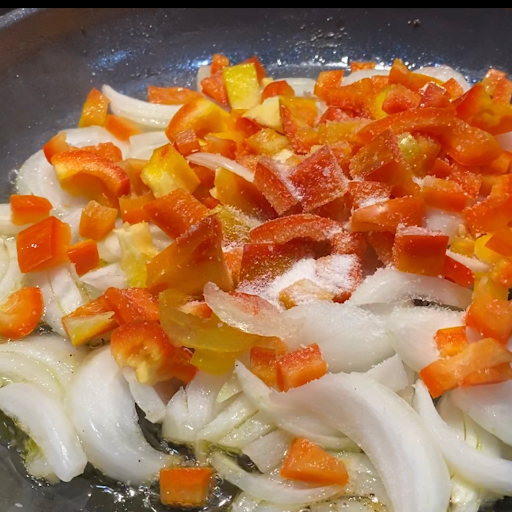 Dice up your summer sausage to about the same size.  The summer sausages usually have fibrous casings which you don't want to eat.  Make sure you remove the casings before you dice it up.
​Then take a non-stick frying pan and coat the bottom in olive oil.  Put it on the stove at medium heat.  When the oil is hot, add your vegetables.  Season them with salt and pepper.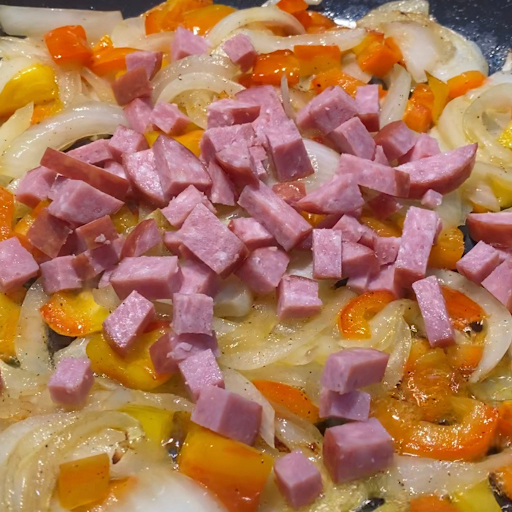 After the vegetables start to soften up, add your diced summer sausage and turn the stove up to high heat.  Let the sausage start to sear and let the pork fat flavor the veggies.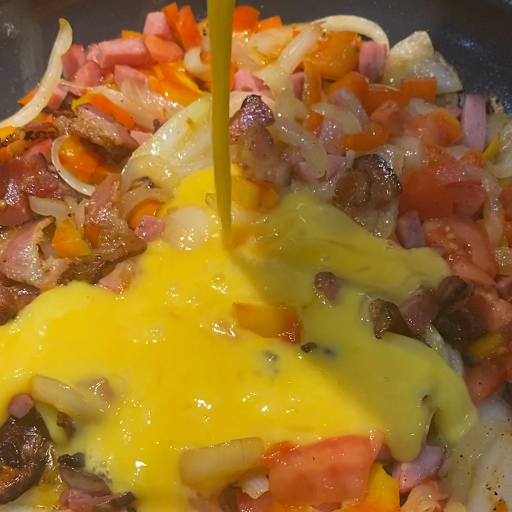 When the sausage pieces look seared, turn the stove down to low heat.  Add your beaten eggs and let them cook.  
Stir the eggs so they keep moving.  For the best results, I use a rubber spatula.  This isn't going to take a long time.
When the eggs look like they are about half-way cooked, add some cheese.  
Keep stirring until the cheese is melted and incorporated into the rest of the eggs.
​When the cheese is melted, turn the stove back up to medium and let the eggs on the bottom of the pan form a crust.  
Transfer the frittata to a plate and serve it up.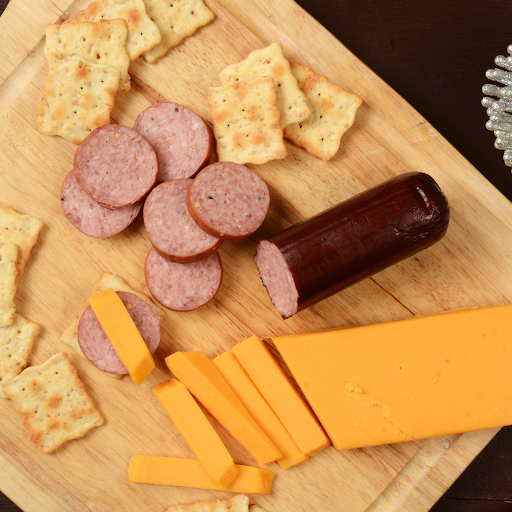 What are other things you can do with Summer Sausages?
Add sliced summer sausage to a charcuterie board for an easy appetizer.
Put some summer sausage on a cheese platter.
Slice the summer sausage into 1/2 inch thick pieces.  Grill the slices with some barbecue sauce and make Summer sausage sliders.
​Make and oven-baked summer sausage dinner with potatoes and onions.
Print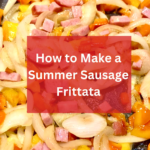 Summer Sausage Fritatta Recipe Card
---
6 eggs

1 cup of diced onion

1 cup of diced peppers

1 cup of diced summer sausage

1 cup of diced cheese

2 tablespoons of olive oil

Salt and pepper
---
Beat eggs in a mixing bowl

Add 1/2 of the olive oil to a non-stick frying pan and put it on medium heat.  Add vegetables when the oil is hot.  Cook for about 5 minutes until they are soft.

Add diced summer sausage and turn up heat.  Allow the sausage to sear.  The cooking time for this is about 5 minutes.  Season with salt and pepper.

Add eggs to the pan and turn down to low.  Stir eggs continuously until half way cooked.

Add cheese and continue to stir.

When cheese is melted turn heat to medium and allow the eggs on the bottom of the pan to brown.  This will take about 3 minutes.

Transfer the frittata to a dish.

Enjoy!