I don't know about you, but as soon as the weather starts to get cool again, my oven is hurtled out of hibernation and used once more.
It seems as though through the entirety of the warmer months, I don't ever go near my oven.
But as soon as October rolls around, you better believe I am starting it back up again with the best sheet pan recipes.
And that is how I've been introduced to my new favorite thing: the chicken sausage.
Lately, it seems as though I've been spending more and more time at Trader Joe's. There's just something about that place that feels like magic to me. All of the unique foods to try, the cheap wine – the possibilities are endless there.
A few weeks ago, I stumbled upon their "apple chicken sausages." Most of the time grocery stores are selling raw chicken sausage, but not Trader Joe's. Their chicken sausage comes fully cooked, and all you have to do is toss them in the oven.
Perfect. Not a meat thermometer, raw sausage, or worry about food poisoning in sight. Just a simple quick meal, made the best way.
I snagged about four packages of them – I just knew I could make something great. I tried some before testing them out in a recipe, and I was hooked. Such great flavor from a really good sausage.
Now, I'm sure you've been seeing Dash of Mandi's viral three-ingredient baking sheet pan dinner everywhere, just like I had. All it contains is roasted brussel sprouts, Trader Joe's sweet potato gnocchi, and the apple chicken sausage. And let me tell you guys, it was delicious. One of the most different ways I've seen someone use the gnocchi, yet somehow, it works.
I made a video recreating it below, so you can see exactly what I did:
My boyfriend told me this was his most favorite thing I had ever made. The best compliment ever, though I'm not entirely convinced he wasn't biased by not having to wash a frying pan or large skillet after the fact.
But after I finished, I still had the other packages. And I wanted to make something else with them.
And thus, the autumn harvest salad was created.
Full disclosure: I got the idea for this recipe from @syl.eats on TikTok. Check out her page if you haven't yet!
What Is It?
The autumn harvest salad is a delicious salad made almost entirely from Trader Joe's products. It's packed with veggies that you won't mind eating, and topped with fresher, healthier versions of all of your favorite ingredients. Including the sausage!
Everything can be seasoned at once in a big bowl and put on a baking tray all together.
Toss it over a bed of kale, and you're golden.
Best of all, the direct toppings make for the best leftovers. The warm ingredients of this salad keep really well in the fridge, and can be enjoyed for up to a week after it's made.
This really is the ultimate sheet pan meal for colder weather, and I'm so excited to teach you all how to make it.
Autumn Harvest Salad FAQs
Visualizza questo post su Instagram

Q: What kind of cheese should I top this with?
A: I always love topping this one with goat cheese. It adds a nice sweet creaminess that the savory ingredients are missing, and contrasts super well with everything else. You could also sprinkle some asiago cheese on top of this too, if you'd like.
Q: What are some other things I could add to this salad?
A: For starters, you could replace the apples with some sliced figs. Figs are in season this time of year, and they'd taste great with this. You could also replace the kale with some arugula or mixed greens as well. Another great idea would be to add candied walnuts to the salad. I'm allergic, so I can't eat them, but based on the combinations I've seen people make with these ingredients, I bet they would taste delicious. Lastly, a yellow or red bell pepper would be really good with this. Season and bake as normal with the other ingredients if you decide to go along with this option.
Q: How do I store this salad?
A: I highly recommend keeping the warm ingredients separate from the cold ingredients. Place the kale or whatever lettuce you decide to use in a bag by itself, and put the leftover toppings from the sheet pan in a microwave safe container in the fridge. For the cold toppings, I'd keep those separate as well. That way, none of the ingredients get soggy and weird in the fridge.
Q: What could I put on this salad instead of the turkey bacon?
A: You could cook up some pancetta and add it to the salad with the other ingredients, as well as chopping up some regular bacon and adding it to the salad. It'll taste great!


Q: I don't like chicken sausage from Trader Joe's. What other kinds of sausages could I use?
A: The possibilities are endless! You could brown some Italian sausage over medium heat for 10-12 minutes in a cast iron skillet or non-stick skillet with a little avocado oil or olive oil. Just remove the natural casing from the uncooked sausages beforehand. You could also use regular pork sausages, beef sausages, or sweet Italian chicken sausages if you're feeling bold.
Q: Can I make this in the air fryer?
A: If your air fryer is big enough like mine, you can most certainly make a single serving of this meal by using the bake option. It most definitely would be the easiest way, though this is not optimal for feeding a large crowd.
→ Here's an easy air fryer sausage recipe that you can adapt to your needs!
Q: Why is chicken sausage healthy?
A: Believe it or not, it's not necessarily the healthiest way to enjoy sausages. Some types of chicken sausage could be just as fattening as regular sausages, though the sausages from Trader Joe's are some of the healthier options you can get from the market. Everything in moderation is key!
Q: Do chicken sausages count as processed meat?
A: Yes, they do. So what? Enjoy them anyway.
What To Serve With An Autumn Harvest Salad
Visualizza questo post su Instagram
Appetizer: Autumn crostinis would be perfect with this delicious meal. Put some fig butter over toasted french bread, and top them with a bit of oil, some leftover sweet potato, prosciutto, arugula, and walnuts if you'd like. Bonus points if you drizzle balsamic glaze on it at the end!
Drink: A nice glass of Nero D'Avola would be a great option with this. The fruity notes will be perfect with the savoriness of the salad.
Dessert: Without a doubt, this is the easiest sponge cake recipe you will ever see. Give it a try and see if you like it!
Print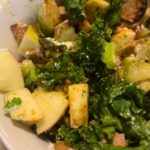 Chicken Sausage Sheet Pan Harvest Salad
---
Author:

Total Time:

35 minutes

Yield:

4

1

x
1 bag brussels sprouts, halved and prepped

1 package chopped kale

1 sweet potato, diced

1 package Trader Joe's chicken sausage, chopped (the thickness of the sausage is up to you)

1 package Trader Joe's turkey bacon, chopped

2 tbsp goat cheese

½ whole apple

¼ cup balsamic vinegar

1–2 tbsp dijon mustard

1 tbsp honey

2 tbsp extra-virgin olive oil

Salt to taste

Pepper to taste

Garlic powder to taste

Paprika to taste

Balsamic glaze (optional)
---
Preheat oven to 380°
Line a sheet pan with foil. Spray with cooking spray or drizzle with olive oil.
Combine the diced sweet potatoes, brussel sprouts, turkey bacon, and cooked chicken sausage in a large bowl. Season with salt, pepper, garlic powder, paprika, and whatever else you like. Mix thoroughly.
Place all of the ingredients on the sheet pan, and spread evenly in a single layer.
Bake in the oven for 20-25 minutes, or until brussel sprouts get crispy. Take out and place back in the oven after completing a turn of the pan at 15-20 minutes.
While the items are cooking, take your kale and massage it with olive oil, salt, and pepper.
Take balsamic vinegar, dijon mustard, honey, salt, pepper, and garlic powder and mix thoroughly, creating your dressing.
Cut up your apple and place it to the side.
When the ingredients are done baking, shake them around in the hot pan before placing them on top of kale. Dress with balsamic dressing, place apple slices on top of everything, and top with goat cheese.
Enjoy!
Prep Time:

10

Cook Time:

25

Category:

Salad