Is it just me, or has creamy tomato sauce been all of the hype lately?
All over the explore page of my Instagram, I keep seeing creamy tomato sauce recipes, and they all look so delicious.
I even tried making one myself lately, using my mom's friend's recipe, and it came out perfect. If you want to see how I did this, check out the recipe!
Now that grape tomatoes and cherry tomatoes are both in season, I've been using the two to make as many different and light tomato sauces as I can. Sometimes I'll throw tons of different vegetables into the mix, and other times I'll keep it as is.
But there's one choice that I made last week that was a huge hit.
I added bacon to the sauce.
And let me tell you, it was better than most things I've had.
If you've had pasta carbonara and are familiar with the taste of guanciale or pancetta in your dish, you know that the flavor of fatty pork compliments pasta extraordinarily well.
Which is why it should come at no shock to you that this bacon spaghetti recipe with creamy tomato sauce is just as delicious as anything else, if not more.
Only this delicious pasta recipe doesn't require an egg mixture or anything complicated like that.
All you need is a large pot of salted water, a few simple ingredients, and some garlic bread to serve on the side if you'd like, and you'll have all you need to make one of the most easy recipes of all time.
And today, I'll show you how to make it.
What Do I Need?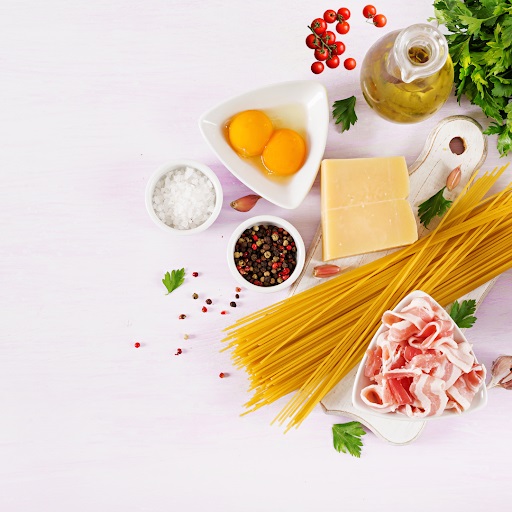 Pasta: Any type of spaghetti goes. Personally, I love using regular spaghetti. But you could also use angel hair, bucatini, or even linguine.
Cherry tomatoes: And lots of 'em! You really want them to blister in the pan to bring the juices up, which will give your sauce a nice garden fresh flavor. If you don't have cherry tomatoes, grape tomatoes will work just as well.
Bacon: Thick cut bacon works really well here. Try to get it as plain as possible; bacon types such as maple bacon taste delicious, but really augment the overall flavor of the dish.
Onions: If there's one thing that I say is vital when making pasta with a cherry tomato sauce, it's using a nice vidalia, or sweet onion. It pairs super well with the flavor of the tomatoes.
Heavy cream: A dash of this will give your bacon spaghetti recipe the heart and soul that it needs.
Grated Romano cheese: As always, you can substitute this for parmesan cheese if you prefer!
Garlic: Mince this yourself. It will make all the difference.
Olive oil: You're going to want to use a really nice, high quality olive oil for this dish, since a lot of the flavors will take on the taste of whatever oil you decide to use.
FAQs:

Q: How long does this last in the fridge?
A: This can be stored for 4-5 days in an airtight container inside of the refrigerator.
Q: Can I use turkey bacon or any other bacon alternative?
A: Absolutely. Just make sure to add a bit more olive oil into the pan when cooking your tomatoes, as turkey bacon won't give you as much bacon grease as normal bacon would.
Q: What are some other kinds of vegetables that I can add to this?
A: If you want to pack this full of veggies, I suggest adding a fresh zucchini right to the mix. It'll taste delicious with this!
Q: What are some alternatives to heavy cream that I can use?
A: Honestly, a bit of coconut milk will taste delicious with this. It won't take on the taste of coconut, so don't worry.
Q: Can I use pre cooked bacon, or does it need to be cooked fresh?
A: For optimal results, I highly recommend cooking the bacon fresh. The bacon grease and oils will combine with the tomatoes, giving your dish a super hearty flavor. But if you only have pre cooked bacon, try using a bit more olive oil when cooking the tomatoes.
Q: I don't have cherry tomatoes or grape tomatoes on hand. What should I do?
A: A big can of diced tomatoes with a hint of tomato paste will be delicious with this. As always, be sure to season optimally!

Print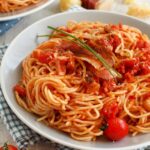 Bacon Spaghetti With Creamy Tomato Sauce Recipe
---
Author:

Total Time:

30 Minutes
1

package of bacon, finely chopped into cubes

2 cups

of fresh cherry tomatoes or grape tomatoes

1

lb spaghetti of choice

¼ cup

heavy cream

1 tbsp

diced vidalia onion

1 tbsp

finely minced garlic

2 tbsp

olive oil

¼ cup

parmesan or grated Romano cheese

2 tsp

salt

1 tsp

black pepper

1 tsp

crushed red pepper

One handful of basil leaves (optional)
---
Bring a large pot of water to a boil, and cook pasta according to package directions until al dente, seasoning generously with salt. Reserve a bit of the pasta water after the spaghetti is done cooking. Set reserved pasta water off to the side in a cup.

As the water boils and pasta cooks, begin to cook bacon in a large skillet over medium-high heat until crispy, but still a little fatty.

Remove bacon from skillet and set aside on top of a paper towel. Discard most of the bacon grease as you scrape up the brown bits from the bottom of the pan, saving a few tablespoons to cook your tomatoes in.

After the bacon is removed from the pan, add your chopped onions to the bacon grease. Cook on medium heat for a few minutes or until slightly translucent.

Add your tomatoes and garlic. Season everything with salt, pepper, and crushed red pepper.

Let cook for 5-10 minutes, or until they begin to soften and blister. Using a spoon, carefully press down on the tomatoes in order to release the juices, adding olive oil as you go if needed.

As the tomatoes begin to bubble nicely, add your basil, crispy bacon, cream, parmesan cheese, and more salt and pepper if needed. Add your cooked pasta directly to the pan, stirring to coat, and adding a little olive oil and a splash of pasta cooking water if needed for the creamy sauce.

Serve this delicious bacon pasta dish while hot, topping with fresh parsley if desired!