I'm no expert on air fryer recipes, but I do know a lot about chicken wings.
At Mortadella Head we sell a lot of them. You should see how many wings we go through on Super Bowl Sunday.
At the restaurant we have a pretty good cooking process where we get really crispy chicken wings. It involves cooking them twice.
First, we bake them in the oven on a baking sheet and then right before we serve them they get dropped in the deep fryer. They come out great. People love them. They are the perfect appetizer for pizza.
But, I know that deep frying isn't an option for most people who want to make crispy wings at home.
I had some frozen wings and figured trying them out in the air fryer would be fun. I don't know if this is the best air fryer recipe, but air fryer wings seemed like an easy way to practice using the air fryer.
I was a little hesitant about the way my air fryer frozen chicken wings would come out.
But it ended up being a great chicken wings recipe. What I learned is that air frying is like cooking in a small convection oven. The hot air circulates around the food making it crispy.
This last minute decision when I needed some Buffalo chicken wings turned out to be a good idea.
Grab some celery sticks and blue cheese dressing. We're making air fryer wings!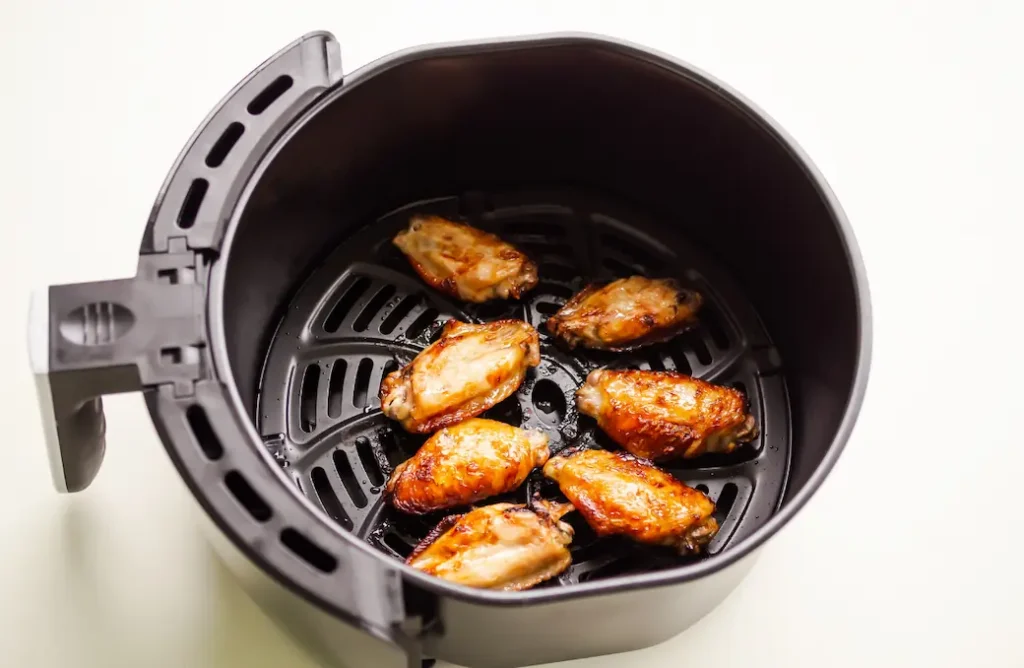 KEY INGREDIENTS TO COOK FROZEN WINGS IN THE AIR FRYER
Chicken Wings: Go to the grocery store and pick up a bag of frozen chicken wings. You'll find them just about everywhere.
Olive oil: Use a pretty good olive oil. It doesn't have to be fancy, but if you have a little extra virgin olive oil in the cabinet, you can use it for this recipe.
Salt: I prefer Kosher salt or sea salt when I cook.
Black pepper: I suggest freshly cracked black pepper.
Dry Rub: If you want to add some extra flavor you can whip up an easy dry rub with garlic powder, onion powder, paprika, and brown sugar.
Hot Sauce: I like Frank's Red Hot, but you can use a different brand if you want.
Butter: Melt some butter in the microwave or in a pan on the stove.
Dipping Sauce: Use your favorite dipping sauce. Blue cheese or Ranch are always good.


HOW TO COOK FROZEN CHICKEN WINGS IN THE AIR FRYER
For a simple recipe to make delicious wings in the air fryer, follow the instructions below.
The best way to get crispy wings is to cook them twice, so that's what we're going to do.
First, preheat the air fryer to 400 °F degrees Fahrenheit.
Take your frozen chicken wings and in a single layer place them in the air fryer basket. Don't bunch them up. For the best results, space them out enough so the air can circulate between the wings.
For the first time around, the cooking time will be 12-15 minutes. This will start the cooking process.
Now remove the wings from the air fryer and toss them in the olive oil and season them with the salt, pepper and the dry rub if you're using one. When you add oil it gives flavor to the wings and helps get a crispy skin.
The second cook time will be a little longer. Put the seasoned and oiled wings in the bottom of the basket again and be sure to space them out. Put them back in the air fryer for another 20 minutes of cooking.
When the wings come to an internal temperature of 165 °F degrees Fahrenheit they are completely cooked. You can use a meat thermometer to check the temperature. Just pull out a wing and test it in the middle of the thickest point.
Now put your cooked wings in a large bowl. It's time to make the Buffalo sauce. Add the hot sauce and butter to the bowl. Toss them around and get them nice and coated. Use tongs to make it easier if you have them.
If for some reason Buffalo isn't your favorite wing sauce, feel free to toss them in something else.
I go back and forth on my favorite sauce. I love a good honey bbq sauce. I have a really easy recipe for it that I'll post soon.
Once your wings are coated in a great sauce, put them on a plate and serve them with blue cheese dressing or Ranch dressing.
At Mortadella Head we have a creamy Gorgonzola dressing that we make in house. It's our version of blue cheese dressing. Gorgonzola is a type of blue cheese from Italy. When you dip a chicken wing in it you'll taste the difference right away.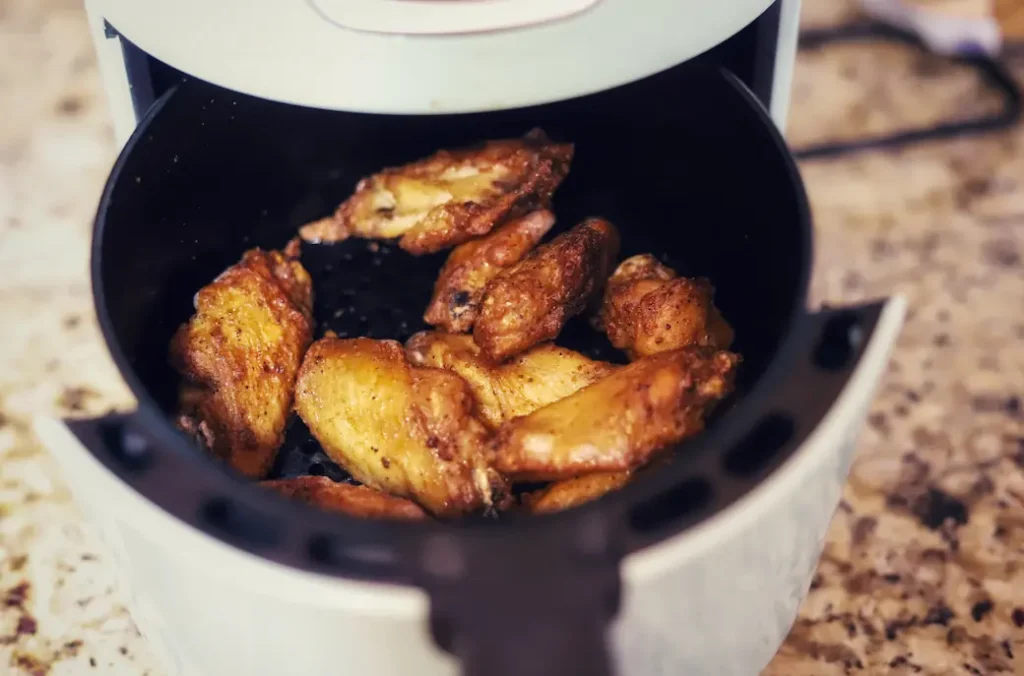 Air Fryer Chicken Wings FAQs
Q: Do I have to use frozen wings?
A: Absolutely not. You can cook fresh chicken wings in the air fryer. I had frozen wings on hand and that's why I didn't use fresh wings for this recipe post.
Q: What size wings should I use?
A: Use whatever size you like the best. I like big fat wings, but you could use smaller ones if you want. The size of the wings is a personal preference. Just make sure that you check on them if they are smaller so they don't overcook.
Q: What can I do with leftover chicken wings?
A: If you have leftover chicken wings, toss them in the air fryer for 10 minutes to reheat them. You'll end up with delicious air fryer chicken wings once again.
Q: Do I have to toss my wings in sauce?
A: No. If you like naked wings, that is totally fine. Crispy air fryer chicken wings are great without a coating of sauce. The best part of doing it this way is that you can serve a couple sauces on the side and dip away for a variety.
WHAT TO SERVE WITH FROZEN AIR FRYER CHICKEN WINGS:
Here are some great side dishes for your chicken wings.
First of all, make some easy frozen air fryer tater tots!
Then, how about some mozzarella sticks in the air fryer? I haven't tried making them this way yet, but I definitely know how to make great mozzarella sticks.
You can also order some pizza. What's better than pizza and wings? A delicious wing deserves a delicious pizza. Check out how we make pizza.
Let me know what you think of this air fryer method for cooking frozen chicken wings.
The next time you go to the grocery store, grab a bag of frozen wings and put them in your freezer. You never know when they will come in handy in a pinch.
If you want more recipes from Mortadella Head you should really sign up for our emails. It's not your boring old email newsletter. We'll show you how to cook and eat like a Mortadella Head!