If you want a piece of advice, it's to always have shrimp on hand.
This could be fresh shrimp.
Or it could be frozen shrimp.
Regardless of what kind of shrimp you have laying around, it can all be thawed fairly quickly to make some of the best meals that you can find.
Personally, I always use shrimp when it comes to making one of those "clean out the fridge" meals.
You know, those ones where that big bag of broccoli is about to expire, and you need some inspiration.
If you want my opinion, there are so many things that you can do with leftover shrimp.
But one of my favorite dishes to make with it is penne alla vodka.
There's just something about that creamy tomato sauce that is always amazing. Pair it with succulent shrimp, and you have a meal fit for a king.
Here's how I make my penne alla vodka with shrimp, and a fun way for you to try to make it, too!
What You'll Need For This Shrimp Penne Alla Vodka Recipe:
@mortadellahead

The recipe youve all been waiting for… our homemade vodka sauce!
Peeled and Deveined Shrimp: However much shrimp you want. If you want the dish to be overpowered by shrimp, have at it. If you want just a little subtle protein, that's fine too. Fresh or frozen, you can never go wrong.
Penne: I mean of course, you can use whatever pasta shape you'd like. Rigatoni could be delicious too. But there's something about Penne alla Vodka that just makes everything right in the world.
Heavy Cream: If you're lactose intolerant, you can always substitute this with coconut milk. But heavy cream gives the sauce that nice thickness everyone loves.
Tomato Paste: For an extra kick of richness!
Shallots: I'm going to be honest, I really only just started cooking with shallots this year. It's not something my parents ever used much of, but I feel as though they add the best sense of flavor you could ever ask for in a dish.
Garlic: When there's shallots, there has to be garlic. It's the rules. Make sure you mince the cloves of fresh garlic yourself.
Crushed Tomatoes: If you don't have any of these and would rather substitute them with a can of tomato sauce, that would work too. I've even used cherry and grape tomatoes in this pasta dish before. Use anything that will give the sauce its base!
Vodka: A vodka sauce isn't a vodka sauce without, well, vodka. It doesn't really matter what kind of vodka you use, but it's all contingent on when you add it into your sauce.
Grated Romano Cheese: In my opinion, a vodka sauce isn't a true vodka sauce until grated Romano gets added into the equation.
Extra-Virgin Olive Oil: Use a high quality extra virgin olive oil and thank me later.
Pasta Alla Vodka FAQs:
Q: I don't have vodka. What else can I use in this pasta recipe?
A: If I don't have vodka, I love making this sauce with white wine. Any dry white wine will do, but whatever you do, don't use cooking wine! If you don't have either of these, you can omit the vodka all together.
Q: My tomato cream sauce is too watery. How do I fix this?
A: My favorite way to fix a watery sauce is by adding flour and stirring vigorously. It almost immediately fixes the problem. This sounds counterintuitive, but another way of thickening a pasta sauce is by adding a bit of pasta water. You can also try adding more tomato paste into the pot. For other ways to fix a thin tomato sauce, check out this article.
Q: If I'm lactose intolerant, what can I use instead of heavy cream in this vodka sauce recipe?
A: I've been loving adding coconut milk and coconut cream into my sauces lately. If you don't have either of these, you can try using cashew milk, non dairy milk and cornstarch, or even blended up tofu (trust me, it works!)

Print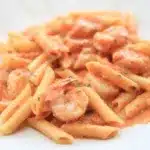 Penne Alla Vodka Pasta Sauce Recipe; With Shrimp
---
8 ounces

penne pasta

1/2

pound shrimp, peeled and deveined

2 tablespoons

olive oil

2

cloves garlic, minced

2

shallots, finely chopped

1/4 cup

vodka

1/4 cup

tomato paste

1 cup

crushed tomatoes

1/2 cup

of heavy cream

Kosher salt, black pepper, and red pepper flakes to taste

1/4 cup

grated Romano cheese

Fresh basil leaves for garnish (optional)
---
In a large skillet or large pan, heat the olive oil over medium to medium high heat. Add the minced garlic and chopped shallots. Sauté for 2-3 minutes until they become fragrant and translucent.

Add the shrimp to the skillet and cook for 2-3 minutes per side or until they turn pink and opaque. Remove the shrimp from the skillet and set aside on some paper towels to dry off any excess oil.

In the same skillet, pour in the vodka. Be cautious as it may briefly flame up. Cook for 1-2 minutes, stirring, to let the alcohol evaporate.

Stir in the tomato paste and crushed tomatoes, and cook for an additional 2-3 minutes, allowing the flavors to meld.

Reduce the heat to low and add the heavy cream to the sauce. Stir until the sauce is well combined and slightly thickened. Season with salt and pepper to taste.

While the sauce combines, bring a large pot of salted water over medium-high heat, and bring it to a boil. Add penne and cook pasta according to package directions or until al dente.

Return the cooked shrimp to the skillet, stirring to coat them with the creamy vodka sauce. Allow them to heat through for a minute or two as the pasta cooks.

Serve the penne alla vodka with shrimp over the cooked pasta. Sprinkle the creamy sauce with grated Romano cheese and garnish the finished product with fresh basil leaves if desired.