I've been seeing that the Red Lobster Shrimp Scampi recipe has been all the craze lately.
And to be honest, as a seafood lover, I can understand why.
What's better than garlicky, succulent shrimp, simmered in butter and olive oil?
There are few things, in my opinion, that come even close to that.
Naturally, after I tried the iconic Red Lobster Shrimp Scampi Pasta recipe from the place that started it all, I tried to recreate it in my own kitchen.
I tried really hard to emulate their famous garlic butter sauce with my juicy shrimp, and spent extra time preparing it all together in a large skillet.
And to be honest with you, I think this shrimp scampi dish came out great.
Here's what I did.
Ingredients I Used
Shrimp: For this recipe, I used about a pound of shrimp that I bought from my local supermarket. I peeled and deveined the shrimp before adding it into the dish.
Garlic cloves: In my opinion, aside from the shrimp, this is the most important ingredient. The minced garlic cloves flavor the oil and butter and give you that classic delicious scampi taste.
Shallots: This is something that you won't see a lot of recipes use, but in my opinion, is one of the most important things to remember to add when making this dish. Shallots give dimension and flavor to this dish. The garlic flavors the oil, but in my opinion, the shallots flavor the entire meal.
Butter: But not too much! Yes that's right, you heard me, this shrimp scampi recipe actually goes a bit easy on the butter, only using about a tablespoon. It keeps the dish lighter, and makes room for the other ingredients.
Olive oil: The same olive oil to butter ratio is used in this dish, but we're not complaining. It tastes delicious anyway.
White wine: This is another star of the dish! The white wine combines nicely with the olive oil and butter to make a delicious sauce for your scampi; one that's fresh, delicious, and addicting to eat.
Lemon juice: Just a dash! A lot of people prefer to use lime juice, but I don't think lemon can be beat.
Crushed red pepper: Don't be afraid of the crushed red pepper! It seasons the sauce, and it won't make it as spicy as you think!
Parsley: Because what scampi dish doesn't taste the best when topped with some chopped parsley at the end?

How We Made This:
First, I started by prepping my shrimp. I peeled and deveined them, and set them off to the side after seasoning with salt, pepper, paprika, and crushed red pepper.
I then put a large pot of water on the stove to boil, in preparation for cooking my pasta. This can be done at any stage of the cooking process, but I wanted everything to be done around the same time. When the water came to a rolling boil, I generously salted the water and added my pasta .
While the shrimp was sitting off to the side, I chopped up my shallot and garlic cloves, and began to melt the butter over medium heat. Once the butter was melted, I added the olive oil and then the shallot and crushed red pepper flakes into the pan. I let everything sauté until the shallot became translucent.
Once the shallot was ready, I added the shrimp. Shrimp doesn't take a long time to cook, maybe two and a half minutes per side. It's okay if the shrimp isn't fully cooked, as it will cook a bit longer in the sauce.
When the shrimp was done, I added the minced garlic, and let it toast up for about a minute or so before adding the white wine along with a dash of lemon juice.
Once the wine was added, I added some grated Romano cheese, generously stirred everything to incorporate it all together. I turned the stove up to medium high heat, and let the wine start to bubble up. I brought everything down to a simmer, and covered the pan with a lid.
While the sauce was simmering, I drained my pasta, took off the lid, and added it directly back into the sauce. I stirred everything around, topped it with some parsley, and served it with some grated cheese added to the top. This was such an easy recipe, and has become one of my favorite dishes!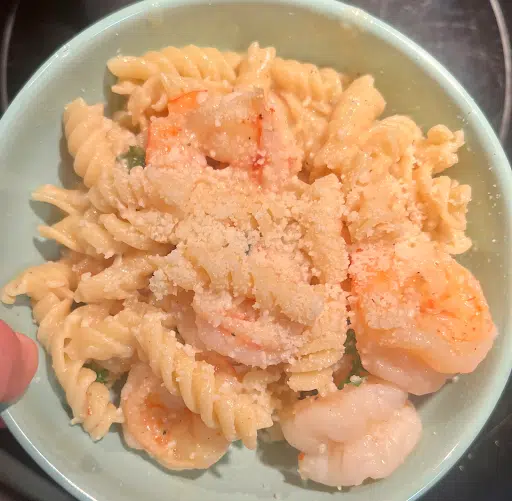 FAQ:
Q: What if there isn't enough sauce?
A: Add some more wine or some more butter, adjusting the lemon juice accordingly.
Q: How long is this good in the fridge?
A: Cooked shrimp stays good for up to three days in the fridge when sealed inside of an airtight container.
Q: Can I use frozen shrimp?
A: Absolutely. Thaw out in the fridge, and add it directly after the garlic and before the white wine if it's pre cooked.
Q: What should I serve with this?
A: I always love eating shrimp scampi with a fresh summer salad and a side of crusty bread.
Print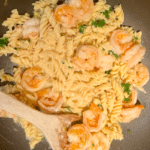 The Red Lobster Shrimp Scampi Recipe
---
1

pound of large shrimp, peeled and deveined

4

garlic cloves, minced

1

shallot, chopped

1 tablespoon

of unsalted butter

1 tablespoon

of pure olive oil

½ cup

of white wine, preferably pinot grigio (can substitute chicken broth)

¼ cup

of grated Romano or parmesan cheese (optional)

Dash of fresh lemon juice

1/2 teaspoon

of crushed red pepper

Salt, black pepper, paprika, to taste

Chopped fresh parsley for garnish
---
Season the shrimp with salt, pepper, paprika, and crushed red pepper. Set aside.

Boil a large pot of water for the pasta. Add in any type of pasta once water has come to a rolling boil and been salted generously. (I prefer using angel hair pasta)

While waiting for the water to boil, melt the butter over medium heat in a large pan. Add olive oil, chopped shallot, and crushed red pepper flakes. Sauté until the shallot becomes translucent.

Add shrimp to the pan and cook until each side turns pink, about 2-3 minutes per side. The shrimp doesn't need to be fully cooked at this stage.

Add garlic and let it toast for about a minute.

Pour in the white wine (or chicken stock) and a dash of lemon juice. Add grated Romano cheese and stir to combine.

Increase the temperature to medium-high heat and let the wine start to bubble up. Reduce heat to a simmer and cover the pan with a lid.

While the shrimp scampi sauce is simmering, cook the pasta according to the package instructions. Drain the pasta.

Remove the lid from the pan and add the cooked pasta directly into the buttery sauce. Stir to coat the pasta with the sauce.

Serve the shrimp scampi with a sprinkle of chopped parsley and grated cheese on top. Enjoy!