Olives tend to be a divisive topic when it comes to food. Some people could eat olives every single day and others can't stand them.
I tend to fall in the group that could eat them every day. What's not to love about salty, snackable veggies? If you're in the olive-lovers category with me, you will love these delicious olives made with marinated garlic.
These homemade garlic-stuffed olives are perfect to add a little bit of saltiness to your charcuterie board, appetizer lineup, or savory dish. With simple ingredients and lots of flavor, you will want to always have these on hand.
What are Garlic-Stuffed Olives?
Garlic-stuffed olives are exactly how they sound: green olives stuffed with a clove of garlic. The garlic can be fresh or roasted, but for this recipe, we will roast it in a marinade before stuffing it into the pit hole of an olive. Stuffed olives make a delicious appetizer on their own or they can be added to a variety of dishes for a unique flavor.
​Uses for Garlic-Stuffed Olives
Garlic-stuffed olives are the perfect appetizer on their own. Serve the olives in a small serving bowl with toothpicks or miniature skewers for picking them up easily. 

Use your homemade garlic-stuffed olives for a garlicky twist on a dirty martini.

Serve homemade stuffed olives on an

antipasto board

. These olives will really shine when paired with sharp, hard cheese and some fresh bread.

Use on pizzas and in pasta dishes. The delightful combination of tangy, salty olives and marinated garlic is the perfect addition to your favorite Italian dishes.
Add it into olive bread or focaccia bread. You'll love these homemade olives in your favorite savory bread with fresh whipped butter!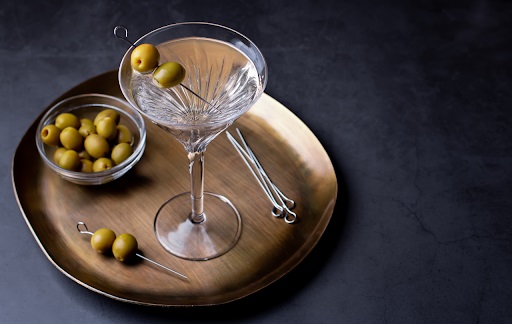 Frequently Asked Questions
Can I use a different type of olive?
Green olives are more traditional and the garlic flavor complements them well. If, however, you want to try a different olive, you certainly can. Black olives or kalamata olives would be delicious stuffed with garlic.
Can't I just use fresh garlic?
If you prefer to simplify the process and skip roasting the garlic, you definitely can. The garlic flavor will be much stronger and more intense if you skip roasting, but it will be delicious. Allow the garlic to marinate in the olive oil mixture for at least an hour, or up to overnight. After the garlic is marinated, stuff the olives with a clove of garlic each and return to the olive brine. 
What should I do with the olive oil once the garlic is finished roasting?
You can use this tasty garlic-infused olive oil in all kinds of recipes! My top recommendation is this bread dip for dunking fresh bread.
What are the best olives to use?
Any of your favorite green olives will work, but the bigger the better. I like to use Spanish queen olives because they have a great texture for this recipe.

Print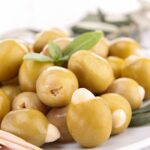 Homemade Garlic-Stuffed Olives | Green Olives with a Twist
---
1 jar large green olives 

1 head of garlic, or more as needed

½ cup extra virgin olive oil

2 tablespoons balsamic vinegar (red wine vinegar is also good)

1 teaspoon Italian seasoning

½ teaspoon red pepper flakes

¼ teaspoon sea salt

¼ teaspoon black pepper
---
Drain the olives from their brine. Put the olives in a small bowl and the brine in an airtight container (the original jar works well).

Remove the garlic cloves from their peel and ensure you have enough small cloves to fit one in each olive. If some of the cloves are too big to fit in the olive hole, cut them into smaller pieces.

In an oven-safe dish, combine the garlic cloves, olive oil, balsamic vinegar, and spices.

Allow the garlic to marinate for an hour or more if possible. Bake at 350°F for 10 minutes or until soft and fragrant. Remove from the oven and let it cool completely.

Once the garlic is cooled, stuff one clove in each of the olives. Return the stuffed olives to their brine or serve immediately.

Use the leftover garlic-infused olive oil for other recipes.
Notes
 Be sure to use large olives and small garlic cloves for best results.