To me, there's nothing like enjoying a nice pepperoni flatbread pizza.
Never mind the fact that I'll fight anyone on the fact that pepperoni is the superior pizza topping (it's just that good), flatbread pizzas are amazing in and of themselves, too.
Here at Mortadella Head, we make two types of pizzas: Roman style pizzas and Neapolitan style pizzas. While we don't have flatbread crusts, it doesn't mean we can't occasionally enjoy a thinner, crispier pizza every now and again.

What makes a pizza a flatbread pizza?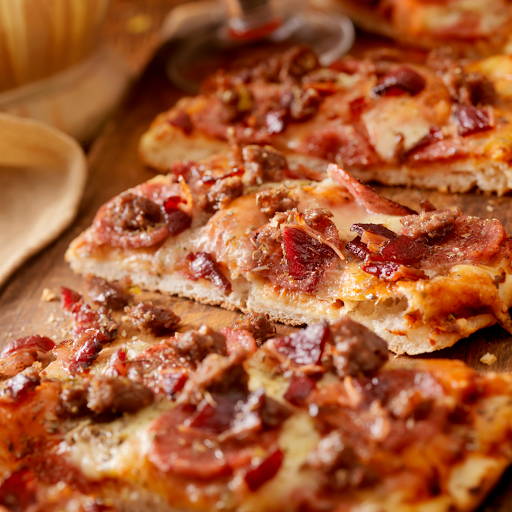 Typically, flatbread pizzas have a crispier crust and use much lighter toppings.
The crust tends to crunch in your mouth, and not serve as a main component of the pizza, leaving the standout flavors to the sauce, cheese and your other favorite pizza toppings.
Though there might not be as much cheese, sauce, or meat on a flatbread pizza, the toppings to crust ratio is still in heavier favor of the toppings.
But it just works this way.
Plus, it's a very easy homemade pizza to make, and perfect for those weeknight dinners where you've run out of dinner ideas.
That's why there are so many people who swear by the flatbread pizza,
What kind of crust is used with flatbread pizza recipes?
There are actually a wide variety of different crusts you can use when it comes to delicious flatbread pizza.
Many opt to use naan bread (store-bought naan works just fine), pita bread, or traditional store-bought flatbread crust.
No matter what crust you use, if you're making a flatbread and follow a few simple steps, it'll come out delicious every time.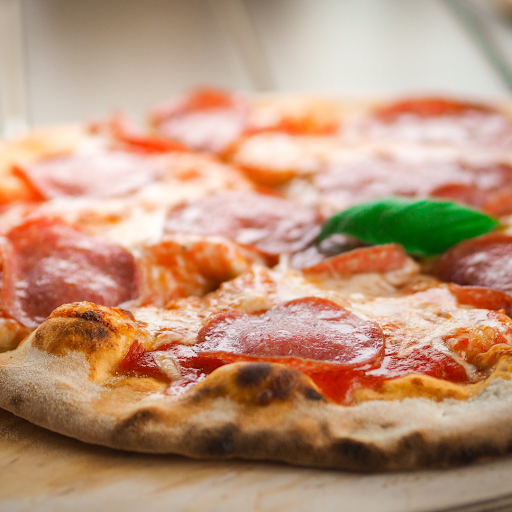 Print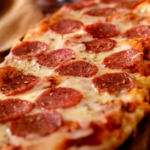 Easy And Quick Flatbread Pepperoni Pizza Recipe
---
Author:

Total Time:

2 minute
Flatbread pizza dough of your choice

¾ cup

of fresh tomato sauce

1

stick of pepperoni, sliced thin

6 oz

fresh mozzarella cheese, shredded

½ cup

grated Romano cheese or parmesan cheese

¼ cup

fresh basil leaves, chopped

1 tsp

salt

1 tsp

black pepper

1 tsp

crushed red pepper flakes

1 tsp

oregano

2 tbsp

olive oil
---
Preheat oven to 425°

Using a light layer of pizza sauce, cover the top of the crust. Season with salt, pepper, crushed red pepper, and oregano

Drizzle half of the olive oil over the sauce

Cover the surface of the flatbread dough with the shredded mozzarella cheese

Top the cheese with the entire stick of sliced pepperoni, leaving no area left untouched

Drizzle with grated Romano cheese, and throw in the oven

Let cook for 10-15 minutes on a pizza stone or on a baking sheet until the cheese is bubbling and golden brown

Take out of the oven and let sit for 2 minutes before slicing

Drizzle with more olive oil, and add the last bit of grated Romano and basil leaves
Prep Time:

5 minutes

Cook Time:

12 - 15 minutes
Flatbread Pepperoni Pizza FAQs: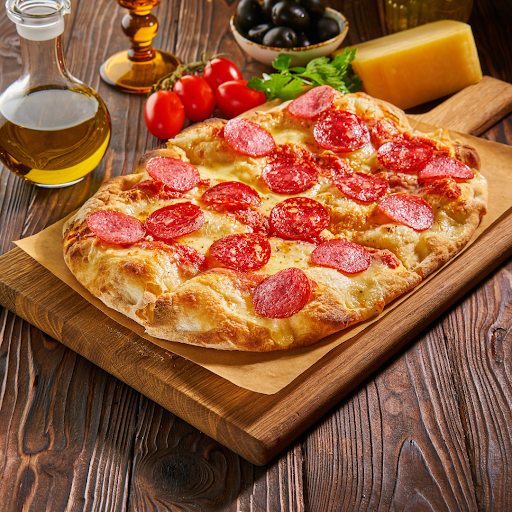 What other toppings can I use with my flatbread?
The world is your oyster, use any of your favorite toppings!
Try adding some bell peppers, mushrooms, Italian sausage, or roasted red peppers to the pizza.
You can also omit the pepperoni, making a Margherita flatbread pizza.
If you want to really switch things up, replace the red sauce with barbecue sauce and the pepperoni with grilled chicken, adding red onion, and make a barbecue chicken pizza.
Is flatbread pizza better for you than regular pizza?
Not necessarily.
Even though a traditional flatbread crust is thinner, allowing for less toppings and thus less food, they can still have similar amounts of processed ingredients. You may opt to use high quality organic food to top your pizza with. Or don't, because when it comes to pizza, calories don't count 😉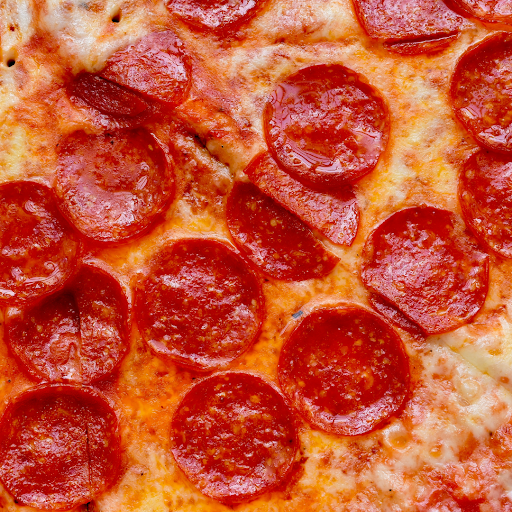 How do you freeze this homemade flatbread pizza recipe?
There are two options!
You can freeze this before baking by assembling the pizza, and storing it in an airtight container, wrapping it in plastic wrap, or putting it in a freezer bag for up to three months.
You can also bake this and freeze the rest in the same way, for the same duration of time.
No matter how you decide to tackle it, a flat bread pizza is an easy pizza to make in advance to freeze, and a great option for a quick dinner where you don't feel like cooking.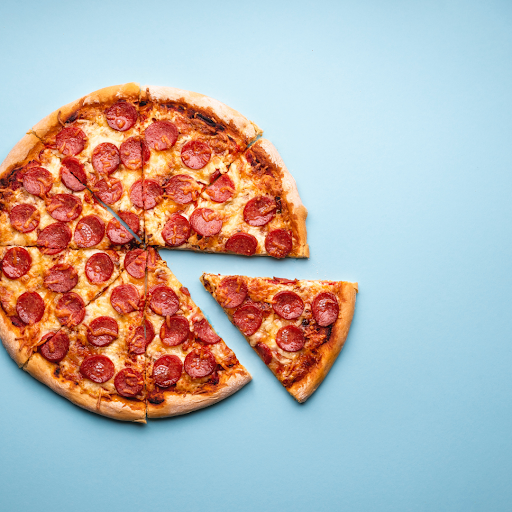 How do I reheat a flatbread pizza?
My favorite method is by using my air fryer.
It makes everything crispy and perfect, and it'll taste like it just came out of the oven.
Of course, if you don't have an air fryer, a toaster oven or a regular oven will work just as well.
Whatever you do, don't use a microwave oven to reheat this.
To me, this is sacrileges.
It'll make your pizza taste soggy and not as good, and you won't get nearly the full effect by doing it this way.
Let me know if you try this recipe in the comments!