Who would've thought that squid rings, one of the greatest foods of all time, didn't need any deep frying to be delicious? That's right, all you need is a baking sheet, calamari rings, and a few other simple ingredients and you have what just may be the best calamari recipe there is.
I talk about calamari on this blog a lot.
We've talked about reheating leftover calamari.
We've talked about how to sauté calamari on your stove.
We've given you the best side dishes to serve with it.
We've even given you a recipe that's specific for the air fryer.
But there's one thing that we haven't covered just yet.
And that's how to make calamari in your oven.
I know, I know. This might sound odd.
Especially because everyone knows the superior way of eating calamari is directly out of the fryer, coated in sea salt.
But this easy recipe is the lighter version of your favorite appetizer, and one that is loved just as much.
The key here is to cook it quickly, and you'll have the best baked calamari recipe there ever was.
What You'll Need:
Calamari: For the sake of simplicity, you'll usually catch me using frozen. But if you wanted to use fresh squid rings, those will work just as well! Whatever you end up using, make sure they're cleaned and drained beforehand.
Eggs: That's right, we're making an egg wash here!
Flour: This is totally optional, but a lot of the times when an egg mixture is being used, you may opt to use flour to help the wash adhere to the squid.
Breadcrumbs: Sometimes people prefer a double egg wash, especially when deep frying anything. However, where this is going inside of the oven, breadcrumbs will really give your squid that nice crunch you're looking for.
Salt, Pepper, Parsley: This is used to flavor the egg mixture and breadcrumbs.
Grated Romano Cheese: Anyone who says cheese doesn't belong on seafood clearly hasn't had Italian food before. Trust me, it's better this way.
What To Do:
Preheat the oven to 400°. Mix the eggs vigorously, and season them, the flour, and the breadcrumbs with salt, pepper, parsley, and grated Romano cheese.
Dip the cleaned squid rings in the flour, then the egg wash, then the breadcrumbs. Place them evenly on a cookie sheet lined with parchment paper, and bake for ten minutes in the oven.
After ten minutes, flip the fried calamari, and put them back into the oven for another five minutes. If you'd like, you can taste the calamari at this step to make sure it needs it. Oftentimes, it may not need to go in the oven for much longer.
Take out the calamari and serve immediately with a drizzle of lemon juice cocktail sauce for dipping.

Baked Calamari FAQs:
Q: My calamari came out all tough and rubbery. What happened?
A: This type of seafood, just like shrimp, can overcook super easily. When it overcooks, it becomes tough and rubbery. Next time, try putting them in the oven for a shorter amount of time, or making sure your oven is at a lower temperature.
Q: How long will my calamari last in the fridge?
A: A few hours at best. I hate to say this, but calamari doesn't keep well. It turns soggy, and most likely won't reheat well from being thawed. I always recommend making as much as you will eat that particular day, unless you plan on freezing your leftovers!
Q: Can I freeze this calamari?
A: Absolutely! Store this in the freezer in an airtight container for up to three months. For best results, defrost in the air fryer or in foil packets directly inside of the oven
How To Serve Baked Calamari:
Pizza: Load up a cheese pizza with garlic cream sauce, and douse the top of it with oven baked calamari after it's right out of the pizza oven. Top it with some grated cheese, and you'll have yourself a masterpiece.
Sauce: I love eating a good Frutti de Mare or a Fra Diavolo with calamari mixed within it. Italian sauces just hit differently when served with delicious calamari.
Sandwich: If you're feeling extra bold, you can always load up a sub roll with your baked calamari and some calabrian chili mayo. Look how good this one looks!
View this post on Instagram
Print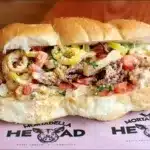 Easy Crispy Baked Calamari Recipe: In Your Oven
---
1

pound (450g) calamari rings, thawed if frozen

2

large eggs

1 cup

all-purpose flour

1 cup

bread crumbs

1 teaspoon

salt (adjust to taste)

1/2 teaspoon

black pepper (adjust to taste)

2 tablespoons

fresh parsley, chopped

1/4 cup

grated Romano cheese
---
Preheat your oven to 425°F (220°C). Place a wire rack on a sheet pan and lightly grease it with cooking spray or a drizzle of olive oil if you'd like (totally optional!)

Set up a breading station with three shallow bowls. In the first bowl, add the flour. In the second bowl, whisk the eggs until well beaten. In the third bowl, combine the breadcrumbs, grated Romano cheese, chopped parsley, salt, and black pepper. Mix everything together well.

Take a calamari ring and dip it into the flour, making sure it's coated evenly. Shake off any excess flour. Then, dip it into the beaten eggs, allowing any excess to drip off. Finally, coat the calamari ring with the breadcrumb mixture, pressing gently to ensure the breadcrumbs adhere. Place the coated calamari ring on the prepared wire rack. Repeat this process with the remaining calamari rings.

Once all the calamari rings are breaded and on the wire rack in a single layer, place the baking sheet in the preheated oven.

Bake the calamari rings in the preheated oven for 12-15 minutes or until they are golden brown and crispy. Be sure to flip them over halfway through the baking time to ensure even cooking.

Once the calamari rings are cooked to perfection, remove them from the oven and let them cool for a minute or two on some paper towels. Serve them hot with some cocktail sauce or tartar sauce and lemon wedges.