The one pasta sauce I can remember always loving growing up was Alfredo sauce.
Seriously.
I loved a good tomato sauce, but as a kid, there was nothing better than a creamy mixture of milk, cheese, and butter.
Fettuccine Alfredo was something me and my siblings always ordered on our birthdays, and to be honest, I think my sister still does.
There's just something about a creamy sauce that's not too complicated.
A lot of the time, I'll opt to use a jar of Alfredo sauce if I'm lazy and don't feel like cooking.
I know, I know, call me an abomination to Italians everywhere.
But listen, Classico Alfredo sauce is the real deal.
With a little pizzazz like red pepper flakes, Italian seasoning, a bit of fresh herbs and fresh garlic, this store-bought Alfredo sauce will be tasting like a homemade Alfredo sauce in a matter of minutes.
How Do I Make Classico Alfredo Sauce Better?
If all you have is a jar of Alfredo sauce from the grocery store and a dream, here are a few simple tips for enhancing it to make it taste like it came straight from your Nonna's kitchen.
Garlic: A little bit of fresh garlic goes a long way! Sure, Alfredo DiLelio didn't make his original Alfredo sauce recipe with any garlic, but if you want my honest opinion, this sauce tastes way better with a tiny pinch of garlic. It brings out the flavors better!
Spices: When in doubt, spice it up. Seriously, you'd be surprised if you knew just how many jarred sauces can be saved with a little bit of spices. Aside from the normal lineup of salt, pepper, etc, some crushed red pepper, cayenne pepper, and paprika will give you those authentic Italian flavors that you're looking for.
Herbs: Just like the spices, a little bit of herbs go a long way. Fresh chopped parsley is my number one go-to here. It's the best herb to use when trying to take a premade dish from good to great.
Pasta Water: If your sauce is a bit too thick, some starchy water from the pasta of your choice is the perfect way to loosen it up, while providing you with that rich, classic fettuccine Alfredo taste.
Recipe Ingredients: Call me crazy, but when eating a jarred Alfredo sauce, I rarely enjoy it on its own. I find that the flavor tastes generally better when added to fresh broccoli, and served with fresh cooked chicken breast or shrimp. Chicken Alfredo is an American favorite for a reason! Of course, you can't enjoy this sauce without a nice serving of your favorite pasta!
Nontraditional Recipes: If you're anything like me, you like to think outside of the box. By using your jar of sauce on something other than pasta, you'll be giving yourself a whole new flavor dimension that you never knew existed. We love using our own homemade Alfredo sauce on delicious meals like

lasagnas

and sandwiches.
Alfredo Sauce Recipe
Sure, this article is all about making a jar of Alfredo sauce better. But honestly? Making the real thing is just as easy.
It's one of the easiest sauces known to man, in fact it was invented on behalf of its simplicity.
All you need is heavy cream, butter, grated cheese, minced garlic, some seasonings from the spice cabinet, and you'll be on your way to making one of the best homemade sauces there is.
Alfredo Sauce FAQs:
Q: What kind of grated cheese should I use?
A: Most people would tell you to use parmesan cheese, and for the sake of simplicity, the recipe is written with such. But personally, I love going with grated Romano cheese. It's a bit more robust than parmesan, giving your sauce a better creamy flavor.
Q: If I'm making this white sauce from scratch, should I use garlic?
A: A lot of people would say no, but I'm here telling you yes. Though garlic wasn't used in the earliest Alfredo sauces, I find that it adds a new depth of flavor to everything that enhances the overall Alfredo sauce taste as a whole. Mince one clove, or use a tiny teaspoon of garlic powder.
Q: What other ingredients should I put in this sauce?
A: I always love making shrimp Alfredo with this classic Alfredo sauce. Aside from that, chicken broccoli Alfredo is always a huge hit, and honestly, I find that broccoli rabe tastes even better. Especially with penne pasta

Print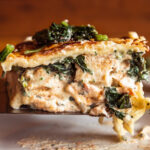 Homemade Alfredo Pasta Sauce Recipe
---
1/4 cup

butter

4

cloves garlic, minced

2 cups

heavy cream

1/2 teaspoon

salt

1/2 teaspoon

black pepper

1/4 teaspoon

paprika

1 cup

grated Parmesan cheese
---
In a large saucepan, melt the butter over medium heat. Add the minced garlic and sauté until fragrant, about 30 seconds.

Pour in the heavy cream and stir well to combine. Bring the sauce to a gentle simmer and cook for about 5 minutes, stirring frequently, until it starts to thicken.

Add the salt, black pepper, and paprika to the sauce and stir until well incorporated.

Reduce the heat to low and slowly add the grated Parmesan cheese to the sauce, stirring constantly, until the cheese is melted and the sauce is smooth and creamy.

Taste the sauce and adjust the seasoning as needed.

Serve the Alfredo sauce over your favorite pasta, in a lasagna, or on a sandwich. The possibilities are endless!