Everywhere you look online, it seems that chopped sandwiches are all the craze.
And honestly, we understand that better than anyone.
A few months ago, we were hopping on the chopped sandwich trend ourselves.
We made all kinds of sandwiches, like this chopped turkey caprese sandwich:
We also made a turkey club sandwich, which was a big hit with all of the turkey lovers in the world:
We even made a chopped caesar salad sandwich, which went totally viral across the internet (seriously, it has almost 13 million views on TikTok).
@mortadellahead

This girl flew in all the way from austin texas just to try our iconic chopped caesar sub. If you come here at the right time, we just might be able to make it! Should this go on the menu full time?! #choppedsandwich #choppedsaladrecipe
But we also have another turkey sandwich on the menu.
One that may not get as much attention as our typical turkey caprese sandwich may.
This is our Jive Turkey Sandwich.
What Makes This So Great?
A lot of the time, especially as we're in the heart of the summer, it's more of the sandwiches that include fresher ingredients, such as seasonal vegetables that get all of the hype.
But to us, this turkey caprese sub is timeless.
It has all of your favorite ingredients:
Garlic mayo.
Tangy BBQ sauce.
Nice thin shaved turkey.
Bacon and American cheese.
It's one of the most stereotypical USA style sandwiches, but trust me, it just works.
Barbecue sauce and turkey is one of those combos that just works well together.
Whether it's deli meat turkey or turkey that's been sitting in the slow cooker for hours, there's nothing that enhances the flavor better than some nice, homemade barbecue sauce.
It's the star of the show, in our opinion.
Today, we're going to show you how to make this sandwich in full, barbecue sauce recipe and all.
What You Need:
Sub Roll: No turkey sub is complete without a fresh sub roll. Don't use hamburger buns. Don't even use sliced bread. Use a nice, hearty sub roll. We've been loving the ones from Superior Baking Company lately.
Fresh Turkey: Anything works here. As we said, we used shaved deli meat turkey, but you can also use your favorite smoked turkey recipe, turkey from the slow cooker; anything. The sky's the limit! Just make sure it's shaved, chopped, or pulled turkey. And do not use ground turkey.
Bacon: And lots of it. You want to know you're eating bacon in every single bite. Just a hint of bacon isn't enough when it comes to this sandwich, using a lot of high quality bacon is one of the most delicious ways to enhance this sandwich.
American Cheese: I know, I know. As soon as we break out the American cheese, all hell starts to break loose. But trust me, it's one of those things that just works in this kind of sandwich.
Garlic Mayonnaise: I feel as though mayo gets a bad rap at times, and I'm not sure why. It just makes this sandwich. Especially if you get a really high quality garlic mayo, you'll love it—it's a great way to spice up normal mayo.
Barbecue Sauce: The heart and soul of this sub! We will give you all of the secrets of this recipe below in the recipe card. This is one of the best BBQ recipes you'll ever eat—we make our very own barbecue sauce from scratch!
Lettuce & Tomato: It's always nice to give your sandwich a little freshness.
How To Assemble:
View this post on Instagram

Garlic mayo and barbecue sauce on both sides of the sub roll.
No questions asked.
This is the best way to ensure that the flavor of your sandwich is evenly distributed, and gives you maximum flavor throughout the whole thing.
After that comes the American cheese. A lot of people ask why we use American in this and not provolone. In my opinion, it just works better. But if all you have is provolone, have at it and let me know how it is in the comments section!
Then comes the shaved turkey.
And pile it high!
Whether it's chopped or shaved, the turkey needs to be stacked. It's the only way to do it.
After that, comes the lettuce and tomato. The key here? Salt and pepper.
On both vegetables.
It brings out the flavor more, and makes sure you'll get an extremely crisp bite.
On top of those, in true BLT fashion, goes the bacon.
In a way, this is honestly kind of like a BLT. Only the turkey, cheese, and BBQ sauce make it way better.
Then goes the top of the sandwich, and voila!
You have the perfect chopped BBQ turkey sandwich.
That's seriously it, it doesn't take a long time to make at all.

Chopped BBQ Turkey Sandwich FAQs:
What kind of turkey should I use?
It doesn't matter. When we make this at our sub shop, we make it with shaved turkey. But you can make this with chopped smoked turkey, shredded turkey, oven roasted turkey, leftover turkey from that holiday meal or turkey barbecue you hosted last weekend, really anything that you want. 
Whatever you do though, if you're making the turkey from scratch, always use a meat thermometer to make sure that the inside of the turkey has reached an optimal internal temperature, as this sandwich doesn't get toasted or baked.
Do I use white or dark meat turkey?
Personally, I'm a fan of dark meat turkey. It gives you way more tender meat, and makes for the best turkey leftovers. But we make it at Mortadella Head with white meat turkey. Use whatever you'd like!
I hate American cheese. What else could I use?
Provolone would be fine, same with Havarti cheese. To be honest, I'm not much of a fan of American cheese myself, either. But if you have access to it and are on the fence about using it, I would just go for it. This is one of those turkey sandwiches that just works with American cheese, it makes for an extremely delicious recipe.
Print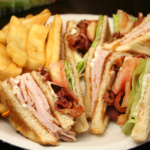 Chopped BBQ Turkey Sandwich Recipe
---
Author:

Yield:

1

footlong sub

1

x
Barbecue Sauce Ingredients:
1 tablespoon

smoked paprika

1 teaspoon

chili powder

1 teaspoon

garlic powder

1 teaspoon

onion powder

1 teaspoon

celery salt

1 teaspoon

dry mustard

1 1/2 teaspoon

kosher salt

1/2 teaspoon

black pepper

1/2 teaspoon

red pepper flakes

1/4 teaspoon

cayenne pepper

1 quart

ketchup

1/2 cup

apple cider vinegar

1/2 cup

Worcestershire Sauce

1/2 cup

dark brown sugar

1/4 cup

molasses

1/4 cup

yellow mustard

1/2 teaspoon

black pepper

2 tablespoons

of the BBQ seasoning
Sandwich Ingredients:
1

footlong sub roll

2

–

3

pieces of cooked bacon, on the crispier side

½

tomato, sliced

1 cup

lettuce, shredded

½

lb shaved or chopped turkey

¼

lb American cheese, sliced

¼ cup

BBQ sauce

¼ cup

garlic Mayo
---
For the BBQ sauce:
Combine all ingredients in a stock pot or large skillet and bring to a slow boil over medium-high heat.

Once it starts boiling, lower heat and simmer until the sauce thickens and becomes dark in color. About 30 minutes.

Store in an airtight container or large bowl in the refrigerator. This can also be made in the crock pot.
For the sandwich:
Evenly spread the garlic butter and BBQ sauce on both sides of the sub roll.

Spread American cheese over the bottom half of the sub roll.

Over the American cheese goes all of the shaved turkey.

Place shredded lettuce and sliced tomato over the turkey, being sure to sprinkle some salt and pepper on both vegetables.

Top the lettuce and tomato with bacon, being sure to cover the entire sub roll with the slices.

Top the sub roll with the other half of the bread and remaining sauce, and enjoy!