I know you've been seeing this everywhere. So have we.
You may think you know how to make this already. After all, you've seen about 4 thousand TikToks on it. I'm sure you could eyeball it and it would turn out fine.
But, DON'T.
Because I am confident that this is the BEST recipe for spicy vodka rigatoni out there. And let me tell you why…
Most recipes will focus on the Calabrian chili peppers. The red pepper flakes. And that's okay.
But, our take on the signature Carbone recipe has a few secret ingredients that we tossed in at the last second.
The star of the show? Broccoli. Rabe.
That's right, this dish is signed, sealed, and delivered to you with the peppery bitter bite that broccoli rabe is known for.
Tie that together with the spiciness of the chilis, creaminess of the vodka sauce, and umami from the prosciutto, and you're in business.
This is the almost copycat recipe you never knew you needed.
Plus, it makes for an extremely easy dinner.
Don't get me wrong, I'd love to travel to New York City to visit this excellent restaurant. I'd kill for a small portion of their famous pasta for a special occasion.
But, I also wanted to add my own spin to one of America's most beloved pasta recipes.
We'll be showing you how to turn your own house into a replica of an Italian restaurant with this delicious spicy vodka pasta.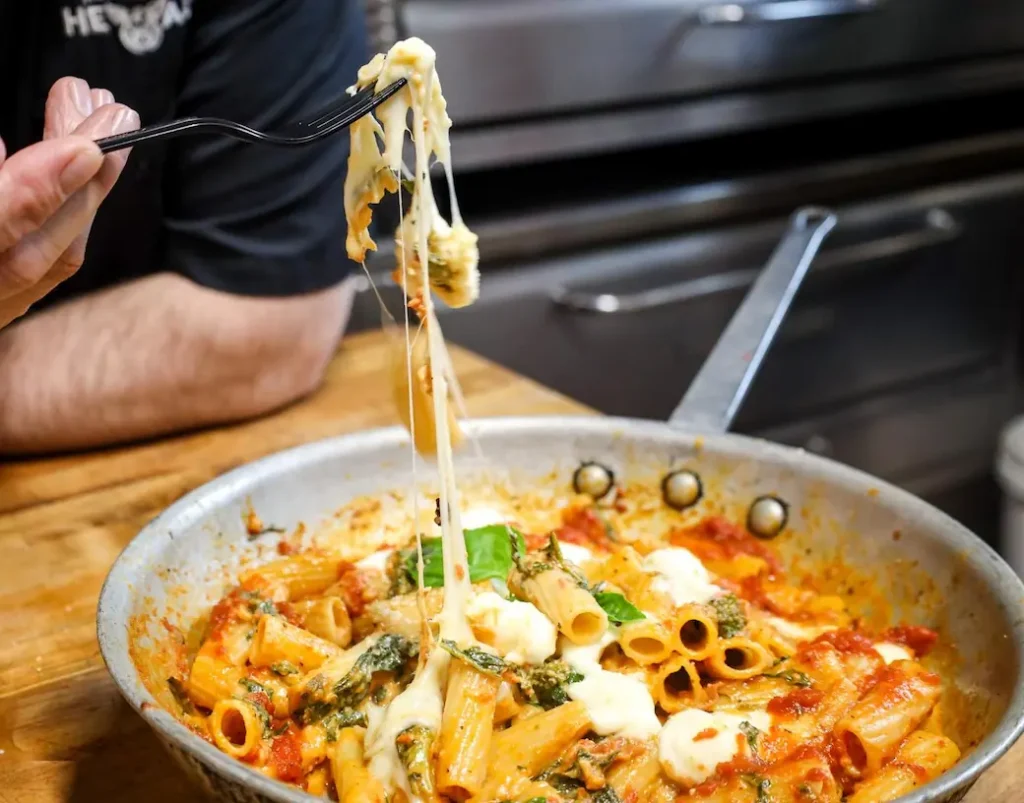 Rigatoni: You can also make this with penne, but I recommend sticking with rigatoni as your pasta shape to keep this dish as close to the original as possible. Check the package directions on how to cook this.
Marinara sauce: You're going to want to use a nice, quality marinara sauce with this one. Make your own using San Marzano tomatoes or use our famous marinara!
Heavy cream: We're not going to be using a lot of this, but you want to make sure you have some to give this vodka sauce that signature pink look that it's known for!
Vodka: This doesn't have to be fancy. Obviously don't use poison, but you don't have to spend too much money to get a good vodka to cook with.
Prosciutto: Get some sliced thin prosciutto from your local grocery store (if you're loving our recipes, you and the prosciutto man should be best friends by now).
Broccoli rabe: Make sure this is roasted to perfection!
Calabrian Chilis: You can buy a nice jar of these at your local grocery store. We like Dellalo, but you can use any brand you like.
Garlic: Take a garlic clove or two and mince it up to perfection.
Grated Romano cheese: Not sure whether or not you'd prefer Romano or Parmesan? Find out for yourself!
Mozzarella cheese: A nice ball of mozzarella cheese is the perfect thing to top this off with at the end.
Now, let's turn these ingredients into a wonderful spicy rigatoni.
*And as usual, if you don't like reading, here's our video tutorial*
Boil some rigatoni until al dente. While that's cooking, take your garlic and toast it up in some olive oil in a large skillet with a pinch of salt and pepper on medium heat.
While that's heating up, slice your prosciutto into little thin ribbons. You're going to want to roll it up tightly, as you would basil, and slice it thin. Toss it in with the garlic, and let the fat render down.
Once that's cooking down, toss in your Calabrian chilis and broccoli rabe. Let the flavors come together. Once everything is cooking together, add a splash of vodka into the pan. It's important to keep stirring the ingredients so everything doesn't stick to the bottom.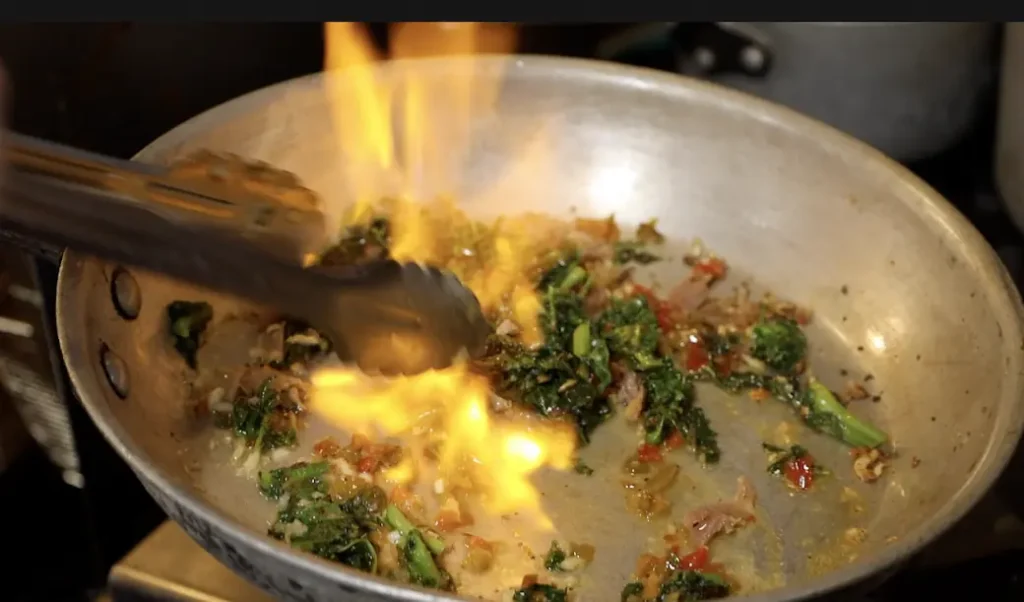 Add in the marinara sauce and heavy cream once the alcohol from the vodka is cooked off. Let them both incorporate together on medium-low heat.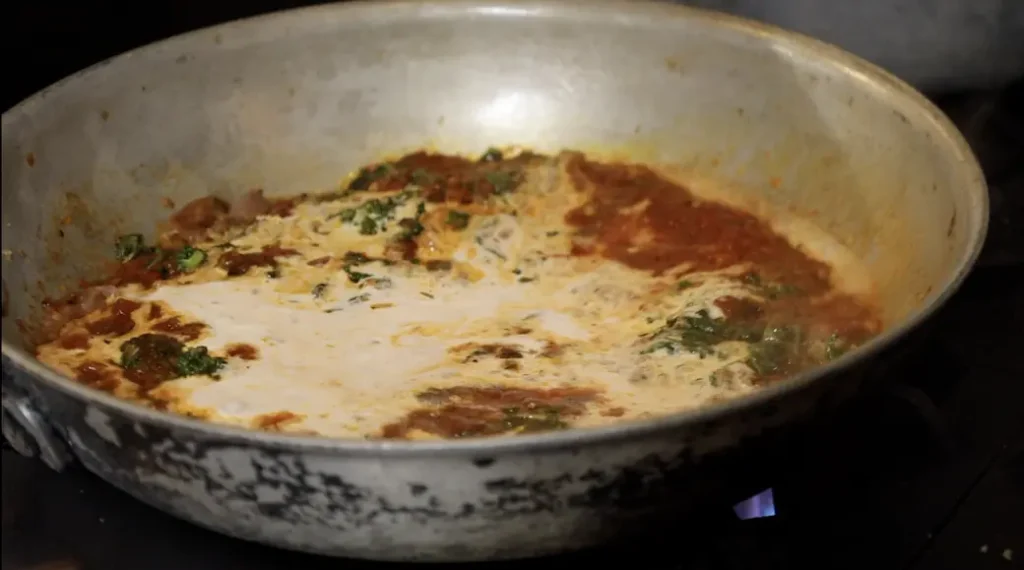 Once the sauce is thoroughly incorporated, check to see if it's too thick. If it is, you may need to add in a tbsp of pasta water. Fold in your cooked pasta and pecorino romano. Give it a nice toss to let it all combine.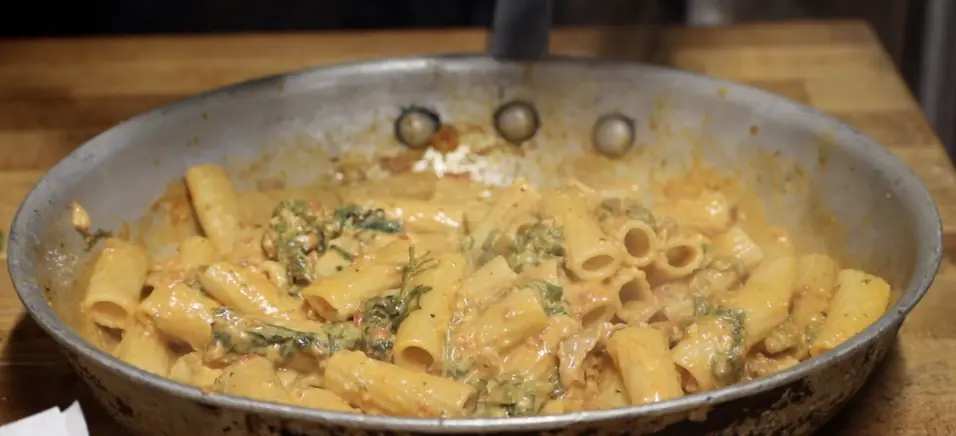 Top the pan with some fresh basil, if you'd like, and tear up some pieces from the mozzarella cheese ball. Let it melt down in the oven for about 2 minutes.
Congratulations! You're now the proud chef of the world's best pasta dish. Save the spicy vodka sauce for your family, or eat it all in one sitting for yourself. We won't judge you if you do.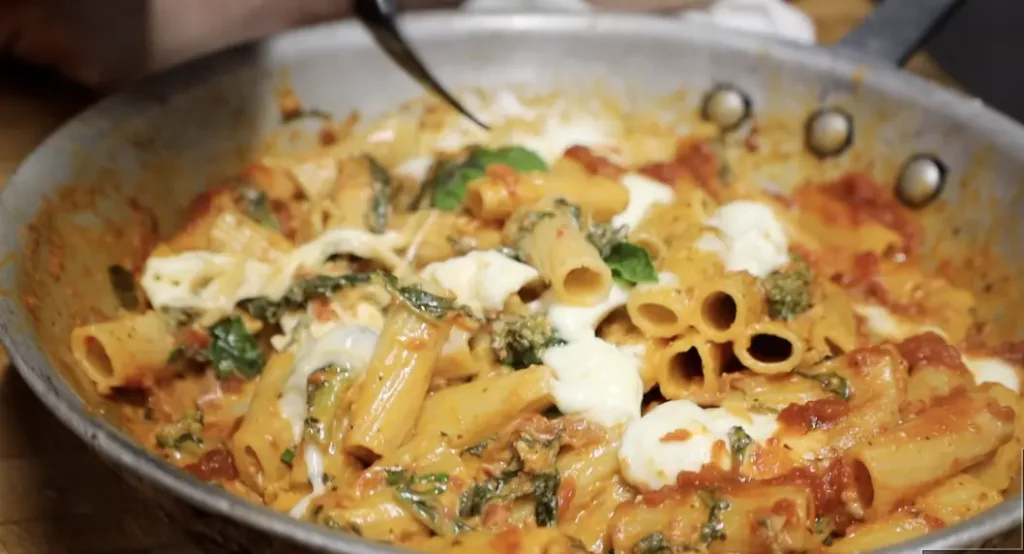 Q: What other kind of pasta should I use with this sauce? Could I use something else?
A: Gnocchi would be delicious with this vodka sauce. Use a nice potato,  cauliflower, or ricotta gnocchi.
Q: I don't have Calabrian chiles or Calabrian chili paste. Could I use something else?
A: Sure. I'd use diced hot cherry red peppers. They'll still give you the nice vinegary kick that you're going for.
Q: Do I have to use vodka with this?
A: You do not! Leave it out, and it will still taste just as good.
Q: Is there any other kind of fatty Italian meat that I could use instead of prosciutto?
A: Sure. Try substituting the prosciutto with bacon or pancetta. The fat will melt into the dish just as nicely as prosciutto would. It'll taste delicious.
What Mario Carbone would serve with this (we think)
Wine: You're eating pasta. Enjoy it with a Cabernet Sauvignon. It's how the Italians do it.
Appetizer: Share a nice cheese board with the whole table. You'll be glad you did.
Side dish: You can't go wrong with serving this alongside some traditional Italian vegetables! This will be delectable when paired with some of your leftover roasted broccoli rabe, or some sauteed dandelion greens.
Dessert: If you really want to finish this off with something sweet, take some brown sugar and vanilla ice cream and serve them over some warm, poached pears.
Print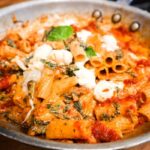 Spicy Rigatoni Alla Vodka
---
Author:

Total Time:

25 minutes

Yield:

4

1

x
Description
We know there are thousands of versions of Carbone's spicy rigatoni recipe. You've probably seen about 4 thousand TikToks on it. But we are confident this is the BEST one. Our secret? A delicious sauce… and broccoli rabe!
---
1 lb rigatoni
2 cups marinara sauce
1/3 cup heavy cream
1/4 cup Calabrian chili peppers finely diced
1/4 cup grated Romano cheese
1–2 oz prosciutto, sliced thin
1/2 cup broccoli rabe
1/4 cup garlic
1/2 cup fresh mozzarella
3 tbsp vodka
2 tbsp olive oil
---
Boil pasta until al dente in a large pot of salted water, stirring frequently with a wooden spoon and saving a cup of the pasta water.
Hit your pan with some olive oil and garlic, seasoned with salt and pepper. Let garlic toast up.
Once garlic is warmed, toss in prosciutto. Let cook down.
Hit pan with Calabrian chili peppers and broccoli rabe. Let cook.
Toss in your vodka, and let it soak into the other ingredients.
Add tomato sauce and heavy cream, let simmer together until combined.
Add cooked rigatoni to the pan with grated Romano cheese.
Toss together until pasta is completely coated with spicy pink vodka sauce.
Add fresh mozzarella to the pan, and toss it in the oven for about two minutes or until cheese melts.
Enjoy the most delicious pasta you will ever eat.
Prep Time:

5

Cook Time:

20

Category:

Main Course

Method:

Boiling and cooking

Cuisine:

Italian American
Keywords: carbone spicy rigatoni recipe,