I don't know about you, but I've been really into darker espresso martinis lately.
I used to be all for adding Baileys Irish Cream Liqueur to my espresso martinis.
It adds the best creaminess to any boozy drink, and is easier on your stomach than an ingredient like heavy cream would be.
Even when I'm just drinking hot coffee, if it's after a meal or if I'm on vacation, on occasion I'll still sneak it in there.
It enhances every coffee drink, which makes sense as to why coffee lovers tend to add it to their classic espresso martini or chocolate martini.
But lately, I've been looking for ways to cut dairy out of my diet when I can.
And in that journey, I've been experimenting with how to make the perfect espresso martini, one that doesn't include Baileys or any other dairy for that matter.
And well, I think I've cracked the code.
All you need is a few simple ingredients, and this espresso martini recipe will give you a perfect drink in the matter of minutes.
No espresso machine/espresso maker or French press required!
Disclaimer:
It's important to know that while this delicious drink doesn't contain any dairy, it is not vegan.
The Kahlua website states that the popular liqueur uses a sweetener derived from animals, making it not entirely vegan. If you were seeking out a vegan version of this popular recipe, I highly recommend replacing the Kahlua with Mr. Black Coffee Liqueur. It's just as good, and will still give you the best espresso martini of your life!
Dairy Free Espresso Martini FAQs:
Q: Is the dairy free espresso martini still creamy and rich without the Baileys?
A: The answer is, it depends. The recipe I'm giving you is more of a black coffee based recipe that's heavy on the espresso flavor, which is how I prefer my espresso martinis. However, if you prefer the creamy flavor, you can always add in some sweetened vanilla oat milk to the cold brew to dilute it. The recipe card gives you the option to add that if you'd like.
Q: What are the alternatives used to make this dairy free?
A: It's quite simple, really, just oat milk wherever is necessary, and double the kahlua.
Q: What kinds of milk can I use to substitute in this espresso martini?
A: Anything goes! If you don't like oat milk, almond milk is a great option. I know some people who prefer to use cashew milk as their plant-based milk of choice, too.

Q: Can I still garnish the espresso martini with cocoa powder or chocolate shavings?
A: Absolutely. If you're strict on the dairy free part, though, just be sure to use exact ingredient labels to double check to see if whatever product you're using is actually dairy free. Pure cocoa powder usually is, but when it comes to chocolate powder or chocolate shavings it depends.
Q: What are some dairy free sweeteners that I could use to make this into a more rich and creamy espresso martini?
A: There are plenty of dairy free options to make this espresso martini extremely rich and creamy.
For one, if you have regular oat or almond milk, try sweetening it with some vanilla extract in the cocktail shaker, if you're a fan of the vanilla flavors in a traditional espresso martini.
I always recommend adding a dash of maple syrup to this too, just make sure to check the ingredient list to whatever brand you end up using.
I also love using coconut cold brew concentrate when making this, I find that the sweetness adds to the flavor to make the most delicious drink.
Q: What are some specific brands that you recommend using when making this?
A: I love using Trader Joe's Coconut Cold Brew Concentrate, I think it's the best ingredient to use in order to keep this sweet and delicious.
I also love using high-quality vodka. When it comes to Grey Goose Vodka or Titos, in my opinion you can't go wrong with either.
In terms of the sweetener, again Kahlua is your best bet. But Mr. Black makes some wonderful alternatives to this if you want your dairy free espresso drink to be totally vegan.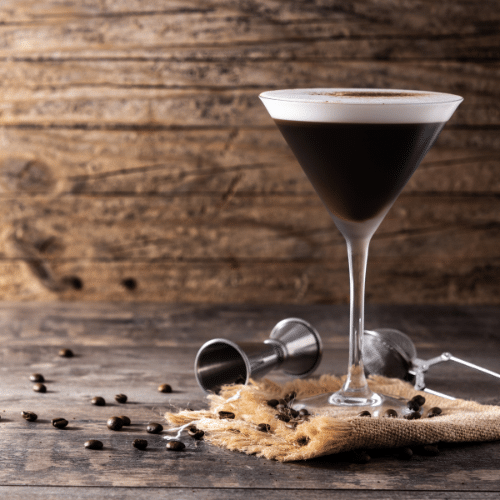 Print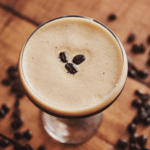 The Best Dairy Free Espresso Martini
---
Description
Enjoy a delicious Dairy Free Espresso Martini with this easy-to-follow recipe. It's the perfect cocktail for coffee and martini lovers alike.
---
One shot of vodka* of your choice

One shot of espresso* OR cold brew espresso OR cold brew concentrate**

One half shot of Kahlua* or any other coffee liqueur of your choice
*One shot=2 OZ
**Espresso can be diluted with oat milk or any other creamy dairy-free alternatives if you prefer your espresso martini creamy. Do NOT use hot espresso.
---
Fill up a cocktail shaker with a bunch of ice cubes.

Inside of the coffee shaker, add in the espresso shot and optional dairy free milk, vodka shot, and half shot of Kahlua, as well as any other alternative sweeteners that you prefer.

Shake well until completely emulsified.***

Pour into a chilled martini glass.

Garnish the top of your martini with cocoa powder, espresso powder, espresso beans, coffee beans, and a drizzle of simple syrup, dairy free caramel sauce or maple syrup if desired.

Enjoy!
***OPTIONAL ADDITIONAL STEP: After emulsified, pour into another cup, and emulsify again with the immersion blender before adding the drink into the chilled martini glass.