As the warmer months approach, one would expect to see more and more fresh recipes around. But although I like to write my posts based on the time of year I'm in, I'm also the kind of person who appreciates both hot and cold meals in any season. And today, I want to show you a hot coffee drink that can be a perfect nightcap even in August. If you're a fan of Irish coffee, get ready to take your taste buds on an Italian-inspired adventure with this Amaretto coffee recipe.
Like the name suggests, Amaretto coffee combines the classic charm of Irish coffee with the subtle allure of Amaretto liqueur. The amaretto adds a unique twist, infusing the drink with a delicious nutty flavor that turns every sip into a delightful treat. A sprinkle of cinnamon powder on top further enhances this beverage, making it part cocktail, part dessert, and wholly satisfying.This drink has a strong kick thanks to the presence of coffee and alcohol and is topped with heavy whipping cream. It is perfect for the colder months of the year, but can also be enjoyed in the summer, maybe after a sunset party or as a dinner dessert.
In this post, I'll show you how to make it anytime you want!
What is Amaretto?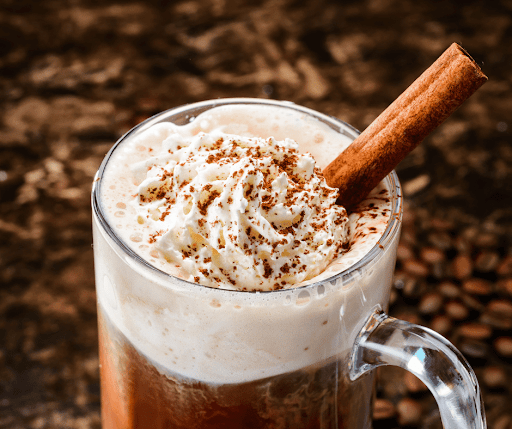 Amaretto is a beloved Italian liqueur renowned for its distinctive almond flavor. 
It is made by steeping shelled almonds in spirit for a month, then it is mixed with a simple syrup of water and sugar and is finally left to rest for at least 3 months in a cool, dry place before serving. Industrial productions are made with only almonds, spirit, water, and sugar. However, the recipe's simplicity makes this liqueur perfect for home production, and many people like to customize it by adding apricot kernels or peach stones.
Legend has it that Amaretto originated 500 years ago in the city of Saronno. According to the myth, it was first made by a beautiful innkeeper, who wanted to express her gratitude to a painter who had chosen her as a model for the Virgin Mary in his latest painting. It became so popular and important for the city's history that it is now globally sold as "Amaretto di Saronno", or simply Disaronno.
I've already used it for one of my attempts to make an Italian twist on Margarita. Now, I'll show you how to use it in this new recipe.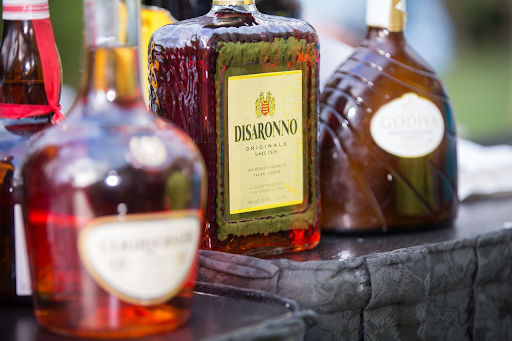 What you'll need
There are many different ways of making amaretto coffee at home. Here's what I like to use.
A shot of Amaretto liqueur: obviously. 
Hot coffee: bartenders usually steam it with their espresso machine when making Irish coffee. Since most of us don't have one at home, the best way is to just make a hot cup of coffee right before preparing your drink.
Heavy whipping cream: while Irish coffee is made with liquid cream, for this recipe we're going to use whipping cream. I've seen someone recommend making your own, but in all fairness, this seems a little too much for a cocktail recipe. A store-bought spray can of whipped cream will do. 
Cinnamon powder: for dusting. You can also add a little nutmeg or granola if you want. 
Unlike Irish coffee, this recipe doesn't feature brown sugar. The reason is that amaretto is much more sweet than whiskey, so you don't need other sweeteners. 
Some people also like to add almond extract or use whipped cream made from almond milk, but I don't recommend it. Amaretto already has a strong almond flavor, there's no need to enhance it even more.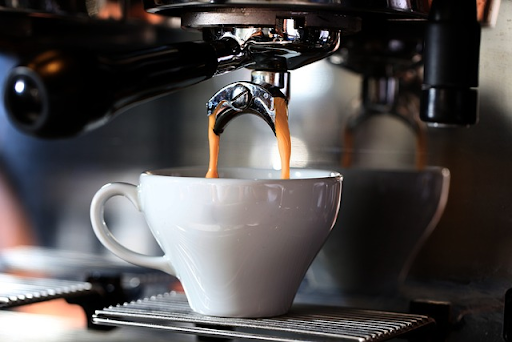 How to Make Amaretto Coffee at Home
The method is really simple. 
Start by making your coffee. In the meantime, take a large coffee mug, and add the amaretto. When the coffee is ready, pour it into the mug, add the whipped cream, and finally sprinkle the cinnamon powder over it. 
Super easy. 
Whether you're looking for a comforting hot drink in the colder months or a delightful indulgence on a hot summer day, this Amaretto coffee recipe is a must-know. It's a great way to elevate your coffee drinks and add a touch of elegance to your evenings. 
To make it even more convenient, I have prepared a printable recipe card for you to keep handy in your kitchen. This way you can easily recreate this delicious drink anytime you want.
Indulge in the irresistible charm of Amaretto coffee and let its nutty sweetness transport you to the enchanting streets of Italy with every sip!

Print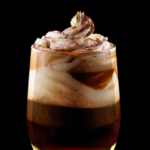 Amaretto coffee recipe
---
Author:

Total Time:

5 Minutes

Yield:

1

Mug

1

x
8 oz black coffee, hot

1 + 1/2 oz amaretto liqueur

whipped cream to taste

1 tsp cinnamon powder
---
Prepare the coffee

Pour the amaretto into a large coffee mug

Add the coffee

Add the whipped cream

Sprinkle with a dusting of cinnamon powder. If you want, you can also add some granola or nutmeg. 

Enjoy. 
Prep Time:

5 Minutes

Category:

Coffee Drinks

Method:

Pouring
Keywords: amaretto coffee recipe, cafe amaretto