@rooftopportsmouth on Instagram
To any of my fellow New England residents, I'm sorry to say, but I'm a firm believer that New Hampshire is the best state around. Period.
I mean seriously, just look at the facts.
Where else can you get ski mountains, beautiful fall foliage, long hikes, decades-old family-run businesses, and the ocean?
"Wait, what? The ocean?!"
Believe it or not, NH actually has its own little sliver of seacoast that wasn't absorbed by Massachusetts or Maine.
And let me tell you, though it's small, it's amazing.
Visiting the oceanfront is one of the best things to do on a warm day in New Hampshire.
There are actually multiple oceanfront areas we could talk about, but we're just going to stick with one today (sorry, Hampton).
The beautiful Portsmouth, NH
When you think of an oceanfront town, I guarantee you that the first image that pops into your head is something almost exactly like Portsmouth.
Besides its infamous waterpark, it has everything. The best coffee shop your mind could imagine, little stores, beautiful views, rooftop bars, and delicious, well-known restaurants.
And as you probably know by now, we're a huge fan of traveling somewhere just to visit their restaurants.
Here's the thing with New Hampshire.
It's spread out, and the restaurants can be few and far between. So the places that are doing it right, know they're doing it right.
If you're going somewhere for a triple stacked burger, you better believe you're going to be able to get that with a side of cheesy bacon tots. Or a milkshake. Or even both.
That's why I'm such a big fan of the food in Portsmouth, since so many of the restaurants just do it right. It's probably one of the biggest clusters of amazing restaurants New Hampshire has to offer.
How do I know that, you might be wondering?
By following a secret little personal formula that can be very controversial at times. When in doubt…
Hot take: always judge a restaurant by its burger
Or pizza, if they don't have burgers.
One thing I can promise you about Portsmouth is you can get some delicious burgers here. The places that are selling them aren't just selling any old burger.
They sell the best burgers. They're committed to giving you the best burger experience you could ever possibly want. And we don't just mean gourmet burgers. We mean sides, add-ons, everything. Trust me, you'll see.
I'm about to make you a Portsmouth, NH burger expert.
Of course, don't limit yourself to just these restaurants when you visit Portsmouth. There are plenty of places that sell good pizza and delicious food. But when it comes to burgers, you'd be doing the state of NH dirty if you didn't at least try one burger bar when you're passing through.
So without further ado, here are the restaurants you should be checking out on your Portsmouth New Hampshire burger tour.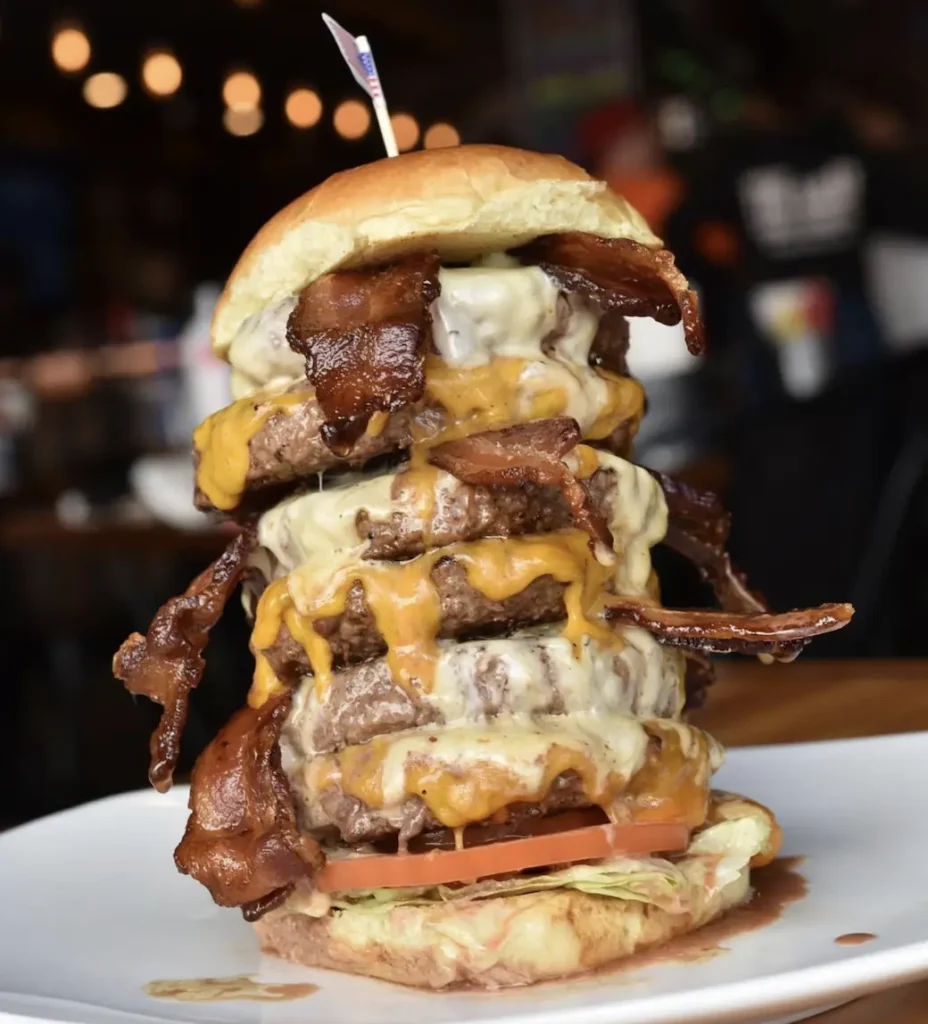 I just have to say, I. Love. It. Here. The Goat Bar is one of the best places in Portsmouth.
I could honestly probably eat here every single time I go to Portsmouth, literally just because of their tater tots alone.
But when it comes to burgers, these guys know what they're doing.
Their high-quality smashed burgers are made with fresh ground beef, come on a branded bun, and can be topped and filled with anything you'd like.
Cheese sauce to dip your burger in? They've got you.
Onion rings and fries between the buns? Of course.
Homemade, baked macaroni and cheese right on the burger? You bet.
Get any of their signature, amazing burgers with a side of their hand cut fries, tater tots (which are topped with cheese and loaded with bacon) or after devouring a plate of pulled pork nachos.
They also serve boozy frappes, which is just as much of a game changer as it is dangerous (make sure someone's driving you home after).
My favorite Google review: "Great food, happy hour specials and very friendly, attentive staff. I also really liked the outdoor seating area which features some heat lamps and long tables. We had the fried pickles and shared a poutine as an appetizer. The fried pickles came with jalapeños and a yummy sauce which I wasn't expecting, really good. The poutine is normally a meal but we shared it as an additional appetizer with our group of 4. The beef gravy on the poutine was flavorful and the fries were thin and crispy. I do think it could have used a little extra cheese but we all enjoyed it. Among the group, we had 4 burgers. 2 Beef burgers, a friend chicken burger, and a veggie burger. We were all really happy with our food. It's also cool that the burgers come stamped with a "goat" shape. There's also an option of "tumbleweeds" which are like thin onion rings, instead of fries with the burgers. We also had some beers and drinks and the waitress was really good about noticing when our drinks were low and asking if we needed anything. Definitely recommend!" -Vanessa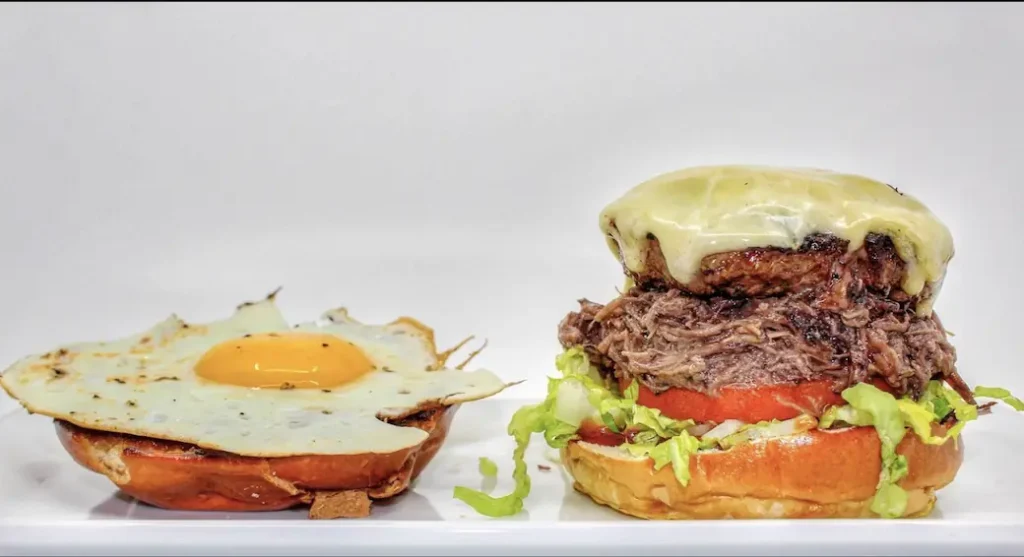 The only place where the pulled pork in a pulled pork burger is just as big as the beef patty itself.
Seriously, that burger could honestly probably feed an entire family with the amount they've loaded onto it.
The BRGR bar calls themselves "a new kind of burger joint," and after seeing what they have to offer, there isn't a better way to describe them.
Seriously, these guys do NOT skimp. Though I'm sure that picture speaks for itself.
This is one of my favorite spots on the list because although their burgers and other menu options have such a modern twist to them, the restaurant itself still encompasses the vibe of a local pub.
The BRGR bar is also huge on supporting family run businesses, as they locally source all of their natural ingredients; primarily from Portland, Maine.
In addition to securing numerous "Best in NH" awards, they've also coined the title of "best milkshake in the state", which is a massive accomplishment in and of itself.
My favorite Google review: "Visited on a Friday afternoon with a group including people who were vegan and gluten free and all of us found something to eat with very minimal modifications needed to existing items on the menu, which is not an easy thing to find! Everyone thoroughly enjoyed their food, the service was friendly and timely, and the space itself was clean and put together. One of the nicest parts of our lunch was that the yolk on one person's fried egg had broken, and before anyone even noticed, we were informed that the kitchen was already working on making another one to make up for it! Based on this experience, I cannot recommend this place enough and would return the next time I am in the area." -C Kiely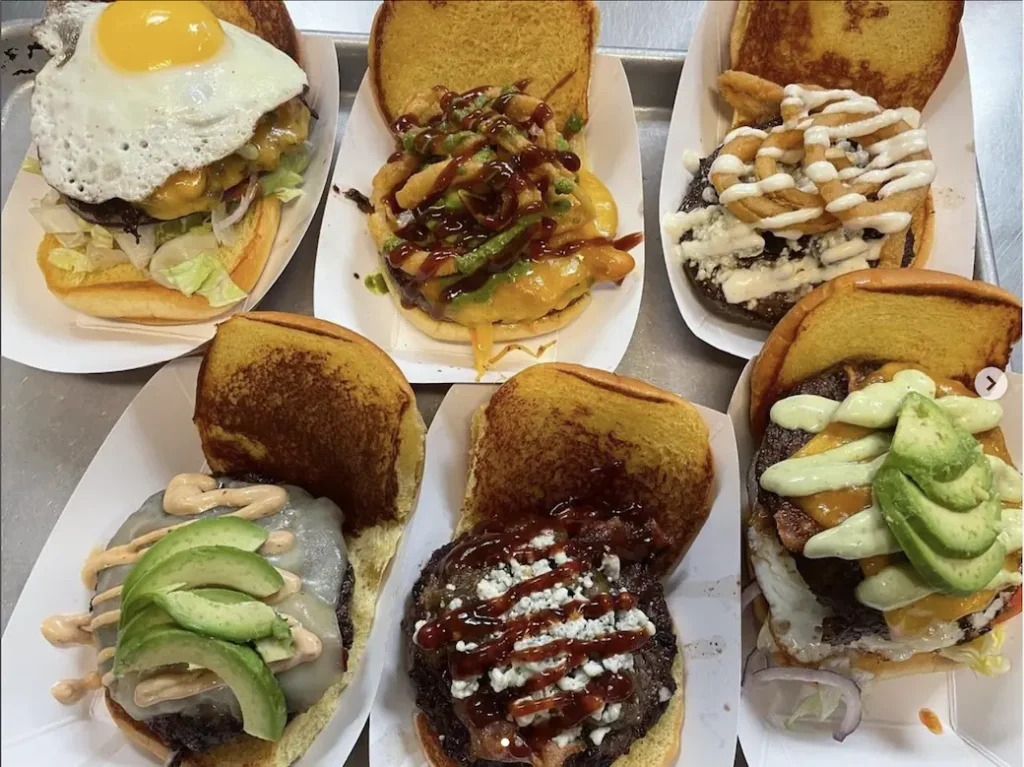 This place is the number one burger joint on Tripadvisor. I really think that in addition to any possible food award you could get, this must be the #1 accomplishment.
One might call Lexie's the burger restaurant that started it all. This location was the first of many for them, and there's a reason this place is so popular.
Aside from their wicked fresh craft burgers (A taco burger?! Genius) they also serve a variety of other sandwiches and apps with locally sourced ingredients. Not to mention their crazy french fries, that come out looking like a small mountain with all of the different toppings you could think of piled on top of them.
The thing I love the most about this place, though, besides all of their great burgers, is their burger bus.
They cater parties and corporate events out of the coolest "burger bus," a food truck decked out with lights and flashy colors, serving their famous burgers out of the front window.
All I'm saying is that if everyone had a burger bus in their life, the world would be a better place.
My favorite Google review: "I have been here on numerous occasions. The food is always delicious and so fresh! I love the different combinations they have for toppings for your burgers. You can choose from a moo (beef), a cluck (chicken) or a veggie burger. The fries are a must! They have plain, but definitely try the others! They top them with the most delicious add ons! My favorites are the bistro fries and the spicy fries. They have great local beers, other refreshing drinks and shakes for dessert…yum! Plus you get a cute little cookie with your check. For the price and quality of ingredients, this can't be beat!" -Becky
Stop #4: Thirsty Moose Taphouse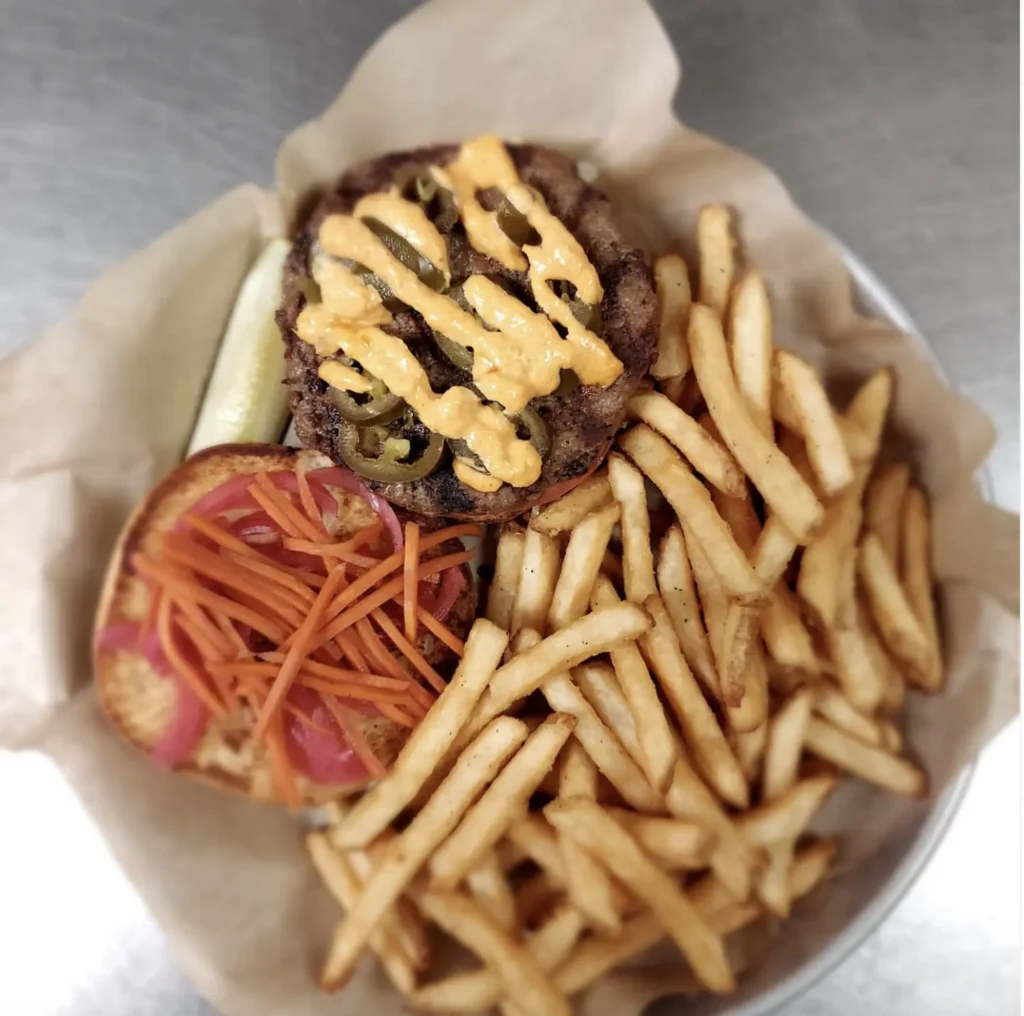 I feel like I can taste that banh mi burger.
Ask any NH local, and this place is a favorite of theirs. In fact, the first thing my New Hampshire native boyfriend does when he gets to Portsmouth is checking the wait time to get a table here.
Located in downtown Portsmouth, the Thirsty Moose has 116 beers on draft. The best friend of all burger lovers.
Two of the things besides the great food that makes this place one of my favorites are their live entertainment and their warm and welcoming atmosphere.
There hasn't been one time that I've been where this place hasn't been absolutely filled to the brim with friends enjoying a burger or each others' company.
I'd also be remiss if I didn't mention their tater tots.
The last few times I went, I swore I'd be healthy. I'd get a side salad or vegetable or something with my burger. Will. Power.
But it seems as though every damn time the waitress mentions their Naughty Tots, cajun parm tater tots doused in green chili and tomato queso sauce and served with a spicy sausage, all of my will power gets shot to hell.
These things are irresistable.
If I could only have one side with my burger for the rest of my life, it would be the Naughty Tots.
I'm telling you, you have to give this place a shot.
My favorite Google review: "This was our first time trying this place even though we've lived in New Hampshire for some years and visited Portsmouth often-we were very impressed all-around. Super clean all throughout the bar, friendly staff, great selection of beers, and the food was very good. My husband tried the flight and loved everything he tried, and we got fish tacos and they were very delicious and well done (that's coming from former California natives okay). The music they were playing was a great mix of oldies and various genres, and the perfect level. They have specials we'd love to come back for-BOGO pizzas on Mondays, $10 beer and burger Tuesdays, and trivia Wednesdays!" -Kathryn
Honorable mention: Smuttynose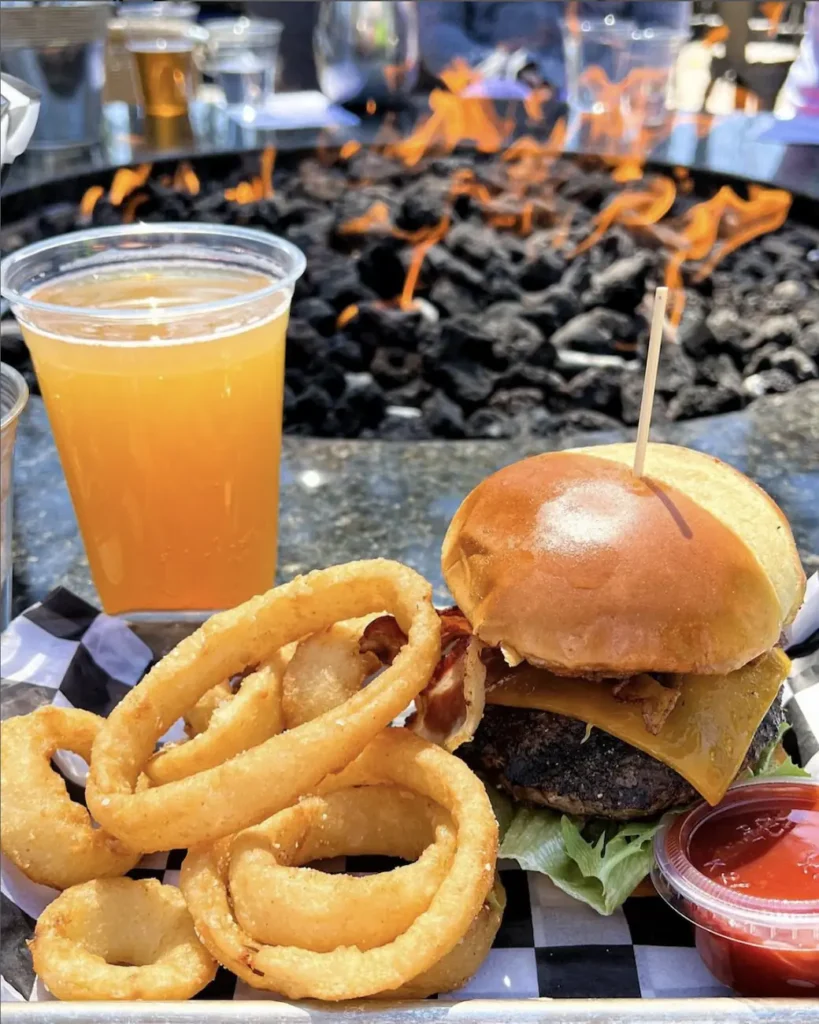 Okay, so this place isn't in Portsmouth.
But, it's close enough and its burgers, beers, and overall vibe were just too good not to include.
Located in the nearby town of Hampton NH, Smuttynose does it RIGHT.
First of all, their burgers and sandwiches are just irresistible. These are people who do NOT skimp when it comes to their ingredients.
They absolutely load everything they sell to the brim with the best of the best ingredients around.
But the coolest thing about their burgers is that the sky's the limit.
Literally, if you wanted to you could pair any of their beef patties with pulled pork, fried chicken, fried fish, anything. They really let you unleash your inner artist when you build your own burger with all that they have available to you.
Pair that with a homemade, delicious craft beer and you'll have a good reason to justify going back every weekend.
Seriously, between their burgers, delicious beers, and outdoor entertainment area complete with a firepit and live music, this place is where everyone should be spending their Saturday nights.
My favorite Google review: "Always a great time when we meet the old friends here. We had a regular place where most of 7 people would meet every night after work. Smuttynose, at the first you walk in, you're greeted with a "Hello!" which is sincere and not just a formality. We always sit at the bar and get a beer and some of the incredible appetizers on the menu. The staff is always super incredible and very attentive without being overly obnoxious in trying to get you out. I'd say the staff there have a natural feel and not trying to make out anything that its not. They laugh, kid around and are just awesome in general. The food is really good and if you like chicken tenders you need to try theirs! I will say it's most likely not like anything you've ever had before and they are great! The sauce is good and the tenders are cooked perfectly. All in all a place you can go to and not have a bad time. There is a store across the parking lot that you can purchase T-shirts, mugs, Koozies, and best of all BEEER!"