Are you in the mood for a sweet and satisfying treat? Look no further than this scrumptious yogurt coffee cake recipe.
With its fluffy texture, this cake combines the rich flavor of coffee with the tanginess and health benefits of Greek yogurt to create a dessert that is sure to please any palate. Whether you're serving it for breakfast or as an after-dinner treat, this cake is sure to become a staple in your recipe collection.
Coffee cake is typically made with flour, sugar, baking powder, eggs, unsalted butter, and sour cream. It is usually baked in a springform pan, and it also has a thin crumbly line in the middle, made with a mixture of brown sugar and cinnamon powder.
However, many people would like a lighter alternative, and I think I have a great recipe for that. It's a variation of the batter that I used for my Greek yogurt muffins, adjusted to make a loaf of coffee cake in a plumcake stamp.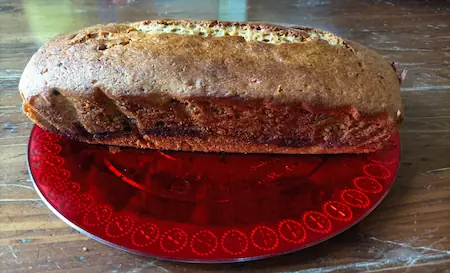 Greek yogurt is so good for making batter! It will give your cake a light, airy texture, and will balance its sweetness. It also adds an extra dose of protein that helps keep you full for longer.
I also changed the butter with extra-virgin olive oil. Some people are skeptical about using it for desserts, but aside from being a healthier option, it also adds some flavorful notes to the batter. Trust me on this one, you won't regret it. 😉
Finally, I also added two more ingredients: cinnamon and instant coffee powder.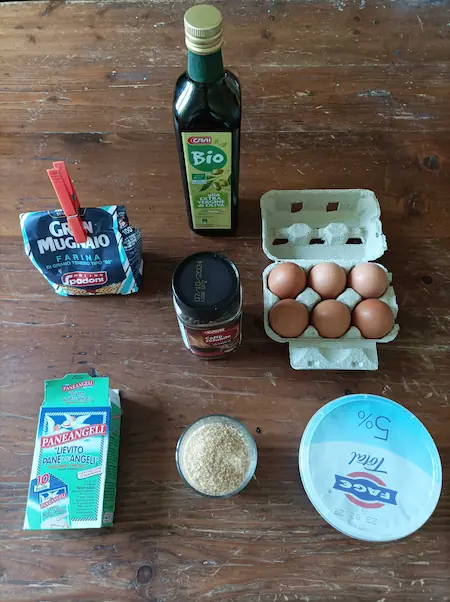 Here's what you need to make a fluffy coffee cake
Large eggs: the freshest the better.
Brown sugar: my old muffin recipe was made with granulated sugar. However, for this recipe, I switched to brown sugar.
Extra-virgin olive oil: you can stick to butter if you prefer, but again, trust me on this one 😉
Greek Yogurt: I usually have it at home because it's my favorite type of yogurt and I often have it for breakfast. You can find it in most grocery stores. However, if you prefer plain yogurt, you can use it in the same amounts.
Flour: I used 00 flour for this recipe. However, you can also use all-purpose or cake flour.
Instant coffee powder: usually, a standard coffee cake doesn't actually have coffee in it. However, a little coffee or espresso powder can add an amazing depth and richness that will make your cake stand out from other coffee cakes. It pairs perfectly with the sweetness of sugar, and the flavor of cinnamon, giving every bite a unique flavor.
Baking powder: I used a vanilla-flavored powder, but you can stick to your favorite type.
Cinnamon: it adds a warm, comforting flavor that makes this cake irresistible. Together with brown sugar, it gives each bite a hint of caramel-like sweetness that pairs perfectly with the coffee flavor. You can also add a bit of nutmeg powder, if you want.
You can also add a pinch of salt to the batter before pouring it into the plumcake or loaf pan, but I didn't.

Method
Let's start by making the coffee cake batter. While you do it, preheat the oven to 356° F.
Break the eggs, and add them to a large mixing bowl. Then, add the brown sugar and whisk gently at low speed.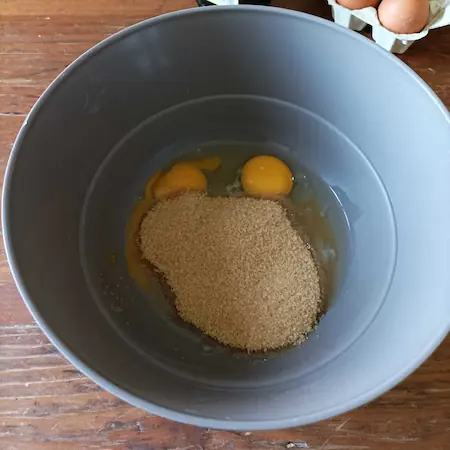 Add in the following order: the oil, the yogurt, and the instant coffee powder.
In a separate bowl, mix the flour and the baking powder, then sift them into the batter, mixing constantly.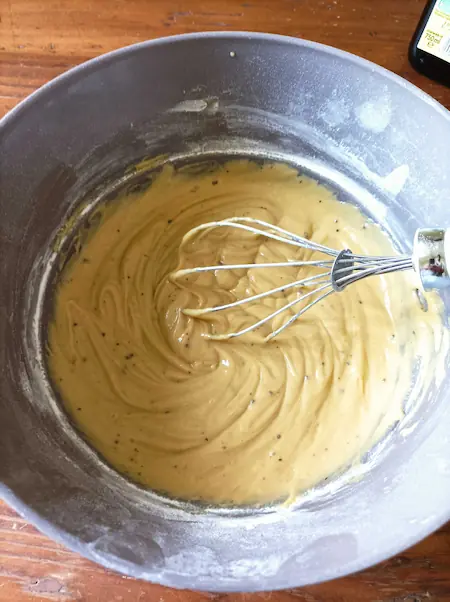 Now, let's make the crumbly sugar line. In another small ball, combine sugar with cinnamon and nutmeg powder.
At this point, the oven should be ready. Take your plumcake stamp or loaf pan, cover it with parchment paper, and add half of the batter. Then, cover it with the sugar and cinnamon mix, and add the remaining batter. If you want to make a crumb topping, make double the amount of sugar mix, and add some to the top of the cake as well.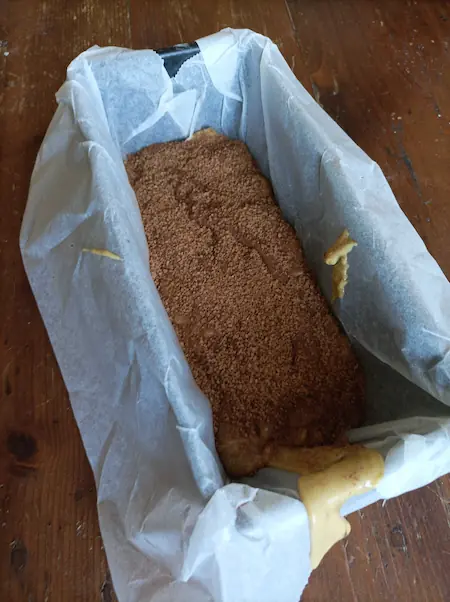 It's baking time!
Bake your cake at 350° F for 35 minutes. Then, pierce it with a toothpick to check if it's ready. If the toothpick comes out clean, you can turn off the oven. Otherwise, you'll have to wait a few more minutes.
When you take it out of the oven, let your cake cool for 5 – 10 minutes, then you can serve it. If you want, you can add some powdered sugar or chocolate cream, but I think it's already good as it is. Enjoy it with a cup of coffee or tea.
Print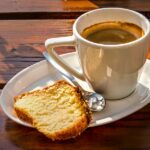 Easy Yogurt Coffee Cake
---
Author:

Total Time:

45 minutes

Yield:

1

loaf

1

x
For the batter:
2 large eggs
4 + 1/4 oz brown sugar
4 + 1/4 fl oz extra-virgin olive oil
4 + 1/4 oz Greek yogurt
1 tbsp espresso powder
1 + 1/2 cup cake flour or all-purpose flour
1 tbsp baking powder
For the crumb:
2 tbsp brown sugar
2 tbsp cinnamon powder
---
Preheat your oven to 350°F.
In a large bowl, whisk together the eggs and sugar at low speed. Then, add the olive oil and mix well.
Add the Greek yogurt as well, and mix again until incorporated. Finally, add the espresso powder.
In a medium bowl, mix together the baking powder and flour and sift them. Gradually add the dry ingredients to the wet ingredients and mix until just blended.
Pour half of the mix into a loaf or plumcake pan.
For the topping, combine the sugar and the cinnamon in small bowl with a fork. Sprinkle this evenly over the batter in your pan.
Add the rest of the batter.
Bake for 35 minutes or until a toothpick inserted into the center comes out clean. Allow to cool before serving.
Enjoy your Greek yogurt coffee cake!
Prep Time:

10

Cook Time:

35

Category:

Desserts

Method:

Baked

Cuisine:

American
Keywords: yogurt coffee cake recipe