"What should I serve with risotto?" This creamy Italian rice dish has many variations, and it is not always easy to figure out what to pair it with.
Today I will show you what my favorite pairings are, explain how to choose them depending on the recipe you are using, and also give you some tips on how to take your risotto to the next level.
Meat courses, side dishes, best wines… here's everything you need to know!
What goes well with risotto?
In Italy, when it is not used as a complete meal, risotto is considered a main dish, and is usually served with small portions of meat or light vegetable side dishes.
For example, it is very common to pair risotto with a couple of lemon escalopes, or with bresaola and arugula.
However, you can also use it as a side dish for roasted potatoes or bigger meat dishes such as chicken breast or steak.
A lot depends on which risotto recipe you decide to use. For example, pumpkin or mushroom risotto goes well with dairy foods — so you could pair it with a caprese salad or ricotta meatballs.
On the other hand, if you want to make something like shrimp risotto, it would be best served with a light salad, green beans, or roasted vegetables.
Below you will find my list of favorite foods to serve with risotto. But first…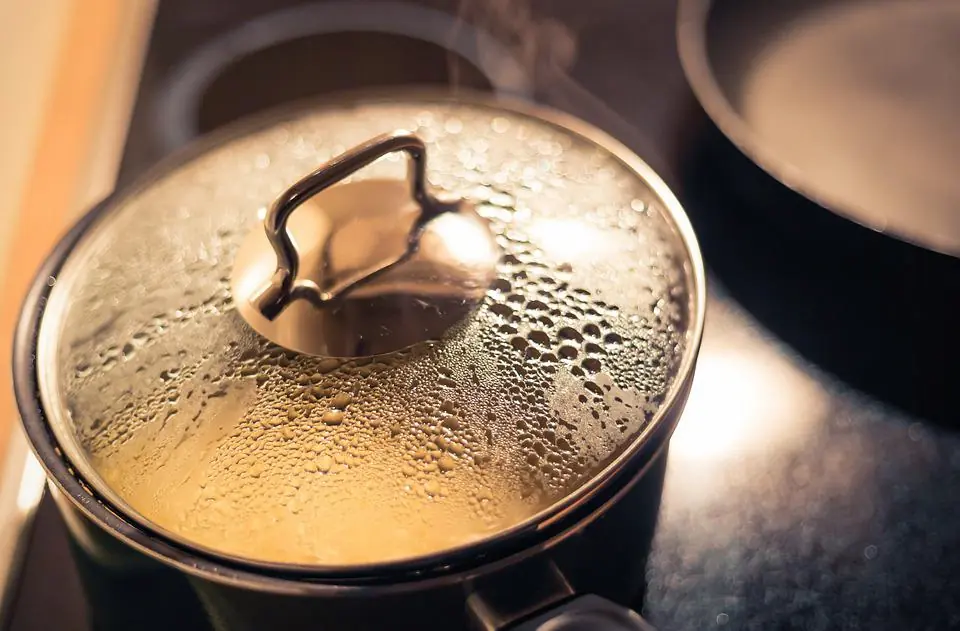 How to make a perfect risotto
I never particularly liked risotto until I tried making it myself. In fact, for many years I avoided foods with rice at all.
The reason is that for many millennial kids, risotto was a culinary trauma. Since it was not a typical dish in our region, many parents thought it was enough to just throw the rice in (too much) water and let it cook indefinitely without checking.
Needless to say, the result was not exactly good, and in my case it caused me so much nausea that throughout my teenage years I was convinced I was intolerant to rice.
Then I had to take pictures of risotto alla milanese for an article on a food blog, and I took the opportunity to learn how to make it the proper way.
I have been making it very often ever since. Turns out, it takes very little time and effort to make a good risotto.
Saffron risotto, risotto with sauteed mushrooms, quattro formaggi risotto – now I like them all. And my mum has learned to make a risotto with radish that I looove.
The moral of the story is that you just need a little patience to take your risotto to the next level.
So, before we see what are the best dishes to serve with risotto, it is good to spend a few words on how to make it well.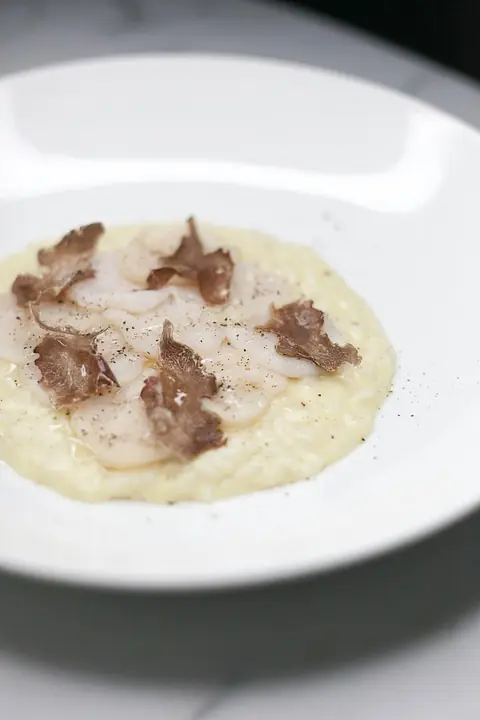 Although there are so many types of risotto, these are the ingredients used in almost each of the best risotto recipes. Later on, I will explain how to add more specific ones such as meat, mushrooms, or vegetables.
Ingredients for 4 people:
1 red onion (or 2 shallots) cut into very small cubes
2 cups of Carnaroli or Arborio rice
3/4 stick of butter
1/2 cup of grated parmesan cheese
1/2 cup of white wine
6 cups of your favorite vegetable, beef, or chicken stock
And what about olive oil?
No oil needed. Many people use it to sauté the onion at the beginning of the cooking process, but risotto is one of those dishes that tastes better when cooked with butter.
Sure, it's not the healthiest choice, but it's really worth it.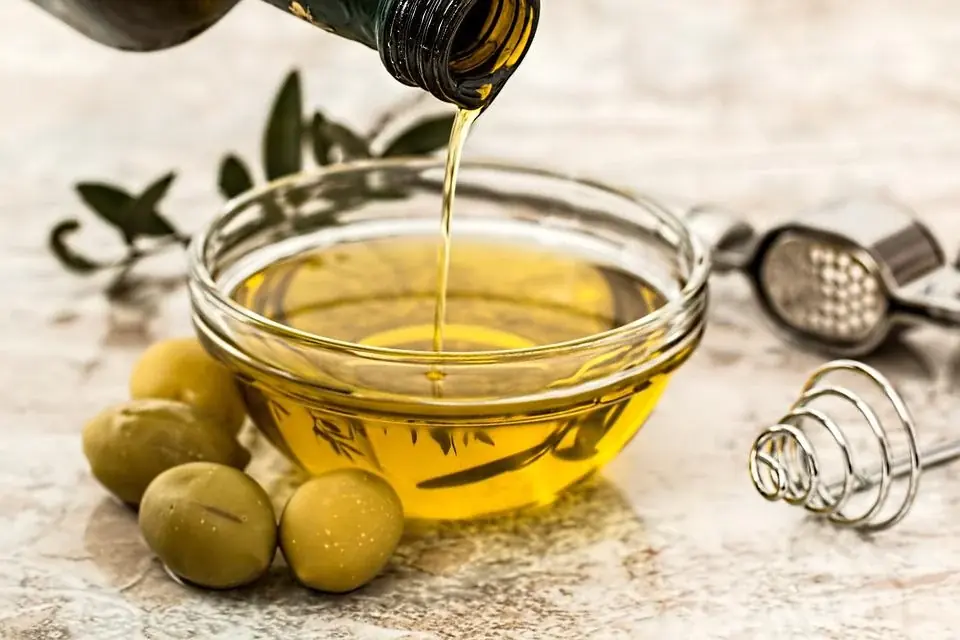 It only takes 20-25 minutes to make a fantastic risotto. Here's what you need to do.
Use a third of the butter to coat the surface of a pan, add the onion, and sauté over low heat until the onion starts to turn golden.
Add the rice and let it toast for 1 to 2 minutes. The trick to knowing when it's time to move to the next step is to place your hand a few inches above the rice for a few seconds. If you don't feel any heat, it means it's not ready yet.
Add the wine and let it evaporate completely, stirring occasionally with a wooden spoon.
Add the broth one ladleful at a time and stir well. When it is absorbed completely, add more.
Before adding the last ladleful of broth, add the extra ingredients from your favorite risotto recipe.
Once the last ladleful has been absorbed by the rice, remove the pan from the stove, add the rest of the butter and grated Parmesan cheese, cover with a lid, and wait 5 minutes.
Give it one last stir and enjoy.
And now that you know how to make it, what dishes should you serve with risotto?


What to serve with a creamy risotto
As I mentioned earlier, lemon escalopes are a great way to complete a meal that started with risotto. They are slices of veal meat floured and cooked on a buttered pan along with lemon juice.
They have a delicate, citrusy flavor that will match nicely with the cheesy, creamy consistency of your risotto. Also, they are very easy to make. Try them at your next dinner party!
If you want to make a Northern Italian dinner, Milanese cutlet is one of the best side dishes for risotto.
If you've never tried it, it is a dish made with a large slice of veal loin, which is breaded with all the bone and then cooked in butter and flavored with lemon juice. Definitely worth serving with risotto!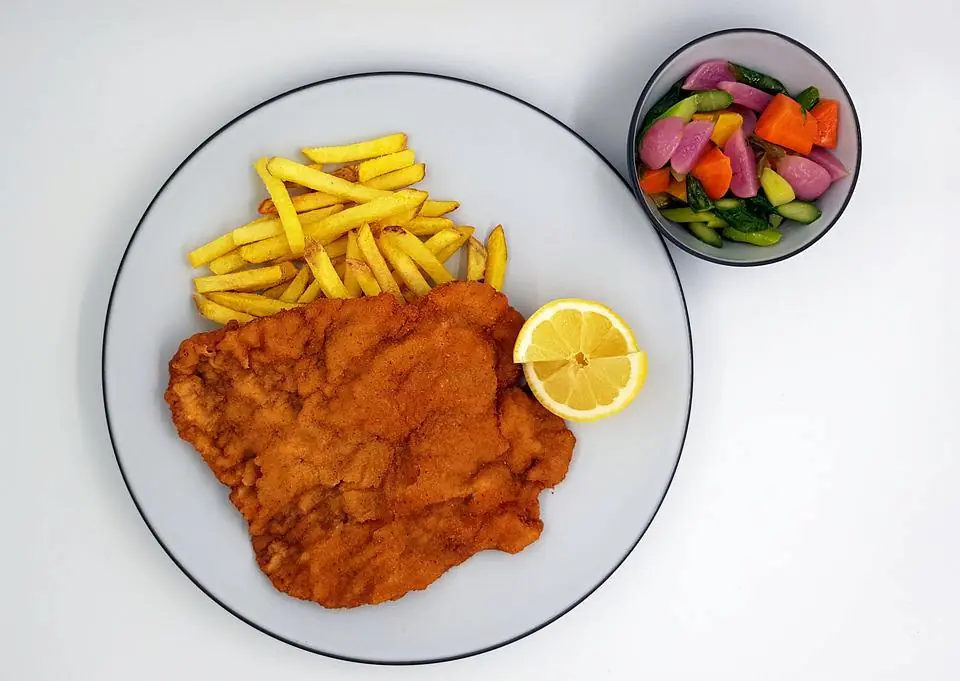 Many Italians like to pair their risotto with slices of chicken breast cooked in a pan with some white wine and lemon juice. 
It's simple and good, but I prefer a less traditional alternative.
Being a huge fan of yogurt curry chicken, I like to cut the meat into small pieces and let it marinate overnight in a bowl with a mix of Greek yogurt and curry paste.
Then, when it's time to serve risotto, I toss everything in a saucepan and let it cook over low heat while my guests eat the main course, occasionally stirring with a wooden spoon. 
Italian sausage rolls with provolone
Want a tasty comfort food to serve with risotto for those evenings when you're not thinking about dieting? I've got one for you.
Take 6 slices of pork loin, and place a sausage and some provolone cubes on top of each one. After that, roll everything up and secure with kitchen string.
Flour your sausage rolls, and then cook with butter and a little garlic in a large saucepan. As soon as the meat begins to seal, add a little beer and wait for it to evaporate, then pour in 1/2 cup of fresh liquid cream.
Cook for about twenty minutes, season with rosemary and sage, and thank me later! 😉
Roasted potatoes or potato wedges
To me, anything with potatoes is already a perfect dish. And if you're thinking of serving your risotto as a side dish, these two might be a perfect choice for a second course.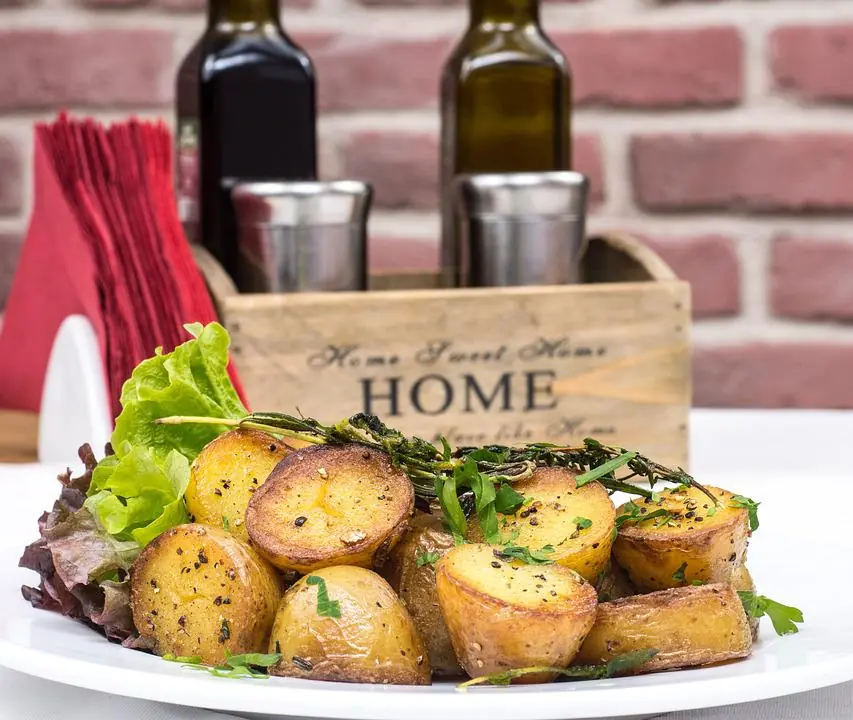 Bruschetta with mozzarella
If you are making a pumpkin risotto, bruschetta with mozzarella is an excellent side dish to serve along with it.
The toasted bread is a nice contrast to the risotto's delicate texture, and the mozzarella goes well with all the other ingredients.
Chuck recently shared his personal bruschetta recipe. Go check that out!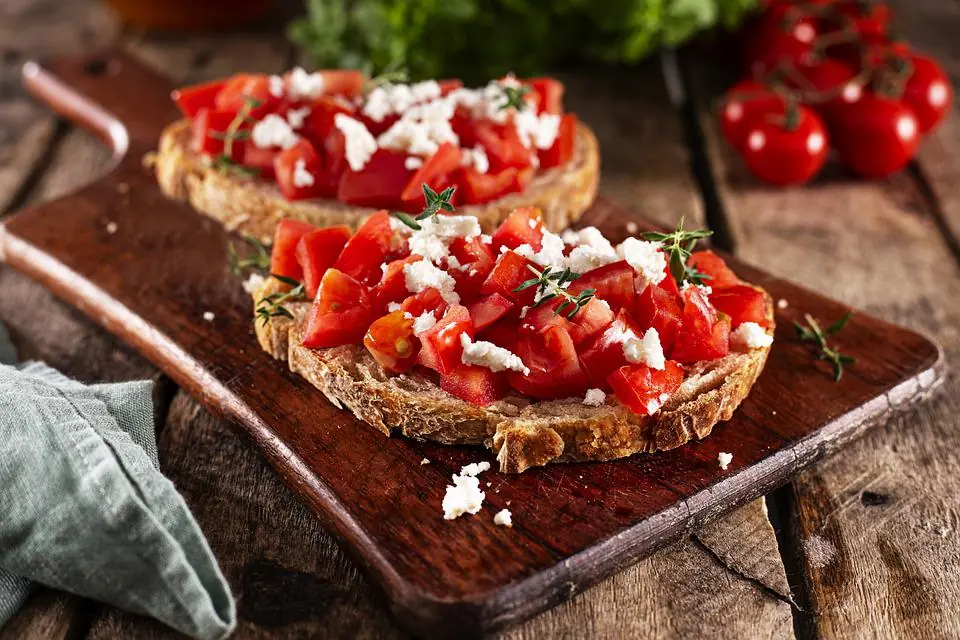 Next time you make risotto with any kind of seafood, try serving it with roasted broccoli rabe. They complement its rich flavor with a bitter taste that refreshes your mouth, making it ready for whatever comes next.
Bresaola, arugula, and parmesan cheese flakes
Here is another really easy side dish to serve with risotto.
Take a few slices of bresaola, cover them with arugula leaves, and add some parmesan flakes or a teaspoon of ricotta cheese. Then roll everything up, skewer with a toothpick, and arrange in rows on a tray. It will feel like heaven in your taste buds.
And speaking of arugula…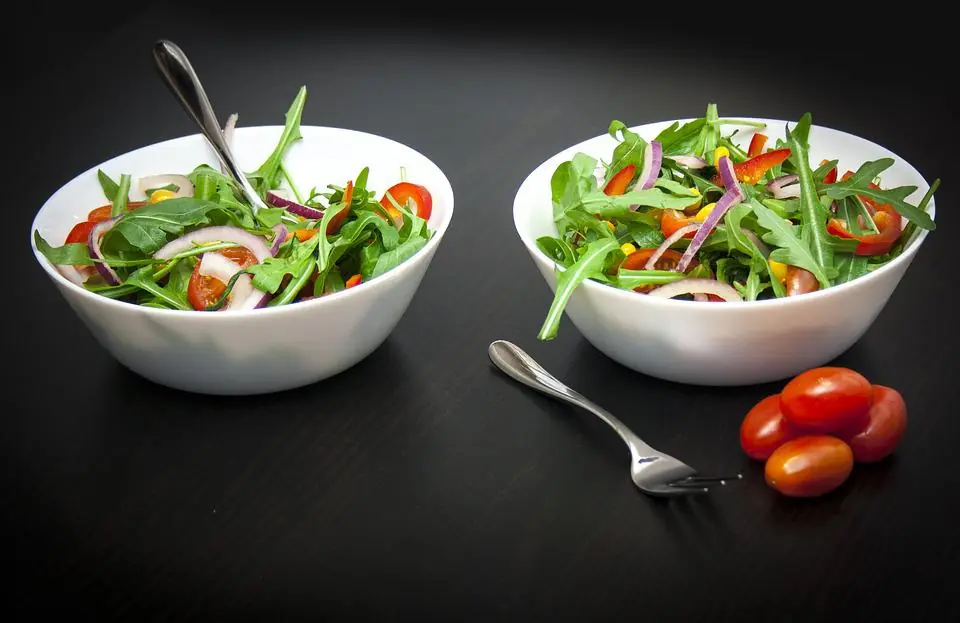 And if you want to keep it simple, why not just make an easy arugula salad?
Just take a few fresh arugula leaves and mix them with some feta cheese, cherry tomatoes, onion slices and red pepper flakes.
It's a very good choice for those simple dinners you can have on the couch.
As I said above, toast is a great accompaniment to risotto, especially if you're making something cheesy, like a parmesan risotto. This creamy dish calls for something hard to chew afterward. 
If bruschetta with mozzarella doesn't appeal to you, try topping your toasted bread with homemade pesto. It's not the healthiest combination, but it's really good.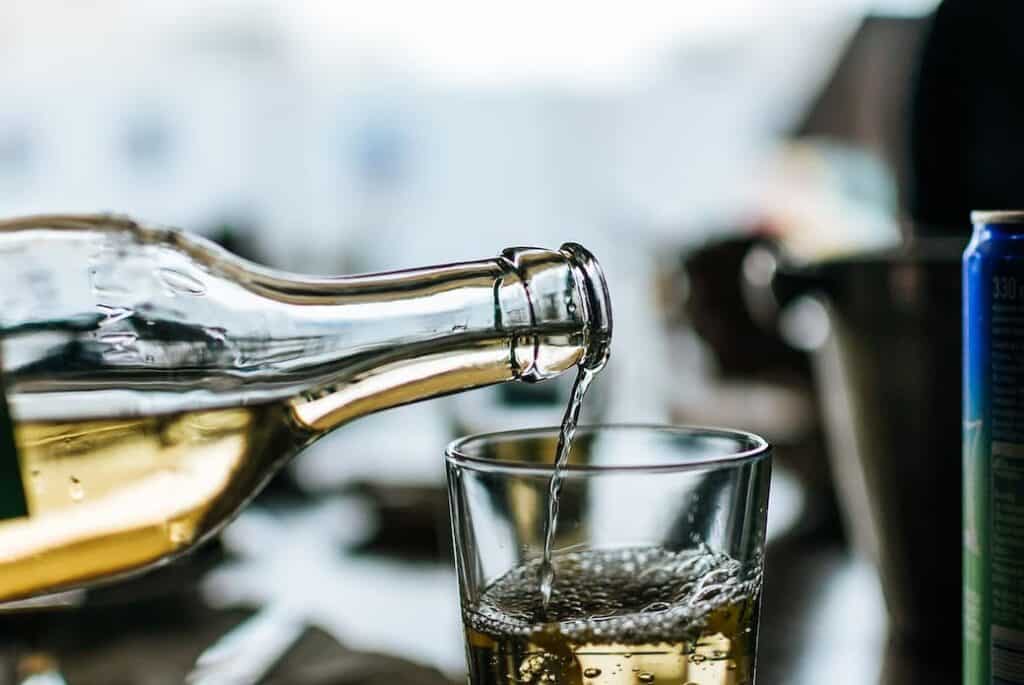 What wine goes best with risotto?
There is a saying in Italy that goes, "rice is born in water and dies in wine" – meaning that it's very important to pick the right wine for your rice dishes.
And when it comes to risotto, wine is important both in the cooking process and as an accompanying drink.
Using a quality wine while cooking risotto makes all the difference in the world. It gives it a fruity note and some acidity. So you should not limit yourself to the usual cheap cooking wine.
Choose a good quality one, buy a couple of bottles, use the first half glass to cook the risotto, and keep the rest to sip during dinner.
"Okay, but what wine should I use?"
Well… it's not always easy to figure out which wine to pair with risotto. As you can imagine by now, a lot depends on the ingredients you use.
For instance, I'm usually a big red wine stan, but when I think about dishes like risotto alla milanese, I'm forced to make an exception. Better to choose a dry, crisp white wine or, alternatively, an aromatic rosé wine.
Try a classic Pinot Grigio, or a Franciacorta. These are perfect for most traditional risottos, especially if they include fish among the ingredients.
On the other hand, if the recipe includes meat or cheese, you may want to enjoy it with a good red wine, perhaps a Lambrusco or Barbera.
And if you're making a risotto with radish or other vegetables, you might pair it with a Merlot.
Even the most experienced sommeliers are debating which wine is best to serve with risotto. As a rule of my advice is to pick which ingredient you want to stand out, and choose something that will pair well with it.