What's the first thing that comes to mind when you think of Ireland?
For me, it's beer. Lots and lots of beer.
It seems as though Ireland and the holiday of St. Patrick's Day has built their reputation entirely around beer and drinking. Delicious Irish food seems to be an afterthought.
But not here.
For the first time ever, Mortadella Head is offering a special pizza for the month of March only.
This thing has EVERYTHING.
Think Irish cheddar cheese. Garlic cream sauce. Sliced thin potatoes. Homemade Irish Whiskey BBQ Sauce. Freaking Guinness braised onions.
We really mean everything.
You gotta come here and see for yourself!
But when March comes to an end and you're still craving our newly created delicacy, we wrote the recipe out so you can make it at home.
Pizza Dough: We used homemade Roman style pizza dough to make this. You can get your own dough, or watch our video on how to make it here.
Garlic Cream Sauce: This is super easy to make on your own, and requires minimal effort. All you need to do is make a roux with flour and half and half, and add minced garlic, parmesan cheese, and parsley.
Irish Cheddar Cheese: This right here is fancy. We picked up a nice block of ours from WholeFoods, but you can really get it anywhere that sells artisanal cheeses.
Guinness Braised Onions: We weren't kidding when we said we were doing this! Slice your onion into quarter inch slices. Toss them in a frying pan with some olive oil, salt, and pepper, and cook until they begin to caramelize (about 30 minutes). When they begin to sweat down a bit, season with salt and pepper, douse them with a half cup of Guinness and the butter. Let it simmer until the liquid reduces by half (15-20 minutes on medium low heat).
Jameson Barbecue Sauce: You can make this yourself too! We use 1 pint ketchup, 5 tbsp apple cider vinegar, 5 tbsp brown sugar, 3 tbsp molasses, 3 tbsp yellow mustard, ¼ tsp black pepper, 1 tbsp BBQ seasoning, 5 tbsp worcestershire sauce, ½ tsp cayenne pepper, and 3 tbsp jameson whiskey. Whisk all the ingredients together in a saucepan, and let simmer for ten minutes.
Mozzarella Pizza Cheese: To add a nice little Italian flare.
Sliced Thin Russet Potatoes: These are very popular on pizza over in Italy! You can slice these yourself with a mandolin.
Minced Garlic: Garlic is the king of the kitchen!
Extra Virgin Olive Oil: And olive oil is the queen.
Fresh Chives: What's St. Patrick's day without a bit of green?
*Don't feel like reading? We got you covered! Watch our video on how to make this below!*
Get your favorite pizza dough prepped. Once you have it all ready, begin to spread garlic cream sauce all over the top of the pizza.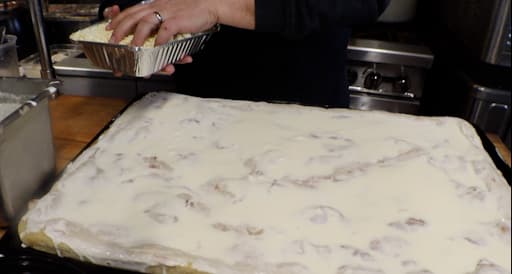 Top the garlic cream sauce with a nice layer of mozzarella pizza cheese. Use as much as you want, but remember, there's no such thing as too much cheese.
Once your russet potatoes are sliced thin, begin to spread them out all across the pizza. Use plenty, so there's a little bit of potato in every bite. Drizzle with EVOO.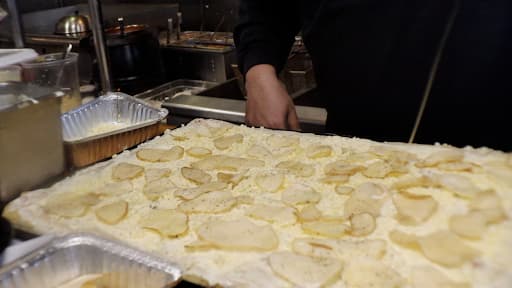 Slice some thin pieces of Irish cheddar cheese, and spread them all on top of the potatoes. Make sure this is spread evenly throughout the pizza, again, so there's a bit of Irish cheddar in every bite.
Guinness and onions time! This is the heart of the pizza. Take some of your braised onions, and spread them all over the pizza. Don't be afraid to use all of them!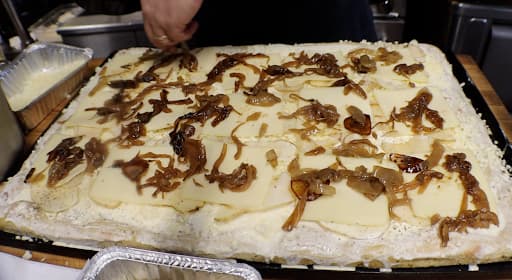 Sprinkle the pizza with minced garlic, then put it in the oven at 550° for about ten minutes. If your oven doesn't go that high, put it on it's highest setting for about fifteen minutes.
When done, drizzle with homemade Irish Whiskey BBQ sauce and sprinkle chives to garnish. Enjoy the most delicious Irish inspired pizza you'll ever make.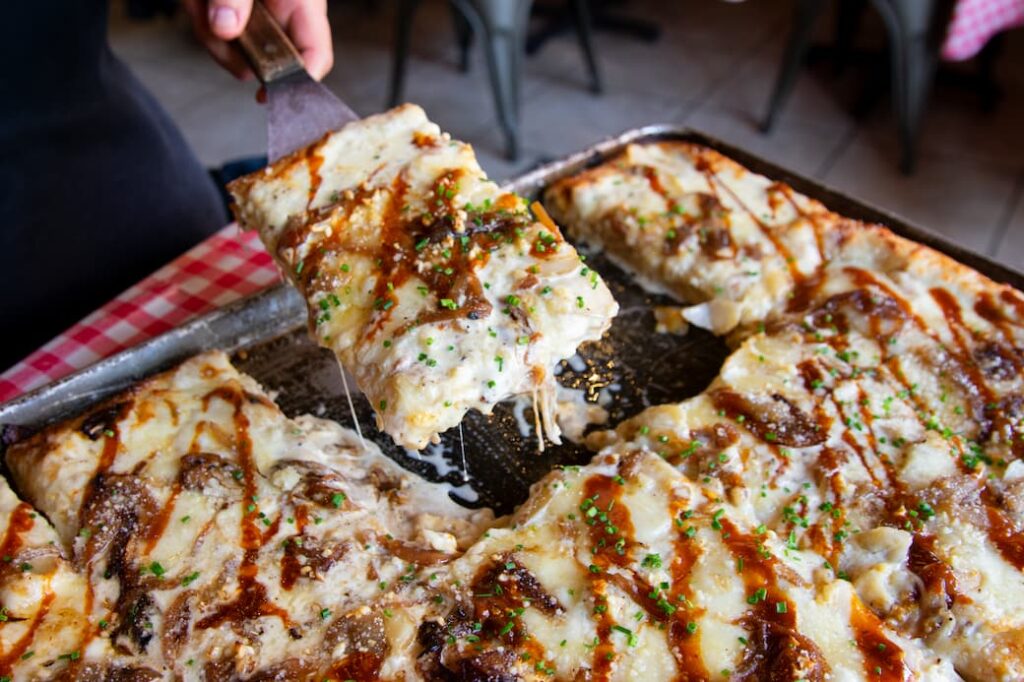 Q: How long will it take to braise the onions?
A: Cook 'em low and slow! It'll take about 20 minutes for them to initially begin to caramelize, and an additional 30 to soak in the Guinness. All in all, you're looking at about an hour. But that's the beauty of this!
Q: What other kind of whiskey could I use with the BBQ sauce?
A: I think Jack Daniels would taste really nice with this recipe.
Q: Where can I figure out how to make Roman style pizza dough?
A: We have a whole video dedicated to this! Check it out here.
What to serve with The Top Of The Mornin'
Beer: Do we even need to say it? Kill the rest of the six pack you bought to make the onions. You'll be glad you did.
Side: Use some of those extra thinly sliced potatoes to make some homemade kettle cooked potato chips! Douse them in salt and olive oil, and put them in the oven or the air fryer until nice and crispy.
Veggie:  Take some halved Brussels sprouts, toss them in olive oil, salt and pepper and roast them in a 400 degree oven for 20 minutes.  Take them out, drizzle on some of the Irish whiskey BBQ sauce and put them back in the oven for another 5 minutes. You'll wish your mother made them like this when you were a kid!
Print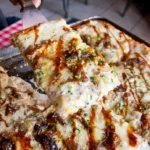 the top of the mornin' pizza
---
Author:

Total Time:

40 minutes

Yield:

10 people
Description
Let's celebrate St. Patrick's Day with a very special pizza.
---
Ingredients:
Pizza dough

2 cups garlic cream sauce

1/4 lb Irish cheddar cheese

1/2 can Guinness

1 yellow onion

2 russet potatoes, sliced thin

1 oz Jameson whiskey

1 oz BBQ sauce

2 cups mozzarella pizza cheese

4 tbsp fresh chives

4 cloves fresh minced garlic
---
Slice onion into quarter inch thick slices. Let sweat in EVOO, salt, and pepper until they begin to caramelize. Douse in 1/2 can of Guinness and 1 tbsp butter, and let simmer.

Spread garlic cream sauce out over pizza dough

Layer garlic cream sauce with mozzarella pizza cheese

Spread sliced potatoes all over the surface of the pizza

Layer sliced cheddar on top of the potatoes. Make sure that there's some cheddar cheese in every bite.

Spread all of the Guinness braised onions over the whole pizza. Don't be shy with these—use all of them!

Bake in the oven at 550° for 10 minutes. If your oven doesn't go that high, 450 for 15 minutes should work too.

Drizzle with Irish Whiskey BBQ sauce and fresh chives.

Enjoy!
Prep Time:

30

Cook Time:

10

Category:

Pizza

Method:

Baking
Keywords: Irish pizza, Saint Patrick's Day Pizza