"Do you like pickles, or hate them?" is a question as old as time.
I honestly think that this may be one of the most controversial food opinions in the game, just because I find people's opinions to be so perfectly split.
Personally, I love pickles. I love them so much in fact that I've been known to eat whole dill pickles straight out of the jar as a low calorie snack. There's just something about the tartness of the pickles that me and my family can't get enough of. In fact, my sister has been known to drink the dill pickle juice straight out of the jar (too far for me, TBH).
But naturally, when I found out that dill pickle pizza was a thing, I was a tad skeptical. Pizza and pickles are two of my favorite foods, but I couldn't for the life of me imagine how they would taste once combined.
Plus, I had no idea what sauce to use, if any, on this controversial pizza (some may say more controversial than pineapple on pizza).
I had seen that video of a pickle pizza from Rhino's Pizzeria in Webster, New York had gone viral among pickle people back in 2018, and that gave me an idea.
I would perfect my very own great recipe and put this debate to the test.
The result?
It was a win.
It was so much of a win, in fact, that this is now one of my go to pizza toppings when I'm ordering out, and making this at home.
And today, I'm going to show you how to do this for yourself.
Here's the recipe for the best pickle pizza you will ever eat.
Making The Sauce
There are a few different ways that you can make the sauce for your Dill Pickle Pizza.
One way, the most common way, is by using a white sauce. But not just any old white sauce, a garlic cream sauce.
That's right, we don't use mayonnaise, sour cream, ranch dressing, or even Alfredo sauce on this pizza. Just a regular old creamy garlic sauce that's so beyond easy to make.
You can check out our recipe for our famous garlic cream sauce, or if you want something a bit more rustic, check out this authentic spicy garlic pizza sauce recipe, straight from Italy.
If a white pizza sauce isn't for you, and it isn't for everyone, you can try making this pizza with a red pizza sauce, by blending San Marzano tomatoes with a bit of salt, pepper, and oregano. My one suggestion with this, however, is to use ⅔ sharp cheddar cheese and ⅓ mozzarella cheese, flipping the cheese ratios that are required to make this pizza.
The cheddar cheese in this instance will contrast nicely with the red sauce, giving you that savory sense of umami that you'd be getting from the garlic cream sauce.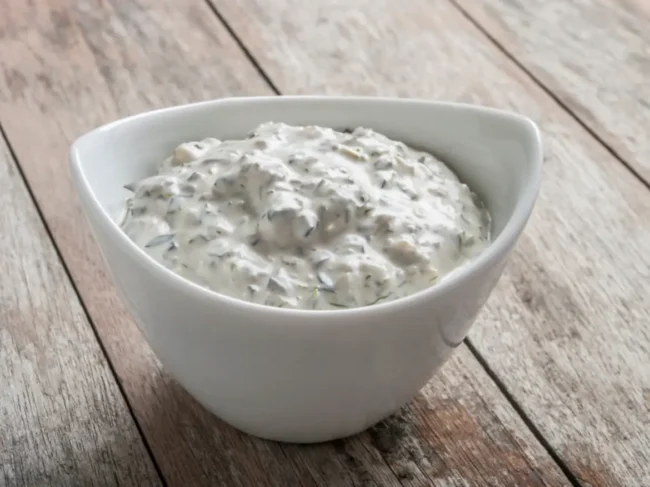 Making the Dough
Pickle Pizza is so versatile that anything goes when it comes to pizza dough.
For starters, Pickle Pizza is just as tasty as ever if you use a store-bought dough rather than a homemade pizza dough. Plus, it's way easier to make, too.
You can make pickle pizza with a homemade Neapolitan style dough, or one on a South Shore Bar Style pizza dough recipe (would be great with the red sauce and cheddar cheese).
You could also use our homemade 72 hour Roman pizza dough. Though it would require a bit of planning, to me, there's no style of pizza more perfect than this to craft your pickle pizza on.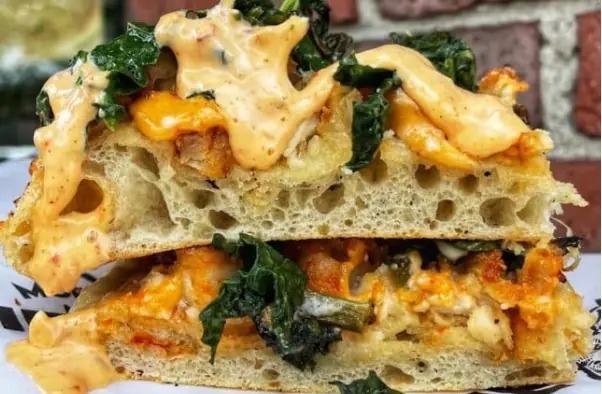 Picking Your Pickle
When it comes to pickle pizza, you have to make sure that your pickles are perfect.
And I mean perfect.
Slice them too thick, and the pickle overpowers the entire pizza. And who would want that?
For this reason alone, I recommend slicing your dill pickle slices all on your own, from big dill pickles, rather than going with pre-sliced pickles. You can buy these at any old grocery store, or make them yourself if you prefer.
When you slice them, it's important to remember to slice them thin. The thinner they are, the better your pickle pizza will be!
And as a general rule of thumb, make sure you are purchasing dill pickles.
Not bread and butter pickles, not sweet pickles, dill pickles.
I honestly would probably hate this pizza with any other kind of pickle on it, and I bet you would too.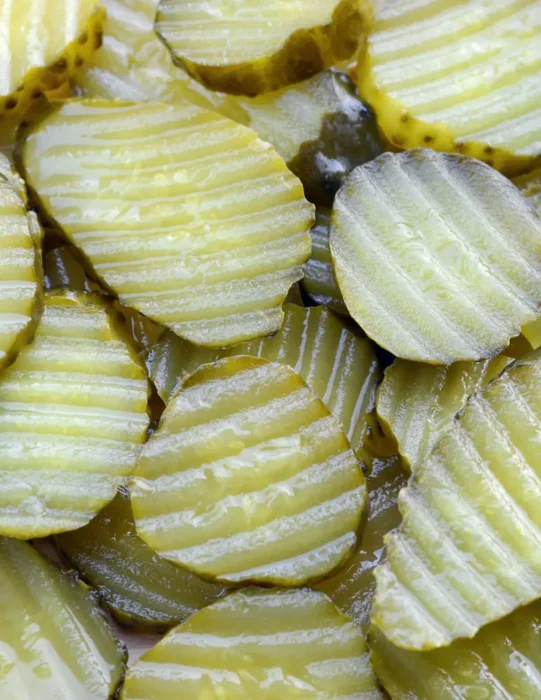 What Else Should I Add to a Dill Pickle Pizza?
I've seen some recipes that call for Canadian bacon, and some that call for regular old bacon. To me, I think this is up to you. Sure, bacon could taste great on this, but sometimes I prefer to have just pickles and pickles alone.
Another great option would be adding crispy pancetta to this, if you really wanted to get fancy.
And of course, gooey cheese is a must. While this particular recipe calls for mostly mozzarella pizza cheese, pickle pizza is also great with a higher cheddar cheese ratio as well. Add as much or as little as you'd like of either, just make sure that you're shredding whatever cheese you decide to use, rather than buying pre-shredded.
Some people may opt to drizzle this pizza with ranch dressing and sprinkling extra dill on at the end. I say, go for it! You can never go wrong with a ranch drizzle. You could also dunk your slices into the ranch dressing if you prefer, that would taste just as good.
What Equipment Do I Need?
Assuming most of us aren't very fancy and don't own pizza ovens, this pizza is able to be made in your very own kitchen.
A pizza stone and pizza peel combo is never a bad idea (it's how the professionals make it!), but it's not completely necessary to use when making pizza in the oven.
If you don't have a pizza stone, a metal baking sheet pan or a pizza pan would work just as well. Just make sure you leave some space around the edges for the crust to breathe.
Pickle Pizza Recipe Card
Print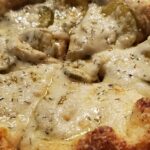 Dill Pickle Pizza Recipe With Bacon and Garlic Cream Sauce
---
Author:

Total Time:

25 minutes

Yield:

2

-4

1

x
1 cup of homemade garlic cream sauce or the pizza sauce of your choice
Pizza crust/dough (can be store-bought pizza dough)
1/3 cup sharp cheddar cheese, shredded
2/3 cup fresh mozzarella pizza cheese, shredded
1 cup thinly sliced dill pickles
1 cup chopped bacon (optional)
2 tbsp chopped fresh dill
1 tbsp olive oil
1/4 cup ranch dressing (optional)
2 tbsp grated Romano or parmesan cheese
---
Preheat oven to 500° F
Drizzle pizza dough with olive oil
Cover pizza dough with the garlic cream sauce
Top with the cheese blend, followed by pickles & bacon
Sprinkle dill on top of the pizza, and bake on the bottom or middle rack of the oven, switching to the top rack after about 7 minutes
Cook for 10-15 minutes, or until the cheese becomes golden brown and starts to bubble
Serve with ranch dressing, grated cheese, and more dill
Enjoy your tasty pickle pizza!
Prep Time:

10

Cook Time:

15

Category:

Pizza
Pickle Pizza FAQs
Q: How come pickle pizza is getting so popular all of a sudden?
A: Everyone loves pickles, and they've definitely been on the rise in terms of popularity over the last few years, thanks to pickle lovers around the world. Ever had a fried pickle?
It's also been quite the common trend to top pizza with various different toppings, so it would only make sense that someone played around with a pickle pizza and got hooked.
Believe it or not, pickle pizza is very popular around the world as well. People have been eating this for quite some time in both Korea and India.
Q: How should I reheat pickle pizza?
A: Whatever you do, do NOT heat this in the microwave. That's sacrilegious.
You can wrap this in tin foil and heat it in your toaster oven or oven.
My favorite way to reheat this though, is in the air fryer. It almost makes it taste even better.
Q: How do I store pickle pizza?
A: If you can't finish the entire thing, pizza is good in the fridge for up to a week.
If you want to freeze your pickle pizza, you can do so in an airtight freezer bag or container, and keep it in the freezer for many many months.
What to Serve With Pickle Pizza
Drink: A glass of chilled chardonnay would taste wonderful with pickle pizza.
Appetizer: Honestly, I've been a big fan of eating my pizza with various homemade soups lately. They just compliment one another so well, that it's an impossible combination to resist. I recommend eating this with a homemade tomato soup.
Dessert: Try this pizza with this delicious piña colada cheese pie recipe!