About one year ago, as I was swiping through cooking tips videos on TikTok, I found a recipe that I immediately wanted to try. It was nothing difficult or complex – quite the opposite! It was a simple recipe for pasta with soffritto cream, shared by creator @raffaelemarino85. 
I often use soffritto as a base for various pasta sauces, but it had never occurred to me to turn it into a cream without adding other ingredients. I liked the idea, so I tried it as soon as I could – and I fell in love with it right away. I've been making it at least once a week ever since.
It's a quick, easy, and tasty recipe, and it's also perfect for those who are on a budget. And since Chuck posted his soffritto recipe a few days ago, I thought I'd share it with you.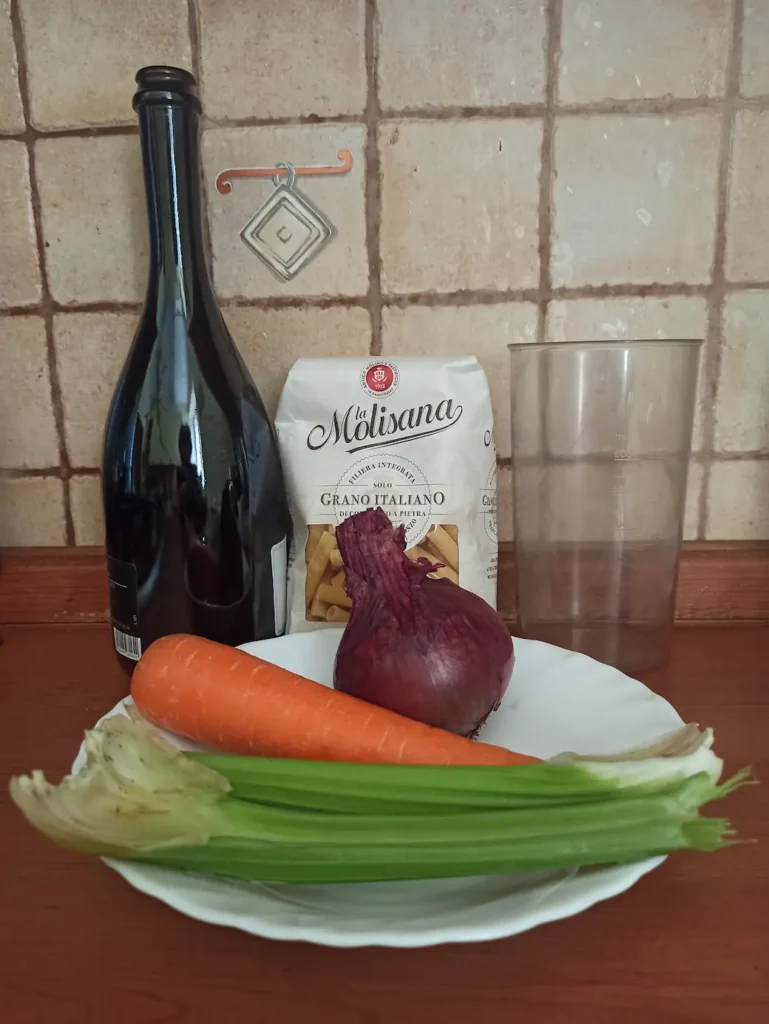 One thing I love about this pasta recipe is that it requires very few ingredients to be delicious.
That's the beauty of dishes like pasta al limone, or spaghetti aglio e olio: they manage to make the best of a few inexpensive things you probably already have around the house. Here's everything you need.
A red onion, a carrot, and two celery stalks: these are the same ingredients for Italian soffritto. But this time, instead of chopping and sautéing them, you'll have to blend them together.
Pasta: any kind of pasta will do, but I think this recipe works best with short tubular shapes, like rigatoni or pennette. This time, I went for sedanini. 
White wine (optional): If you have a good white wine at home, you can use some to flavor the sauté cream. However, if you don't have any or prefer to avoid it, this is not an essential ingredient. 
This recipe can be customized with many other optional ingredients, but let's focus on these for now. We'll get back to this later. 
Fill a small pot with water and bring it to a boil.
Meanwhile, wash the vegetables well and cut them into pieces. You don't need to cut the onion and celery stalks into thin dice. Carrots, on the other hand, blend best when grated.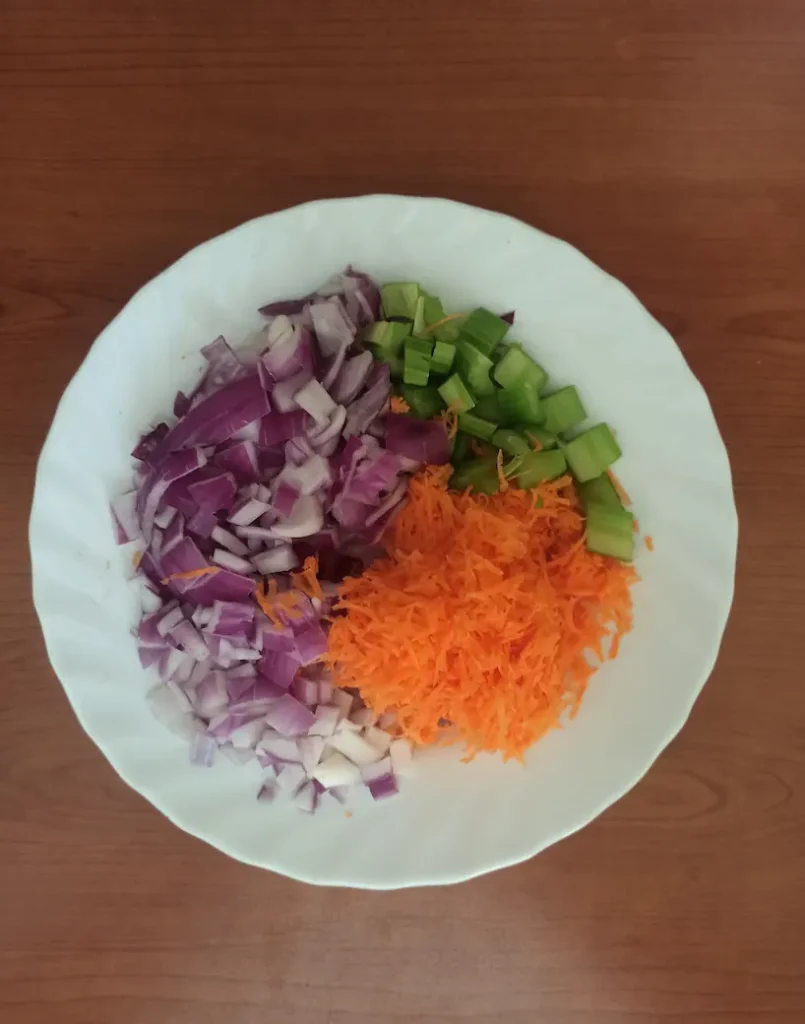 Now, place them in the blender along with 1/4 cup of white wine and blend everything together until smooth.
I know, the color is not very inviting, but it will improve in a few minutes.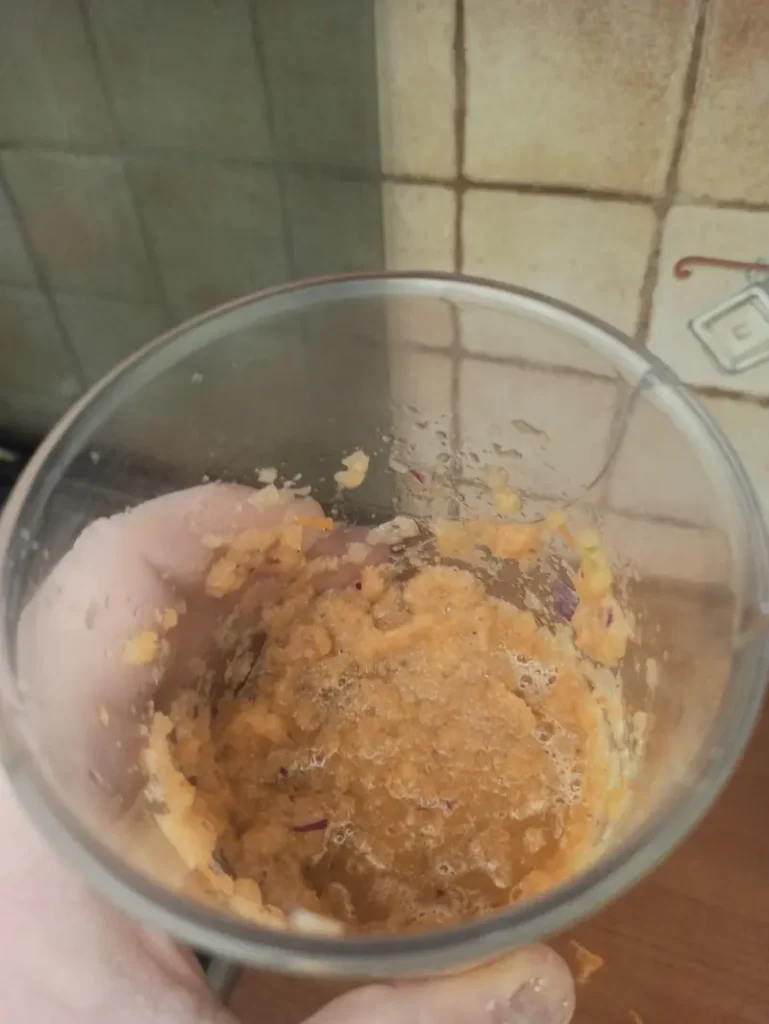 Now, the water in the pot is probably already boiling. Add a tablespoon of coarse salt, let it dissolve for a minute, and toss in the pasta. 
After that, pour the soffritto cream into an oiled skillet or small pot, and cook on low heat for a few minutes. In this way, it will thicken into a creamy, bright orange sauce.
Usually, I let it there for about 10 minutes – which is usually the same amount of time it takes to cook the pasta.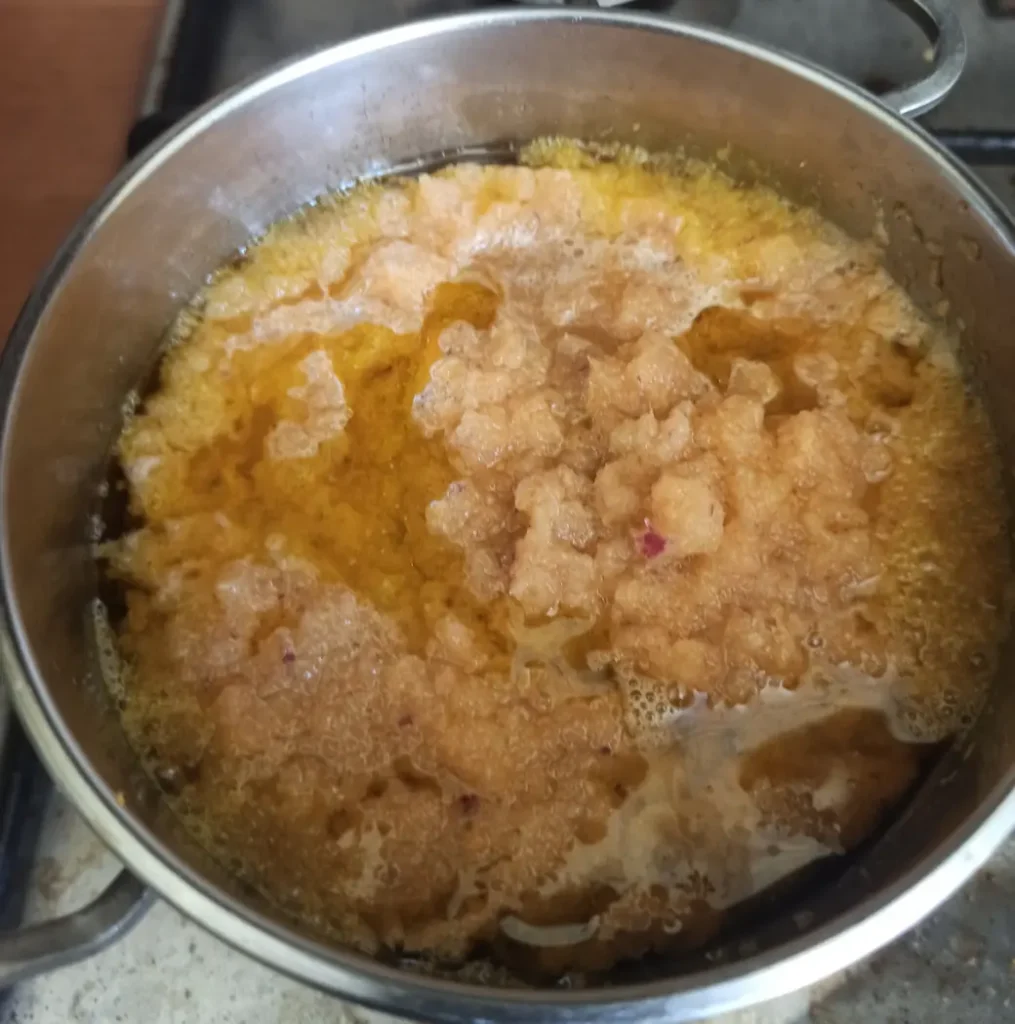 When the pasta is ready, drain it and add the creamy soffritto, stirring well. As you can see from the photos, the cream has become thick and its color has become much more inviting than it was before.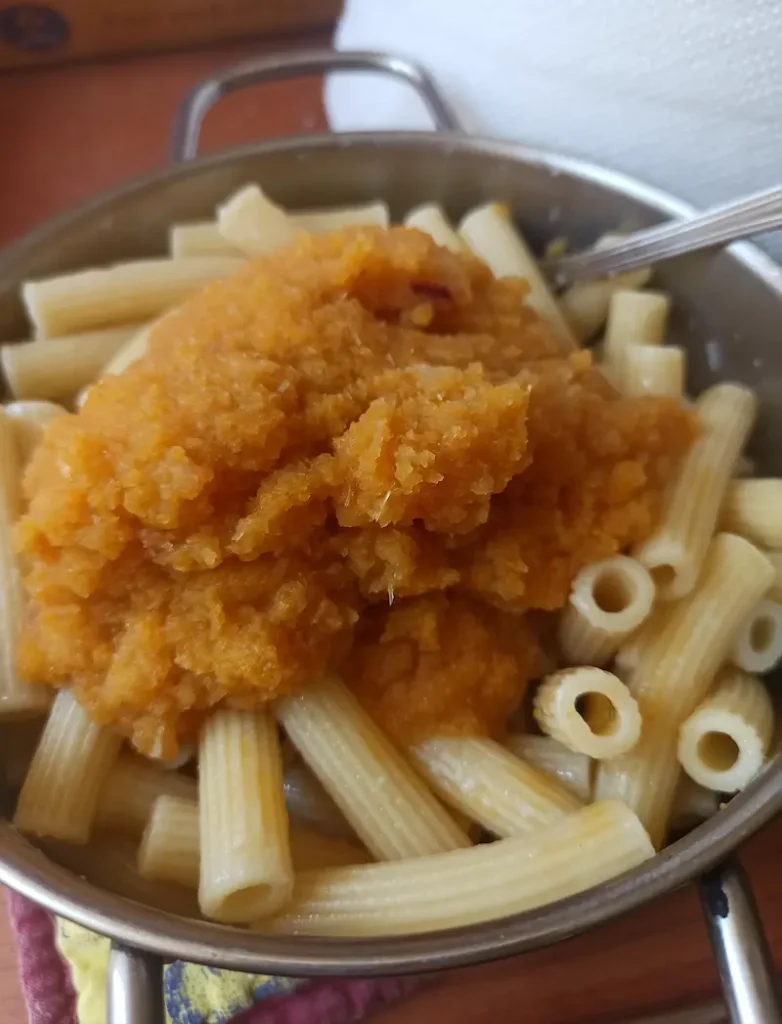 And now your meal is served.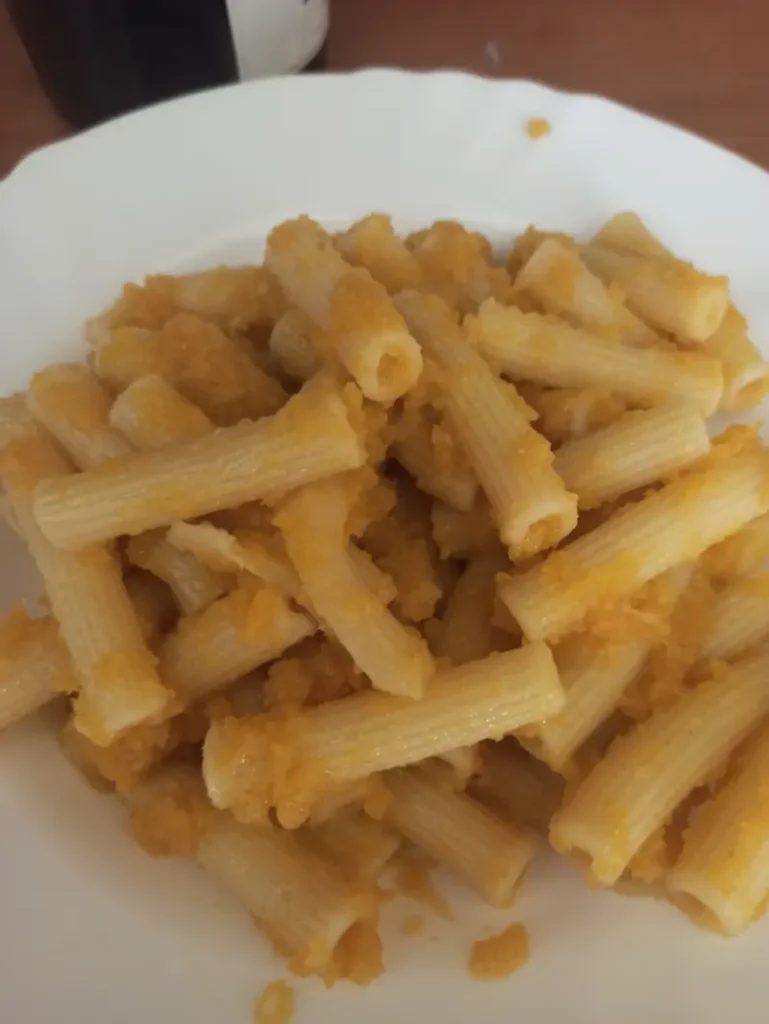 Now that you know the basic recipe, let's get back to the extra ingredients I mentioned before.
This dish is already delicious on its own, but if you want to flavor it up you can customize it with what you have in your kitchen.
For example, you could add lemon zest or parmesan cheese to add flavor. Or you could sauté some cut-up Italian sausage and let it simmer in the creamy sauté for a few minutes.
I always have ginger roots somewhere, and sometimes I like to grate some over the finished dish along with the parmesan cheese.
Other times, I melt a knob of butter into the soffritto and then add a ladleful of pasta cooking water to make everything creamier.
And of course, you can spice it up by adding some Calabrian chili pepper flakes and other spices. When I do this, I use a mix made by a family friend, which I mentioned in this Italian seasoning recipe, along with chopped fresh parsley leaves.
In short, you can unleash your creativity, using what you have on hand at the moment. 
Whether you are on your own or cooking for the whole family, this recipe will allow you to feed everyone with minimal effort and without spending too much. I loved it from the first time I tried it, and I hope you like it too. 
Print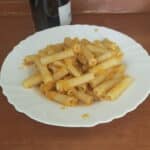 Easy Pasta With Soffritto Cream
---
Author:

Total Time:

20 minutes

Yield:

3

1

x

Diet:

Vegetarian
1 onion

1 carrot

2 celery stalks

1/4 cup of white wine

1 cup of short shaped pasta (like macaroni, rigatoni, or penne)
---
Fill a cookpot with water and bring to a boil.
In the meantime, wash the vegetables and chop them. For better results, grate the carrot.
Blend them together in a mixer or an immersion blender with the wine.
When the water boils, add a tablespoon of coarse salt. Let it dissolve, and add the pasta.
Add the soffritto cream to an oiled skillet or a small pot and let it cook on low heat for 5-10 minutes, in order to make it thicken.
When the pasta is ready, drain it and add the soffritto cream.
Enjoy.
Prep Time:

10

Cook Time:

10

Category:

Pasta

Method:

Blending

Cuisine:

Italian